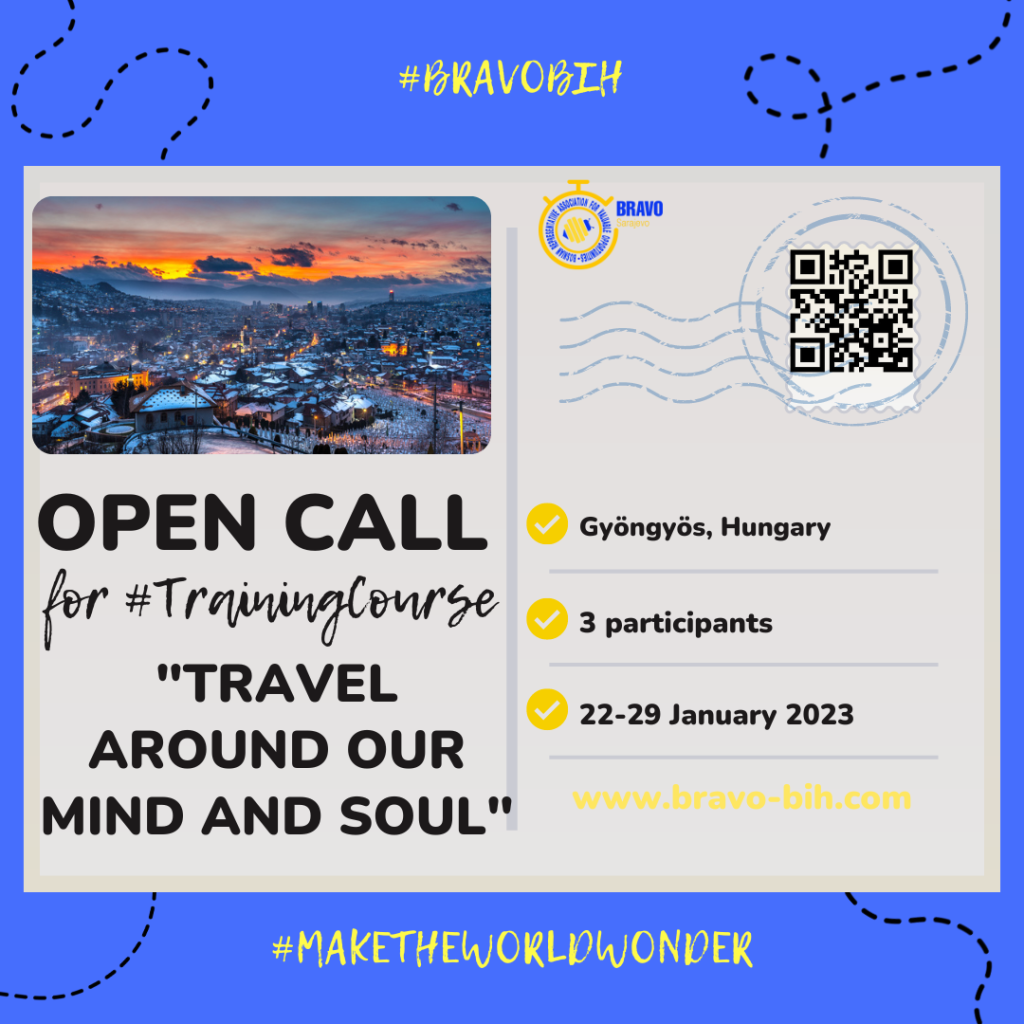 Name of the project: "Travel around our mind and soul''


Date of Project: 22 – 29 January 2023


Sending Organization: "BRAVO"


Place: Gyöngyös, Hungary

Participants' age: 18+


The number of participants: 3


Working language: English


Deadline for applying: 20.11.2022.
This project is financed by the European Commission through the Erasmus Plus Program. This publication reflects the view only of the author, and the European Commission cannot be held responsible for any use which may be made of the information contained therein. By Erasmus+ rules organizers will cover travel costs, accommodation and food. 
The aim of the project is to explore the unconscious bias and emotional literacy of youth workers so that they can make more informed choices and decisions and to foster the importance of diversity in inclusion. Through this project, we would like to increase awareness of bias in many fields and its negative impact on decision-making and provide tools to address it to support decision-making and inclusive cultural diversity. Emotional Intelligence (EQ) is the ability to be aware of our own emotions and the emotions of others, and use such knowledge to guide thinking and action. It is nowhere taught, it is rather acquired through our socialization (family, school, workplace), however, it can be heavily improved and it must be improved to have normal social interactions among people, which is the basis of any social activity and it is as much important as cognitive abilities in e.g. predicting outstanding employee performance.
OBJECTIVES OF THE PROJECT
–  Understand why humans are biased and are naturally built to stereotype
 – Appreciate the relationship between bias and stereotypes, prejudice and discrimination
 – Able to assess the impact of bias on decision-making, behavior, and relationships
–  Identify your own biases and take action to compensate for them
–  Understand what can be done to tackle bias at an organizational level
Motivated young workers and young people with a desire for a better understanding of our unconscious bias.
Young entrepreneurs, leaders – young people who always search for something that can enhance their learning to learn – participants that have a proactive attitude, aged 18+.
The location will be Gyöngyös in Hungary at the feet of Mátra mountains. The participants will be sharing rooms with 2-3 others in a student hotel. Each room has private bathroom and toilets. You can look around on the website of hotel: https://krhotel.hu (No English version.)
Arrival day: 22nd January 2023 in Gyöngyös
Departure day: 29th January 2023
The travel budget is 180 €
The training course will be implemented in the framework of the EU Erasmus+ Programme, and travel expenses will be reimbursed to all participants according to travel limits set by the Erasmus+ Programme. If you stay within the given budget, your expenses will be covered 100%, and if you spend more, the exceeding amount will be your own contribution to your travel.
Complete the BRAVO- APPLICATION FORM with in English title as following "name of the project you are applying for" by 23:59 on deadline day.
Deadline for applying: 20.11.2022.
Selection results: 25.11.2022.
PARTICIPATION FEE: NO PARTICIPATION FEE
If you have any questions don't hesitate to contact us at: office@bravo-bih.com
Who is BRAVO? Watch a video below and enjoy <3
On the video below you can hear very useful information for this mobility.