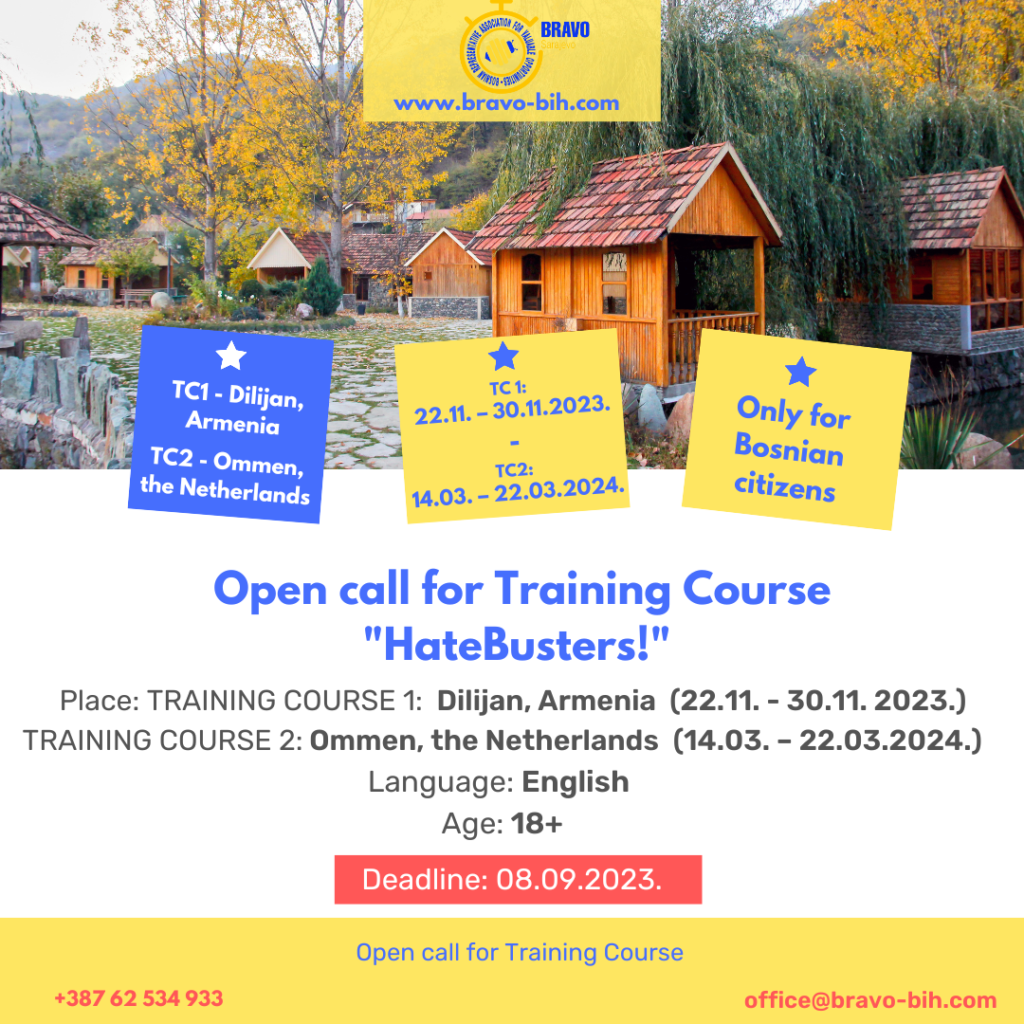 Name of the project:  Training Course ''HateBusters!''
Date of Project:  Stage 1: 22.11. – 30.11.2023.
                                   Stage 2: 14.03. – 22.03.2024.
Sending Organization: "BRAVO"


Hosting organization: ''APY''


Place:  Stage 1: Dilijan, Armenia
                  Stage 2: Ommen, the Netherlands
Participants age: 18+


The number of participants: 2


Working language: English


Deadline for applying: 08.09.2023.
This project is supported and co-funded by the Erasmus+ programme. It means that your travel costs, accommodation, and food will be fully covered if you get selected for the project. The European Commission's support for the production of this publication does not constitute an endorsement of the contents, which reflect the views only of the authors, and the Commission nor EACEA can be held responsible for any use which may be made of the information contained therein.
''HateBusters! Empowering Youth Workers to Combat Hate Speech" is a long-term human rights education project for youth workers working in 19 different countries of the EU and the EU neighborhood. The project focuses on capacitating youth workers and educators in confronting hate speech, addressing hateful rhetoric online and in real life, and understanding how hate speech affects young people and youth groups in communities where they work.
We have developed the "HateBusters! Empowering Youth Workers to Combat Hate Speech" long-term project to support youth workers and youth educators to address hate speech in a safe and transformative way. Through the joint efforts of 19 youth organizations involved, we aim to equip 36 youth workers and educators from the European Union (the Netherlands, Belgium, Bulgaria, Czech Republic, Estonia, Hungary, Italy, Latvia, Lithuania, Poland, Romania, Slovakia and Spain) and Neighboring Partner countries (Albania, Armenia, Bosnia and Herzegovina, Georgia, Moldova and Ukraine) with necessary skills, knowledge and tools to support young people's fight against hate speech, oppressive narratives and propaganda.
OBJECTIVES OF THE PROJECT
The project pursues the following objectives:
Building a community of HateBusters – youth workers, educators, youth activists, and youth
Organizations able to develop local activities and campaigns combating hate speech online and offline. B. Building youth workers' and educators' capacity to identify, address, and confront hateful speech and narratives.
Increasing the competencies of youth workers and educators in the field of anti-hate speech activism and Human Rights Education as well as campaigning as a tool.
Mainstreaming anti-hate speech and HRE methods in youth work and developing future HRE-related projects in partner countries.
Assuring a long-term, sustainable increase in the quality of partner organizations and youth workers' work with combating hate speech, cyberbullying, and other human rights violations.
Exploring various good practices and developing local campaigns, educational activities, and materials that support youth workers and educators to combat hate speech.
It is created for youth workers 18+ years old who are eager to extend their knowledge, upgrade their skills, and broaden their horizons.
Participants must be able to communicate in English. Participants must attend all training sessions and actively participate in all phases of the project.
ABOUT HOSTING ORGANIZATION
APY is a non-profit, non-political organization aiming to support, inspire and engage young people from Armenia and all over the world to develop their social leadership skills, to take their civic responsibility and to act as change-makers. Through our projects, initiatives and non-formal education tools we help young people to succeed, ensuring that they develop their knowledge, skills, attitudes and competences to fit to the modern world. Our organization believes that progressive, educated, skillful, open-minded and engaged young people possess all the power to become actors of change in Armenia and beyond. Because youth is not only the future, but the present!
ACCOMMODATION, FOOD & TRAVELLING
During the Training Course, the participants will be accommodated in Dilijan, Armenia.
The website of the hotel: http://vanatun.am/
 Located in Haghartsin, Vanatun Monastery Stay has a restaurant, garden and terrace. During the stay, food will be prepared by experienced cooks, provided at the venue. Three meals and two coffee breaks per day will be provided.
During the Seminar in the Netherlands, the participants will stay at Olde Vechte in Ommen.
Website: https://oldevechte.com/
The project consists of two Training Courses. The First Training Course will be held in Dilijan, Armenia from the 22nd of November to the 30th of November while the second Training Course will be held in Ommen, the Netherlands from the 14th to the 22nd of March, and the year 2024. All participants that take part in the Training Course in Armenia will also have CHANCE and ADVANTAGE to participate in the Training Course in the Netherlands.
Bosnia and Herzegovina – Fully covered
Complete the BRAVO- APPLICATION FORM with in English title as following "name of the project you are applying for" until 23:59 on deadline day.
Deadline for applying: 

08.09.2023.

Selection results: 

12.09.2023.

PARTICIPATION FEE: 

NO PARTICIPATION FEE

If you have any questions don't hesitate to contact us at: office@bravo-bih.com
Who is BRAVO? Watch a video below and enjoy <3
On the video below you can hear very useful information for this mobility.