Open Call for 2 Participants for European Solidarity Corps in Ankara, Turkey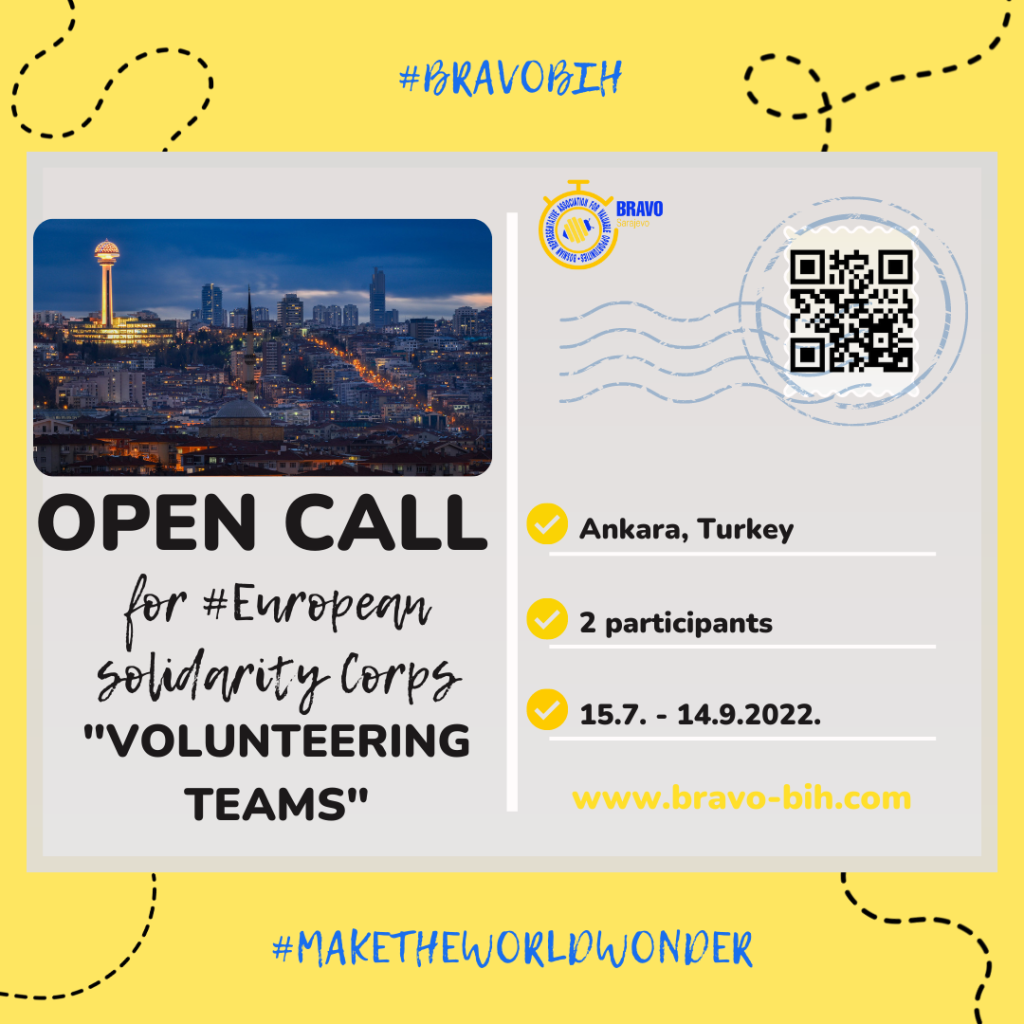 Name of the project: "VOLUNTEERING TEAMS"
Date of Project: 15.07.2022. – 14.09.2022.
Sending Organization: "BRAVO"
Place: Ankara, Turkey
Participants age: +18
The number of participants: 2
Working language: English
Deadline for applying: 29.06.2022.
This project is financed by the European Commission through the Erasmus Plus Program. This publication reflects the view only of the author, and the European Commission cannot be held responsible for any use which may be made of the information contained therein. By Erasmus+ rules organizers will cover travel costs, accommodation and food.
ABOUT THE HOSTING ORGANIZATION
S&G: System and Generation Association is a not-for-profit organization established in 2008.
Our Mission is to enhance the dreams of young people via motilities. We provide opportunities in pursuance of contributing to Youth Empowerment & Community development, encouraging youth' entrepreneurial spirit & helping them acquire knowledge and qualifications.

System and Generation get into the act about; increasing economic growth, social and sustainable development, fostering Intercultural Citizenship Education, promoting tolerance and harmonious co-existence, working on migration and refugee-related issues, encouraging social entrepreneurship initiatives, social inclusion of people with disabilities and fewer opportunities.
International Volunteering in the framework of promoting social cohesion, social inclusion and international dialogue.
To raise awareness about civic participation in civic life and to give social workers who can play an active role a chance for active citizenship.

In this frame, the main topics of our activities are: Youth Work, Community Development, Climate Action and the Environment,Employment and Entrepreneurship, Culture , Inclusion, Education and Training, Citizenship and Democratic Participation, Sport and Skill Development
VOLUNTEERING TEAMS ACTIVITY SCHEDULE