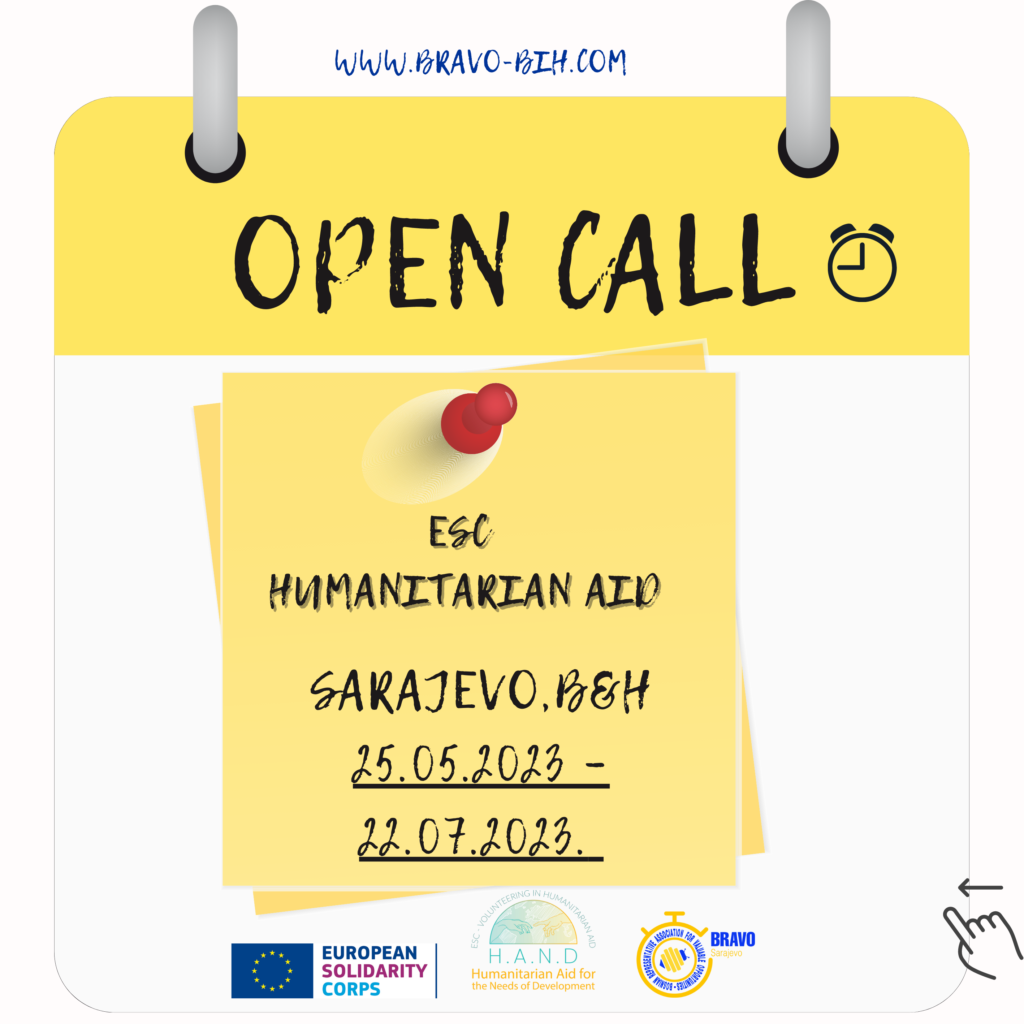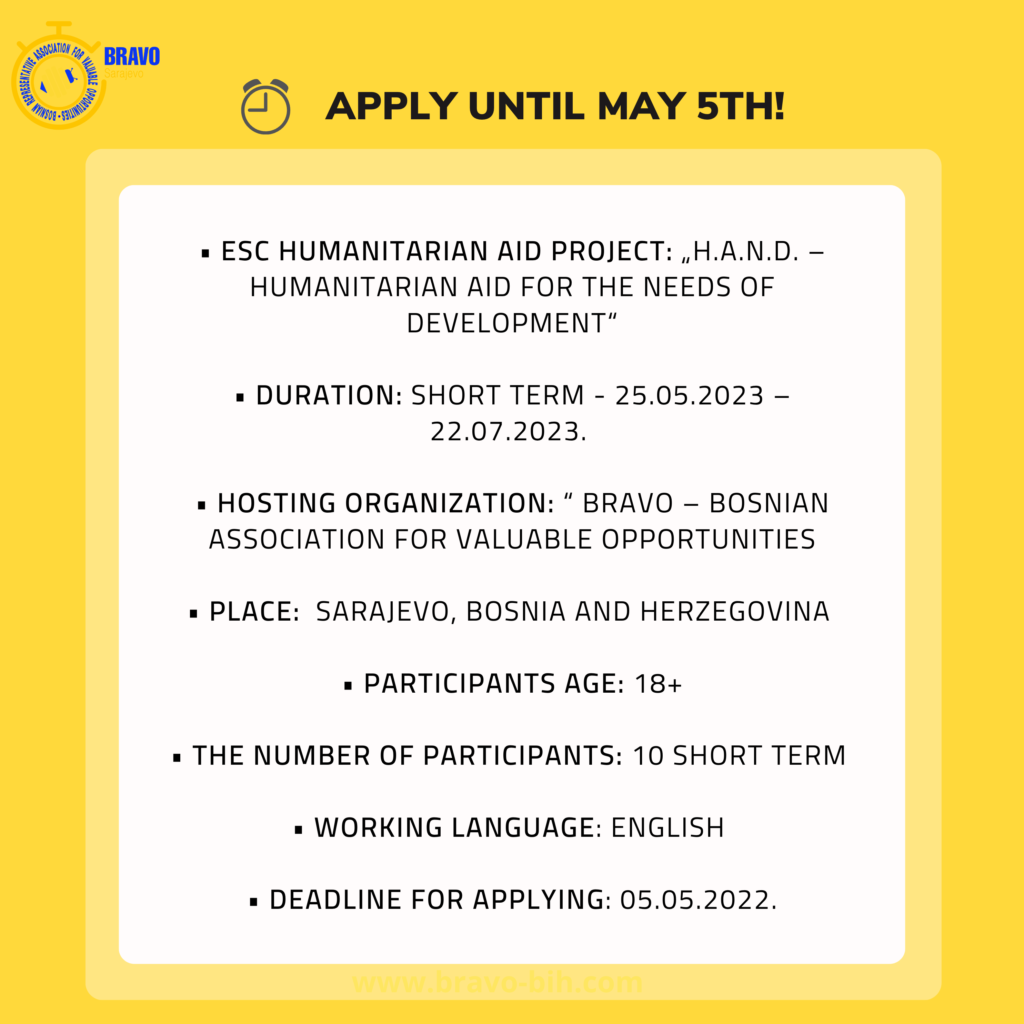 Name of the project: "H.A.N.D."


Duration: SHORT TERM – 25.05.2023 – 22.07.2023.


Hosting organization: " BRAVO – Bosnian Association for Valuable Opportunities"


Sending Organization: " Egitim Programlari ve Evrensel ve Kulturel Aktiviteler Dernegi – EPEKA" and Viatores Christi Company Limited by Guarantee VC


Place:  Sarajevo, Bosnia and Herzegovina


Participants age: 18+


The number of participants: 10 for short term


Working language: English


Deadline for applying:05.05.2023.

(New Deadline: 12.05.)
Volunteers will have a chance to experience a life in Bosnia and Herzegovina while engaging in volunteering activities with a humanitarian character. During this two-month program, participants will engage in a variety of activities, including volunteering in migration camps, an elderly center, a kindergarten, and a center for children with autism. These activities will not only provide valuable assistance to the local communities but also allow the volunteers to gain hands-on experience in the field of humanitarian work.
The program aims to promote cultural exchange, social inclusion, and personal development of the participants. They will have the chance to live and work alongside one another, sharing their different backgrounds, experiences, and perspectives.
Overall, Project HAND offers a unique opportunity to make a positive impact while gaining valuable skills and experiences. We encourage all interested individuals to apply and join us in this meaningful and rewarding journey.
* Workshops with refugee and migrant children and adults *
This activity represent a unique opportunity for volunteers to make a difference in the lives of people who have fled their homes and seek refuge in a foreign country. As a volunteer, you will have the opportunity to work with individuals from different cultural backgrounds, and your contribution will help to provide essential support to people who are in need.
Volunteering with refugee and migrant children and adults in migrant centers involves a wide range of activities, including providing basic education, assisting with medical care, and offering emotional support. They will have the opportunity to learn about different cultures, improve their communication skills, and gain valuable experience working with vulnerable people.
Through participation in this project, volunteers will be helping to provide essential support to individuals who have fled their homes and are seeking a new beginning. The contribution will make a real difference in the lives of these individuals and help them rebuild their lives in a new country.
* Social Media and video editing workshops: *
Volunteers will be empowered with the skills and knowledge they need to excel in the ever-evolving world of social media and digital marketing. Through workshops, volunteers will learn how to create visually stunning videos that tell compelling stories, and promote them across various social media channels. BRAVO marketing team will help volunteers get acquainted with the tools they need to create engaging content. Focus will also be on helping volunteers develop their social media and digital marketing skills. They'll learn how to develop and implement a social media strategy.
BRAVO marketing team will be committed to providing a supportive and inclusive learning environment, where volunteers can feel comfortable asking questions, sharing their experiences, and collaborating with one another.
* Project Management education: *
Through this project, volunteers will have opportunity to learn the fundamental principles of project management, including project initiation, planning, execution, monitoring and control, and closure. Beside, classroom learning, volunteers will have the opportunity to put their skills to the test by preparing actual projects at BRAVO. This will give them the chance to apply your knowledge in a real-world setting, gaining valuable experience and building your confidence as a project manager.
BRAVO team will guide you every step of the way, providing feedback and support as you navigate the challenges of project management.
* Solidarity and workshops in kindergartens: *
Volunteering in kindergartens is focused on fostering a sense of community and empathy among children through fun and educational activities in kindergartens in Sarajevo. By engaging children in interactive workshops and games, volunteers will have important rule where they can help children to develop skills such as communication, teamwork, and problem-solving, while also teaching them about important social issues such as diversity, inclusivity, and mutual respect. Volunteers will have opportunity to learn and to use various tools and techniques to make learning fun and engaging for children. From puppet shows to storytelling sessions, music and dance, and hands-on art projects, volunteers will experience and learn different learning styles and interests.
* Volunteering in the elderly centar: *
Within this volunteering activity, volunteer will be in place where they will provide companionship, engagement, and entertainment to the elderly residents of local care centers. Volunteers will have the opportunity to associate with the elderly residents and provide them with much-needed social interaction. They will have the chance to listen to their stories, share their own experiences, and develop meaningful relationships that will make a lasting impact on their lives. Volunteers will have the chance to make a difference through hands-on activities and workshops, also have opportunity to organize a range of events and activities, from arts and crafts sessions to cooking classes, to ensure that residents have a variety of engaging and enjoyable activities to participate in. As a volunteer your task will be to make the period of staying in the center as interesting and enjoyable as possible for residents.
*Workshops in the center for children with disabilities: *
Volunteers will have the unique opportunity to learn new skills and tools while working alongside children with developmental disabilities. At the center, they'll be paired with a child and work closely with them to help develop their communication, social, and motor skills through various activities and games. Also have the chance to learn from experienced professionals and gain valuable insights into the field of special education.
Through this activity, volunteers will be enhancing their own personal and professional development. They learn to think creatively, adapt to new situations, and develop strong communication and teamwork skills.
ACCOMMODATION, FOOD AND TRANSPORT ARRANGMENTS
ACCOMMODATION, FOOD AND TRANSPORT ARRANGMENTS
The accommodations provided for volunteers consist of a hotel in close proximity to both their assigned working locations and the BRAVO office. Each volunteer will be provided with their own room or shared room with a roommate equipped with a private bathroom. The common areas of the hotel, such as the restaurant, lobby, and laundry room, will be shared among all volunteers. Additionally, they will have access to reliable Wi-Fi. Meals can be enjoyed in the restaurant or prepared within their individual rooms.
It is worth noting that the hotel is located at a distance of 15 minutes from the office via tram or bus. The kindergarten is a 10-minute walk away, while the elderly center is accessible within 20 minutes via tram. The center for creative learning can be reached in just over 20 minutes via bus. Finally, the immigration center is located at a distance of 20 to 30 minutes from the hotel.
During the first week of the program, the volunteers will participate in an orientation week where they will have the opportunity to interact with mentors and other BRAVO members. The purpose of this week is to familiarize volunteers with the culture, city, and work environment.
Moreover, the volunteers will receive comprehensive training on the ESC program and ESC Humanitarian Aid, as well as the Erasmus + platform in general. This training will equip the volunteers with the necessary knowledge and skills to effectively carry out their duties.
In addition, BRAVO will provide mentorship training to all the volunteers. This training will cover the roles and responsibilities of mentors in the program and how they can provide guidance and support to the volunteers.
Finally, the volunteers will undergo project management training to equip them with the necessary skills to plan, implement, and evaluate projects effectively. This training will enhance the volunteers' ability to contribute to the success of the program.
In order to ensure that the skills and expertise of volunteers are effectively utilized, sending organizations will be deploying them based on their individual backgrounds and profiles. Recruitment efforts are focused on identifying candidates who possess the necessary qualities and experience to excel in a variety of roles, including working with youth organizations, elderly centers, kindergartens, centers for disabled children, as well as two refugee camps.
With the belief that by carefully matching volunteers with the appropriate tasks, volunteers will maximize their impact and contribute to the growth and development of the communities we serve. We are committed to providing meaningful opportunities for volunteers to make a positive difference in the lives of those they work with, and we recognize the important role they play in achieving organizational goals.
Great care will be taken in selecting volunteers who are passionate about serving others, and who have a strong desire to contribute to the betterment of society. We believe that through collaboration and teamwork, we can create positive change in the world, and we welcome those who share our vision to join us in our mission to #MAKETHEWORLDWONDER.
ONCE AGAIN: "DON'T FORGET TO CLICK ON BUTTON BELOW AND APPLY THROUGH EUROPEAN YOUTH PORTAL"
If you have any questions feel free to contact
BRAVO TEAM
Check more information about BRAVO in the video below: