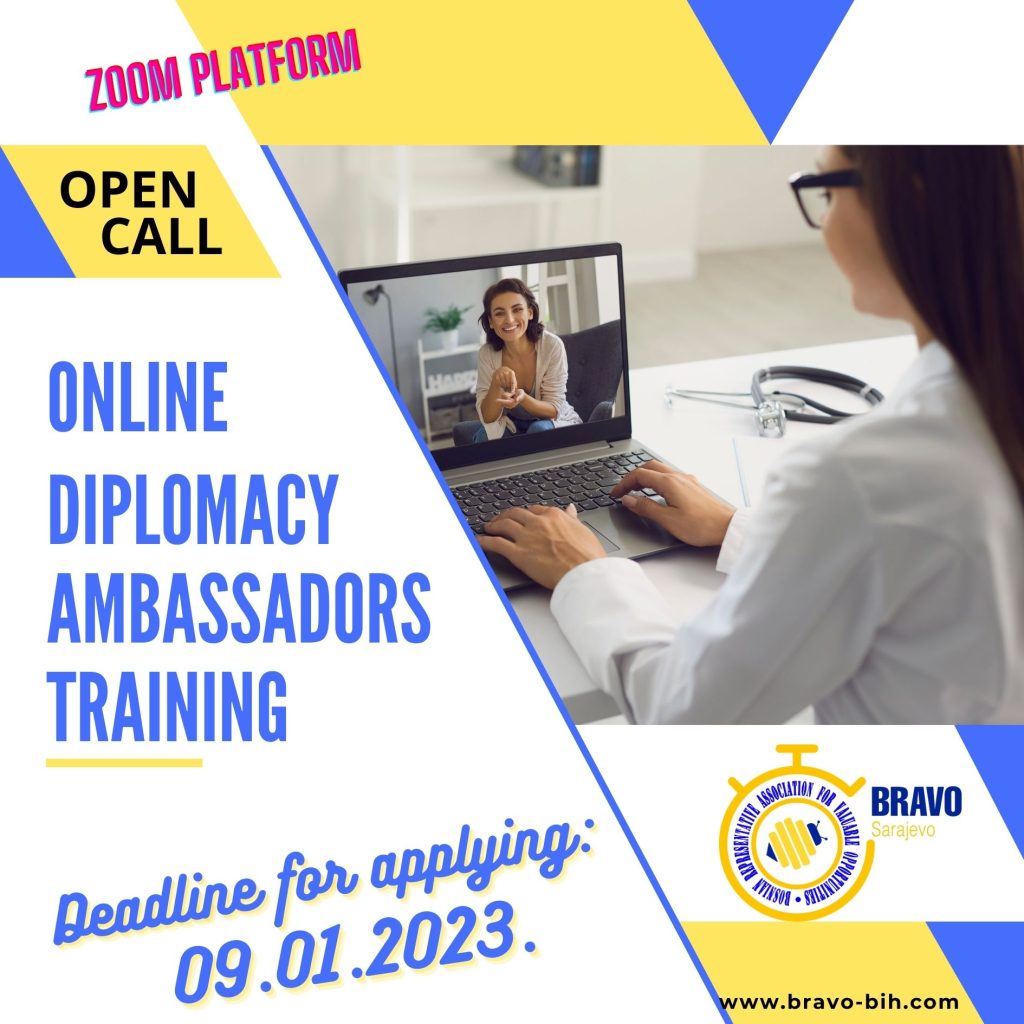 Name of the project: Diplomacy Ambassadors Training


Start of the training: January 2023


Hosting organization: "Divan Association"


Participants age: 16+


The number of participants: 10


Working language: English


Deadline for applying: 09.01.2023.
The training will be held online via the Zoom platform.
For a more peaceful and communicative world, it is indispensable for young generations to receive an appropriate education, adopt basic human values, respect different cultures and understandings, and choose communication / diplomacy as a method of solving problems. Every day, we see that the tendency of young people to violence increases, that young people become radicalized and their tolerance of different understandings decreases in different media outlets, especially in social media. The problem we mentioned above is an issue that threatens both social peace and the future of young people. 
Studies on young people's tendency towards violence, especially the 14-22 age group, are accepted in society, being a member of a community and so on. shows that they can join radical groups for reasons such as. It is also worth noting that armed conflicts in different parts of the world, computer games, music and cinema play a role in the formation of such a situation. This problem we are talking about is not specific to a particular society. For example, in a study conducted by bpb (Bundeszentrale für Politische Bildung) in Germany, it was stated that there was an increase in the number of 15-18 year olds who were oriented towards far-rightism. Likewise, it has been repeatedly reflected in the media that many young people of the same age group in Ukraine were taken to training camps by different right-wing groups on the grounds of war in the country. 
In the World Health Organization (WHO), youth violence is among the top problems of societies in the world and also states that it is emerging in different ways. In addition, WHO warns that urgent measures should be taken in this regard.
THE OBJECTIVES OF THE PROJECT
– Creating and publishing a book / booklet that includes the basic rules and principles for human diplomacy studies, Digital Diplomacy, Human Diplomacy, Solidarity, Encompassing Peace Studies, and the principles of increasing women's participation and the way of working, aimed at young people, but in a way that everyone can use.
– Trying to reach out activists, volunteers, youth workers and young people in various conflict zones around the world, and work together to take initiative and develop their skills in preventing and / or reducing violence /conflict.
– To educate, encourage and encourage young people about advocacy and Digital Diplomacy by using the opportunities of digitalization, and work towards increasing the participation of women in these works.
– To investigate the reasons for the radicalization of young people and to create an identity under the name of "Diplomacy Ambassadors" in order to support its prevention, to carry out continuous education programs
Young people adopt communication, diplomacy and negotiation as a problem-solving method
Young people take an active role in society and embrace enough human diplomacy to define themselves as "Human Diplomacy Ambassador"
Analysis of the work done by both state institutions and NGOs in the field of human diplomacy in the project partner countries and providing information transfer between partner countries
To develop a "Deradicalization Policy / Strategy Document" within the scope of combating terrorism, rebellion, illegitimate war, asymmetric war radicalization, which are discussed within the framework of the concept of "violent extremism" or "Radicalization" seen in conflict zones.
Developing intellectual output products on "Human Diplomacy" and "Digital Diplomacy" (booklet, method / technique, policy / strategy document, etc.)
Establishing a "Human Diplomacy Platform" in order to digitize Human Diplomacy, to map conflict zones online, to create networks between international human diplomacy organizations, to host / share content that will be developed as a resource / reference to human diplomacy studies.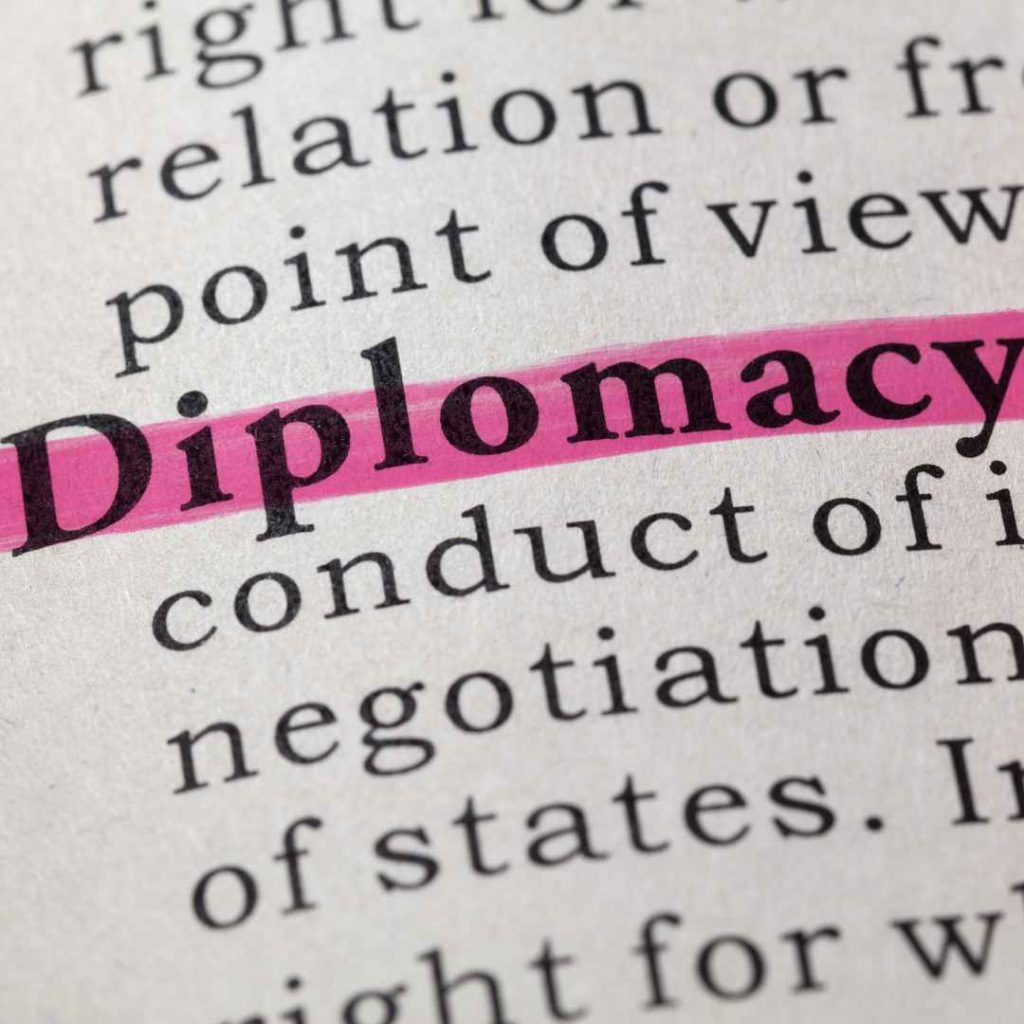 Establishing an "Online Monitoring Center" portal under the name of "Human Diplomacy Platform" within the scope of Human Diplomacy studies to monitor conflict zones
Establishing the portal of "Preventive Deradicalization Action Center" within the scope of Human Diplomacy studies and under the "Human Diplomacy Platform"
Strengthening the institutional and international cooperation capacities and cooperation networks of the partner institutions in the project
 
Complete the BRAVO- APPLICATION FORM with in English title as following "name of the project you are applying for" until 23:59 on deadline day.
Deadline for applying: 09.01.2023.
Selection results: 10.01.2023.
PARTICIPATION FEE: NO PARTICIPATION FEE
If you have any questions don't hesitate to contact us at: office@bravo-bih.com
Who is BRAVO? Watch a video below and enjoy <3
On the video below you can hear very useful information for this mobility.