Open Call for 1 Participant from Bosnia and Herzegovina for Short-term volunteering
"GREEN FINGERS"
in Zagreb, Croatia
Name of the project: "Green Fingers"


Date of Project: 01.09.2021 – 25.10.2021.


Hosting organization: "O.A.Z.A.: ODRŽIVA ALTERNATIVA ZAJEDNICI"


Sending organizations: "BRAVO"


Place: Zagreb, Croatia


Participants age:  16 – 30


The number of  participants : 1


Working language: English


Deadline for applying: 28.08.2021
This project is financed by the European Commission through the Erasmus Plus Program. This publication reflects the view only of the author, and the European Commission cannot be held responsible for any use which may be made of the information contained therein. By Erasmus+ rules organizers will cover travel costs, accommodation and food.
GREEN FINGERS is an ESC opportunity that will bring together 12 short-term volunteers to Zagreb and engage them in maintaining urban school gardens in a few primary schools in Zagreb, Croatia.
Volunteers' tasks in the project:
Maintaining school gardens – garden works: planting, sowing, watering, weeding, working with garden tools, hoeing the soil, constructing raised beds, constructing other new elements in the gardens etc. ATTENTION! This task requires a certain level of physical activity. Working with soil can get you dirty and sweaty, too. Bring some clothes and shoes appropriate for garden works and different weather conditions – something you won't regret to stain and leave behind.
Direct work with children – organizing and holding workshops on the topic of environmental protection, ecology, recycling etc., intercultural and language workshops, arts and crafts activities etc.
In case epidemiological measures prevent in-person workshops with children, the volunteer will work on Online work with children – organizing online workshops, shooting video tutorials, holding live classes etc. on the topics of environmental protection, ecology, recycling etc.; intercultural and language workshops; arts and crafts activities etc. IMPORTANT! If you have a laptop or a tablet that can be used for creating online content, bring it with you!
Organizing and promoting public events – public awareness event promoting a chosen cause; intercultural event.
In case epidemiological measures prevent in-person, the volunteers will do it online.
Creating a PDF workshop manual – with description of all methods used by volunteers during the projects so others can implement them later.
We have been implementing this project since 2015 and hosted around 89 volunteers on this project.
THE OBJECTIVES OF THIS PROJECT ARE TO:
Help children and young people reconnect with nature in an urban environment by working in gardens
Help children and young people develop competencies about environment protection, sustainability, healthy lifestyles etc. and put them into practice using non-formal education methods
Facilitate intercultural interaction, exchange, and learning between volunteers, children, and teachers
The project will be implemented on a few locations in the City of Zagreb and outside of the city. The activities will bring together 12 volunteers from different European countries. The methods used in this project will promote active participation, learning by doing, non‐formal and informal education. The main methods will be experiential learning, cooperative learning, participatory learning, peer learning, brainstorming, teamwork, team building and energisers, presentations, evaluations, group and individual work.
We plan to achieve the following results:
Maintaining urban school gardens in cooperation with 2 primary schools in the city of Zagreb and 1 school in Petrinja region
Organising promo events (a public awareness activity, intercultural event)
Holding a minimum of 20 creative & educational workshops with children
Promoting healthy lifestyles (growing vegetables in school garden, adopting a vegetarian/vegan diet, physical activity in nature, etc.)
Promoting and encouraging European values (mobility, cosmopolitanism, cooperation, solidarity, mutual understanding, intercultural exchange, etc.)
Gaining new logistical, organisational, and digital skills through the active involvement of volunteers in the organisation of project activities
Encouraging community spirit through cooperation between school children, teachers, and volunteers
supporting individual development and creative contribution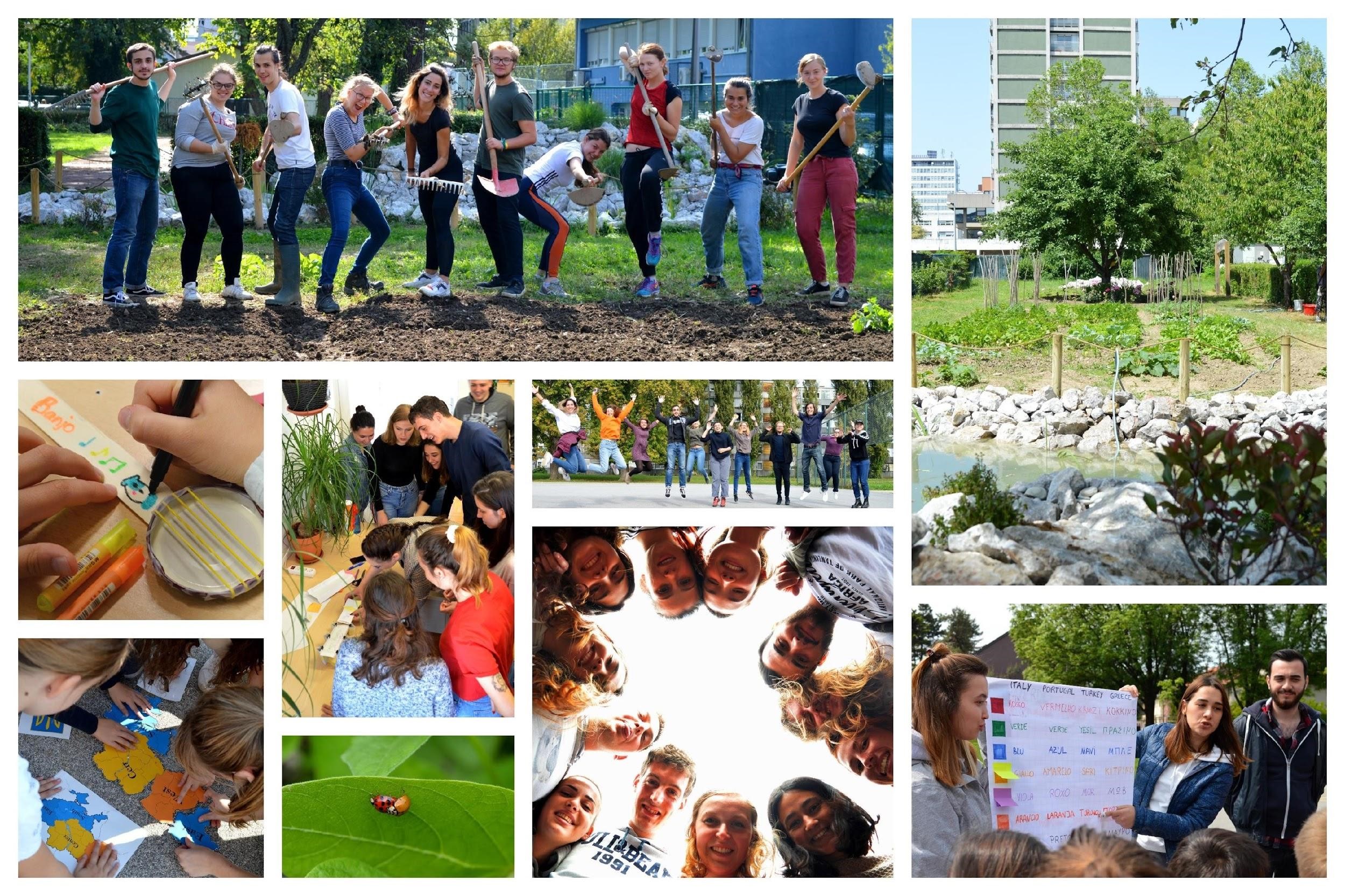 Long term benefits of the project will be reflected in:
An increased level of tolerance to different cultures, religions, and nationalities among school kids, increased cultural sensitivity, English language skills
An increase in the community spirit in the schools' neighbourhoods – the feeling of togetherness and solidarity
Making school gardens a place where generations meet, learn from each other and spend time together
Helping children from urban areas to reconnect with nature, soil, plants, and animals
An increase in children's sensitivity to nature
You will be accommodated in the hostel Mali Mrak in Zagreb (http://hostel‐zagreb.com/). It is a quiet, dog‐friendly place.
The bedrooms will be shared between 2 to 3 volunteers (depending on the size of the room). The common shared spaces in the hostel are 2 fully equipped kitchens, common spaces, and bathrooms and all guests have free Wi‐Fi. Once a week you can use the washing machine in the hostel.  The rooms in the hostel cannot be used for parties and you will have to respect the hostel house rules (which will be presented and agreed on upon your arrival). The hostel is close to the tram lines and city centre is a 20-minute ride away.
You will be responsible for cleaning your rooms and keeping the kitchen and bathroom tidy after you use them. The bathrooms and the common spaces are cleaned by the hostel staff. You should also take proper care of the space, furniture, and equipment and in case something is broken due to improper care, you will have to fix or replace it.
Bed linens and towels will be provided in the hostel.
For those who like to be recreative or want to walk, you can walk from the hostel Mali Mrak to the OAZA office which takes approximately 1h on foot.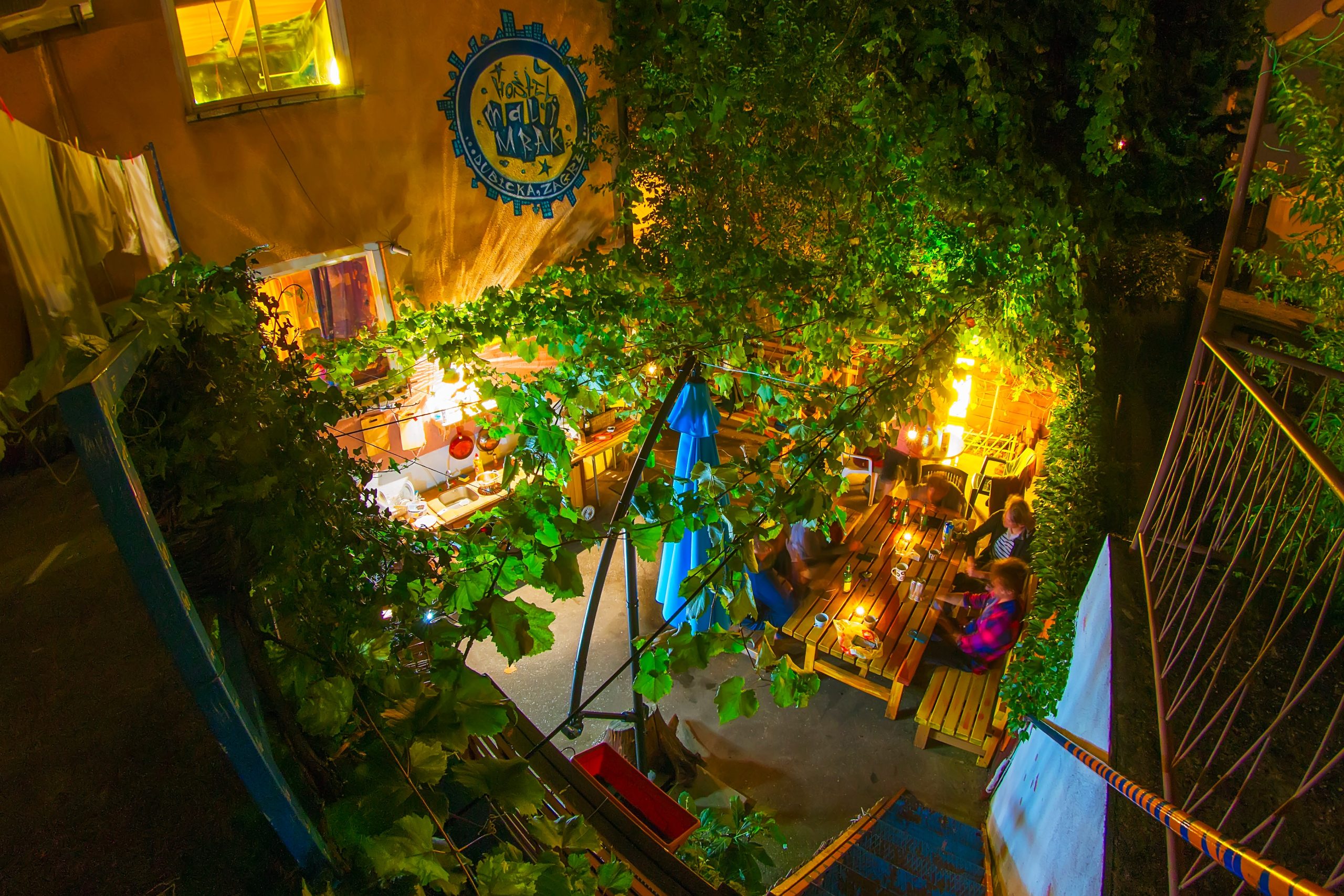 The first day of activities is Monday, 23th August. We advise you to arrive on 22th August the latest so you can get some rest before the new adventure begins 🙂 You can also arrive a few days early – but please check with us if the accommodation will be available for you!
If you are arriving in Zagreb by plane, you should take a shuttle bus from Zagreb Franjo Tuđman Airport which will bring you to the Zagreb central bus station where we will pick you up. The ride takes around 30 minutes, and costs 35kn (or 5€). Please, keep the recipe of the shuttle bus so we can reimburse you!
If you are arriving by train/bus, we can arrange to pick you up at the central train/bus station. We will arrange each pick up individually through email communication (please, cooperate with us and let us know all the needed details). Once we pick you up, we will bring you to the place where you will be accommodated during your short-term mobility. We will instruct you on the flow of activities during the next few days.
On working days, you will be provided with one vegetarian or vegan meal – in other words, lunch will be provided for you to help you with the vegetarian/vegan challenge which is an important part of the project.
We encourage you to try the vegetarian challenge and go vegetarian (or even vegan if you already are vegetarian) during your stay in Zagreb to see what benefits it can bring to you.
For breakfasts, dinner and meals over the weekend you will be responsible for yourself, and we will provide you with a food allowance for that purpose.
Promoting vegetarianism is important to OAZA for two reasons – sustainability and non-violence. Excessive consumption of meat in modern societies has a big negative ecological footprint. We also insist on alternative food habits grounded in non-violence, compassion, and care for other beings which, we believe, make us better humans.
The monthly pocket money of 150€ (or 1.117,28 HRK in Croatian Kuna according to the official project exchange rate) will be paid in cash within the first week of the mobility (1st part for first month) and on the half of the mobility (2nd part for second month).
To cover the food expenses (breakfast, dinner, meals on weekends and free days), you will receive a monthly food allowance of 650 HRK (approximately 85€) paid out in cash together with your pocket money.
You also have the right to the travel cost reimbursement up to the distance band limits stated in the European Solidarity Corps programmer guide, which is:
180 € for Bosnia and Herzegovina, Italy
275€ for Albania, France, Germany, Greece, Poland, Spain, Romania
360 € for Portugal 
LOCAL TRANSPORTATION – Monthly transportation cards will be given to you, so you have unlimited free use of the city trams and buses in Zagreb
If you are an EU citizen and have state health insurance in your country, you are entitled to EHIC – European Health Insurance Card. This will cover most of the healthcare costs. Ask your local healthcare provider how to obtain EHIC for free.
Also, ESC volunteers are enrolled for a supplementary health insurance scheme provided by CIGNA for any other situations not covered by the EHIC. If you want to learn more, ask your supporting organization who will register you for the complimentary CIGNA insurance.
For non-EU citizens, who don't have the right to EHIC, they will be registered for a full-coverage CIGNA insurance which will cover all healthcare costs.
Before arrival, please send us the scans of your EHIC and CIGNA cards, so that in case of emergency, we can communicate with health providers in your name.
The official working hours of OAZA office are Monday to Friday, from 9 a.m. to 5 p.m. usually, you will start working around 9 a.m. and get your lunch around 1 p.m. That's why we suggest you bring a snack or a sandwich in case you get hungry while you are still in school. After getting your lunch, you will most probably continue working in the office on planning your workshops.
Due to the participation in different events, working hours can include work in the late afternoon/evening (5 p.m. ‐ 9 p.m.).
You will be working approximately 6 working hours per day (lunchtime is not counted as a working hour). On some days, we can work more and on other days less. At the beginning of each week, we will let you know about the weekly schedule.
If you have your own lunch box, you can bring it with you.
During spring in Zagreb, from August to October, average high temperatures are from 38.8°C to 27.6°C, and average low temperatures are from 7.3°C to -6.0°C. This means that you should bring with you some warmer and lighter clothes and shoes that can stand rain. For working in gardens, please bring old clothes and old shoes, as you are going to get dirty and we don't want you to ruin your favourite sneakers or trousers. Bring a hat to protect you from the sun or light rain, or a raincoat if you have one.
For working in schools, bring suitable clothes that are not inappropriately revealing (no micro shorts, miniskirts, spaghetti strap tops, deep neckline, crop tops, etc.).
There is a mountain Medvednica close by, and we usually take volunteers for at least one easy hike there, so bring shoes that are appropriate for light hiking. If someone likes hiking of a bit more intensity, they can go to Sljeme (the mountain top all Zagreb citizens like so much).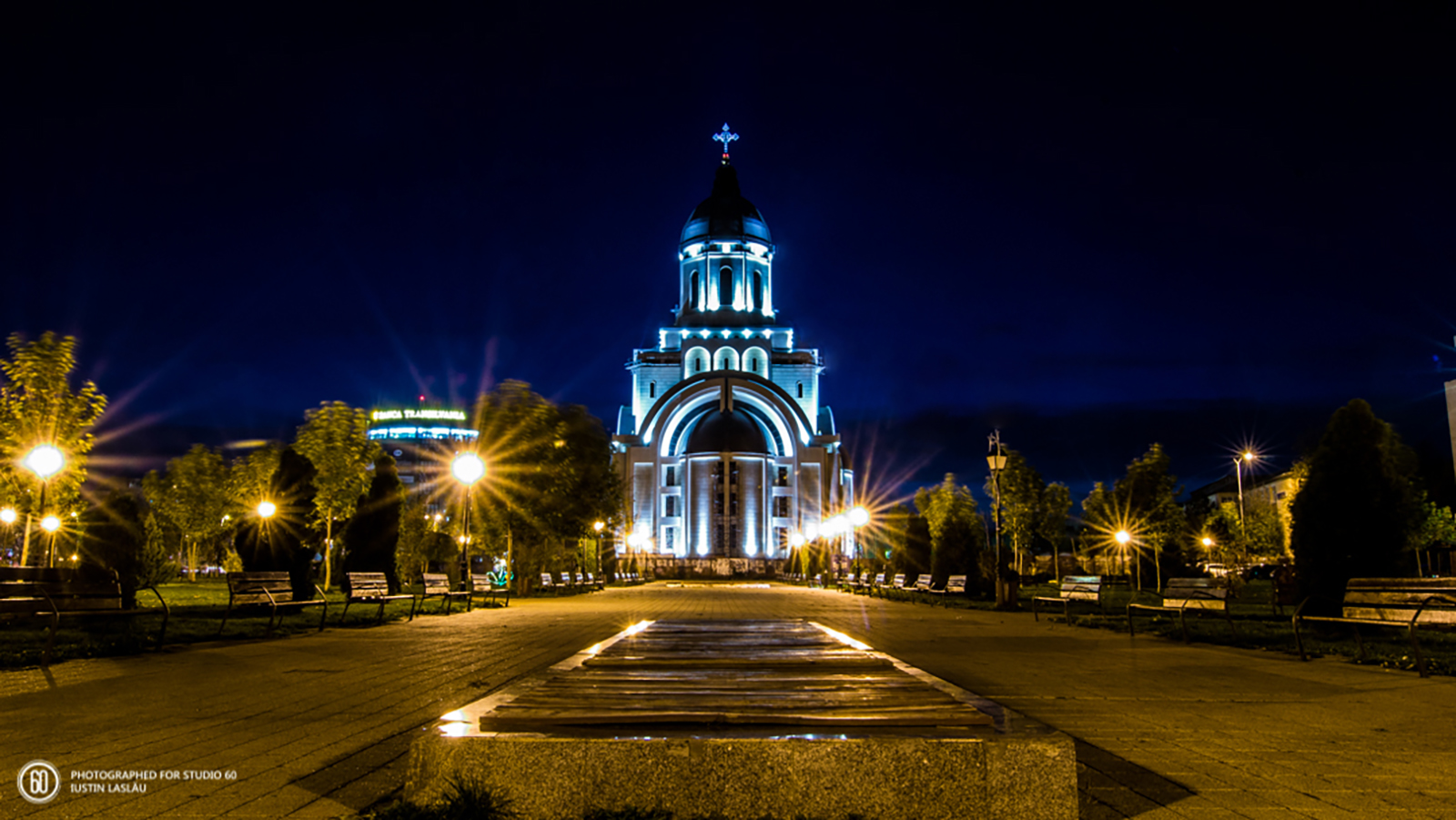 Zagreb is the capital of Croatia, yet often forgotten when tourists come to Croatia choosing the coast instead. The city centre is full of arts, culture, and green parks. Zagreb is a great place to be in spring because of a lot of open air events happening during that time of the year.
For weekends, hiking up the hills that overlook Zagreb or relaxing by the lakes and in parks are popular choices. If you wish to go further away, Zagreb is also ideally located for trips to Plitvice Lakes National Park – one of Croatia's most visited sites – or trips to the coastal area of Rijeka and Zadar. International trips may not be possible due to the pandemic, however, we want you to make the most of your time in Croatia and will provide you with information on many more things to do.
Now, in order to enter Croatia, you need to have a valid EU digital COVID certificate (for state members of the EU).
In case you don't have it, it will be possible to enter the Republic of Croatia with:
negative PCR test or rapid antigen test – BAT on SARS-CoV-2, where the BAT test must be from the Common list of rapid antigen tests mutually recognized by the Member States of the European Union, published by the European Commission. When finding a BAT test made abroad, the manufacturer of the test and / or the commercial name of the test must be visible. Otherwise, the test will not be accepted as credible for entry into the Republic of Croatia. The result of the PCR test must not be older than 72 hours, and the BAT test of 48 hours from the moment of testing to the arrival at the border crossing;
confirmation not older than 270 days of receipt of two doses of vaccine used in EU Member States (Pfizer, Moderna, AstaZeneca, Gamaleya, Sinopharm) or presentation of a certificate not older than 270 days of receipt of one dose of vaccine received in one dose (Janssen / Johnson & Johnson) if 14 days have passed since receiving that one dose;
confirmation of receipt of the first dose of Pfizer, Moderna or Gamaleya, with which it is possible to enter the Republic of Croatia in the period from the 22nd to the 42nd day of receipt of the vaccine, or from the 22nd to the 84th day of receipt of the first dose of AstraZeneca;
confirmation of recovery from COVID-19 and receipt of a single dose of vaccine within six months of the onset of the disease, provided that vaccination must be carried out less than 270 days before arrival at the border crossing point;
presentation of a positive PCR or rapid antigen test, confirming that the owner has recovered from SARS-CoV-2 virus infection, which test was performed back 270 days, and older than 11 days from the date of arrival at the border crossing or presentation of a medical certificate about getting over it
Please do the PCR test timely and send us a scan of the result before your trip! Bring the original results with you. If it is possible to get a free covid-19 test from your local health provider, please use the opportunity. If it's not possible, then get a receipt for the PCR covid-19 test, bring it with you and we will reimburse you upon arrival.
For your and others safety, wear a mask in all situations where physical distancing is not possible (schools, shops, public transport, and other closed spaces). We will provide each of you with washable and reusable cotton face masks.
Wash your hands regularly with soap and water, especially after you have been in a public place (public transport, shops). If soap and water are not readily available, use a hand sanitiser. Cover all surfaces of your hands and rub them together. We will provide each of you with a hand disinfectant.
Limit your free time activities to low-risk situations only (without night clubbing and other potentially high-risk activities).
Maintain a distance of at least 1m and avoid handshake or hugging. You can replace it with other creative gestures.
If you need to sneeze or cough, cover your mouth and nose with a tissue which later you will throw in the trash.
We will measure your body temperature daily during workdays using a non-contact thermometer.
In the first two weeks, you will all be in a semi-quarantine, going out only for necessary reasons (such as shopping for groceries, volunteering activities in our office or gardens, recreation done individually or with other volunteers, etc.). Only after two weeks have passed and our group is proven corona-free we will start the usual activities in schools.
Stay at the hostel if you feel unwell presenting symptoms of fever, cough and difficulty breathing, and call us in advance so that we can help you seek medical care. Follow the directions of the local health authority.
For more information about our NGO, follow us on:
Facebook "Udruga OAZA", YouTube "Ured Udruga O.A.ZA"
If you have any questions feel free to contact
BRAVO TEAM