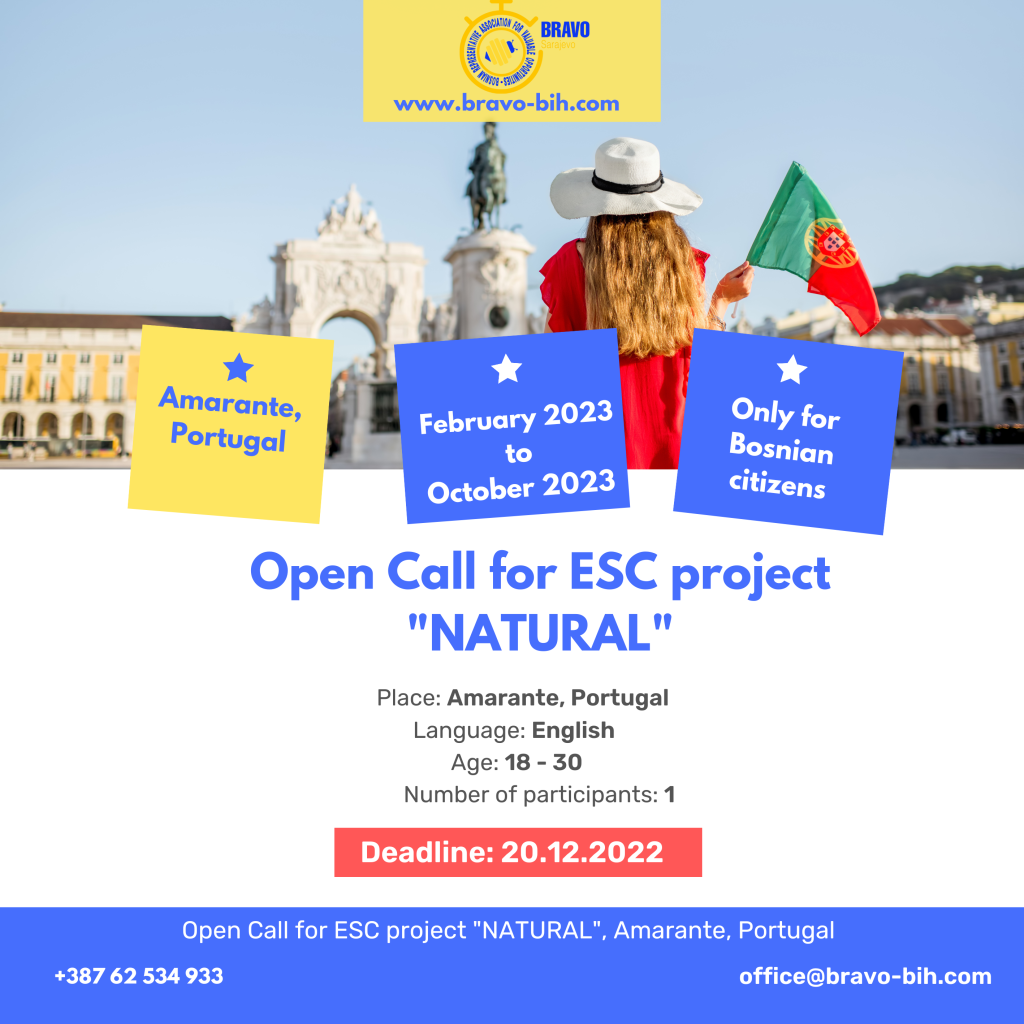 Name of the project: ESC project "NATURAL"


Date of Project: February 2023-October 2023 (8 months)


Sending Organization: "BRAVO"


Hosting organization: Aventura Marao Clube


Place: Amarante, Portugal


Participant age: 18+


The number of participants: 1


Working language: English


Deadline for applying: 20.12.2022.
The European Commission's support for the production of this publication does not constitute an endorsement of the contents, which reflect the views only of the authors, and the Commission nor EACEA can be held responsible for any use which may be made of the information contained therein.
"NATURAL" is an individual volunteering project involving in total of 4 volunteers coming from 4 supporting partners. The duration is 8 months, ideally from February 2023.
The project´s main themes are Human Rights (as example: Fair Trade promotion), Health and well-being (as example: healthy food and lifestyles, outdoor activities) and Environment (as example: organic farming, local products, sustainable tourism) with the aim of supporting Equação and its members and local partners.
We work in relation to the real needs of our city. At the moment we would be happy to welcome volunteers who might have these interests/skills (it is not mandatory):
 -Organic farming: The volunteers are going to support 4 organic farmers of the region of Amarante.
Art: if you would like to create art in Amarante we have many requests to develop street art and decorations for social institutions.
 Sport: we promote a healthy lifestyle and through sport many volunteers manage to help part of the community to develop convivial activities.
ABOUT THE HOSTING ORGANIZATION:
Aventura Marao Clube started to manage the local youth centre/hostel, Casa da Juventude de Amarante (CJ Amarante), a study case project as it was the first private body managing a public equipment in Portugal. CJ Amarante's initial strategy was to support local youth initiatives to approach youngsters to our values, develop mobility and participation projects and offer accommodation and food services). AMC has recently received the quality label for ESC and Erasmus+ accreditation for Youth (that intends to systematize our performance in terms of mobility of young people and workers in the youth area) with regard to the themes that we defined in our strategy for the next decade: -In the view of SUSTAINABILITY, valuing healthier, sustainable and participatory practices and principles (responding to environmental and climate changes) -Within the scope of GLOBAL EDUCATION, promoting alternative approaches to individual development (personal, social and professional), collective (cooperation, dialogue) and global citizenship based on the values of our mission and activities -Stimulating LOCAL PARTICIPATION, supporting initiatives by young people who want to transform their way of being as producers, consumers, activists or citizens attentive to the decision-making processes and the functioning of democratic life.
POCKET MONEY: The "Pocket money" to the volunteer for additional personal expenses according to the ESC Guide 2021 is a contribution of 5€/day per volunteer
HEALTH INSURANCE: Volunteers will be insured by the Cigna Insurance Plan and receive their personal membership card.
 FOOD AND ACCOMMODATION: AMC has a long experience with ESC and Volunteering Projects (we've hosted more than 300 volunteers in the last years) and our policy for food and accommodation is these: – Accommodation will be in an apartment or house (both in Amarante's city center and nearby our youth center) or also at Youth Village, where usually we host our volunteers. These places are well equipped with rooms, bathrooms, and kitchens (laundry is free in the youth center).
In some cases, volunteers might have to share rooms – Double rooms. Volunteers are allowed to have guests for free (accommodation) in a good faith and after agreement from the hosting organization. – Food (breakfast, lunch, and dinner) will be given from Monday to Saturday (6 days per week) by our organization at the youth center (Casa da Juventude de Amarante), where we usually serve meals to our volunteers (we run a vegetarian restaurant there). Food is vegetarian (including eggs, milk, seitan, tofu, mushrooms, etc.).
Amarante is located around 60 km away from Porto. Which means the easiest way for you to reach us is by travelling to Porto's Airport (OPO). From there we will arrange your transport to Amarante. If possible, try to find a greener way to travel to/from Amarante.
Travel budget is 360€
Amarante is a historical city in northern Portugal with a huge natural and building heritage, the city cultural and artistic tradition made Amarante a Creative city of UNESCO network. With 56 thousand inhabitants, Amarante is the municipality with the biggest area of the Porto district.
Complete the BRAVO- APPLICATION FORM with in English title as following "name of the project you are applying for" until 23:59 on deadline day.
Deadline for applying: 20.12.2022.
Selection results: 23.12.2022.
PARTICIPATION FEE: NO PARTICIPATION FEE
If you have any questions don't hesitate to contact us at: office@bravo-bih.com
More about BRAVO check on the video below