#Open Call for 1 ESC Volunteer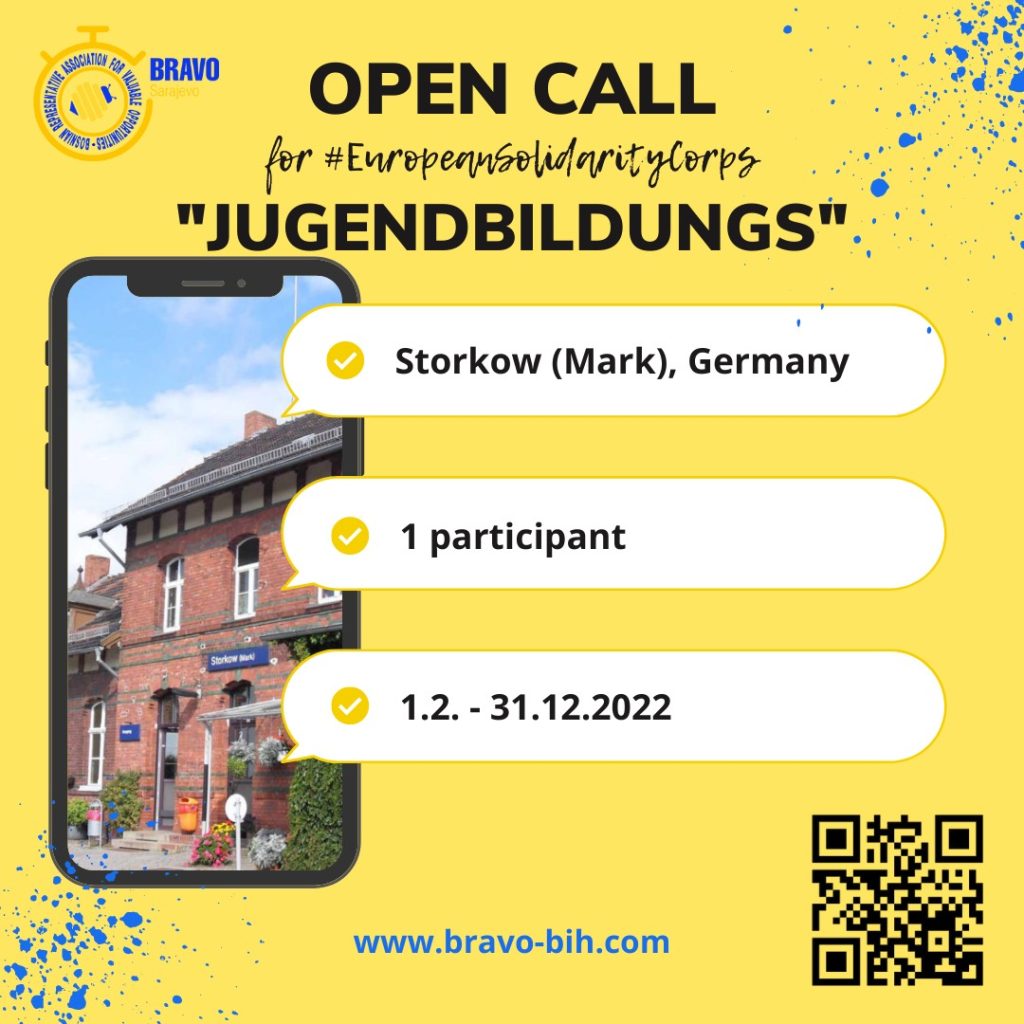 Name of the peoject: "Jugendbildung"
Date of Project: 1.3.2022. – 30.01.2023.


Hosting organization: "Jugendbildungs- und Begegnungsstätte Hirschluch "
Sending organizations: "BRAVO"


Place: Storkow, Germany
Participants age: + 20


The number of participants : 1
Working language: English


Deadline for applying: 12.2.2021
Note: Preference is given to all persons who have been fully vaccinated.
ABOUT HOSTING ORGANISATION
The youth training and community center Hirschluch is part of the project structure of the association for youth welfare services and social work (JuSeV – view to coordinating organisation) in the department of non-formal education and international cooperation; it is located in a small town called Storkow, about 60 km southeast of Berlin. There is 16 staff working in home service, technical and maintenance work as well as in the field of pedagogics. The center is open all through the year. The target group for the youth training center are mainly young people from the Federal State of Brandenburg, but there are also guest groups of every age being hosted, coming from Berlin, Brandenburg and farer places. General tasks: preparation and implementation of different projects and events, Guest service Working in the kiosk and service point Use of technique, buildings and surroundings: general care, maintaining inside and outside equipment.
The volunteers have to participate in two seminars (on-arrival, mid-term), organized by the German National Agency and in a 4-week-German course in Berlin. Moreover, the volunteers, belonging to the same coordinating organisation (JuSeV), participate monthly in the cultural-meeting-days which are organized by the association.
Volunteers will be selected on the basis of the applications received (motivation letter and CV). Please fill the application form from this link.
Criteria for the volunteering are: openness, communication skills, responsibility, fun to work with people and previous social engagement in their home country. Experience in working with people, as well as basic knowledge of the German language is an advantage but not compulsory. Gender, nationality, religion and degrees or certificates are irrelevant. All applications we receive will be forwarded to the project leaders.
ACTIVITY TOPICS are based on:
Environment and natural protection
Education and training
Creativity and culture
The volunteer will have a single room closed to the training center in Hirschluch. The bathroom, the kitchen and the corridor has to be shared with other volunteers. The volunteers are responsible for the cleanliness of the flat. The volunteer will receive food allowance (251,00 €) and pocket money (150,00 €) and should cook for him/herself. Storkow is situated 60 km far from Berlin. There is a train which runs every hour to Berlin and takes about 1 hour.
Read carefully a ESC call
Read carefully a ESC tasks and requests
Check "participants profile", maybe you are fitting perfectly
Fill out the BRAVO Application Form until

12.02.2022