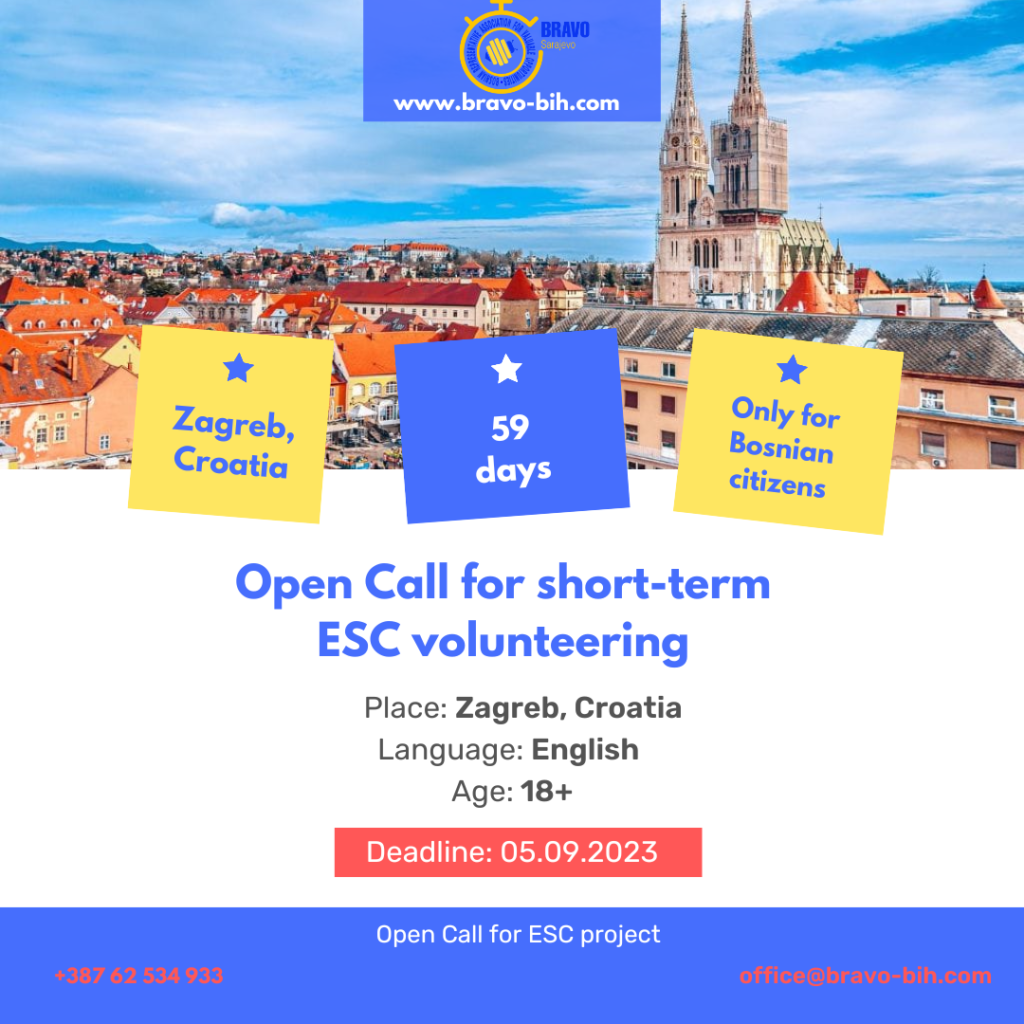 Name of the project:  Short–term ESC volunteering


Duration of the project: 59 days

Date of the project:


1.

20.10. – 20.12.2023



2.

15.02. – 15.04.2024.


Sending Organization: "BRAVO"


Hosting organization: ''Scout Association of Croatia''


Place:  Zagreb, Croatia


Participants age: 18 – 30


The number of participants: 2


Working language: English


Deadline for applying: 05.09.2023.
This project is supported and co-funded by the Erasmus+ programme. It means that your travel costs, accommodation, and food will be fully covered if you get selected for the project. The European Commission's support for the production of this publication does not constitute an endorsement of the contents, which reflect the views only of the authors, and the Commission nor EACEA can be held responsible for any use which may be made of the information contained therein.
Volunteers will take part in the "CO2mpensating by Planting Project" which is a groundbreaking initiative, marking the first of its kind not only in Croatia but across the entire region. This project is designed to engage volunteers in a vital environmental endeavor, providing a unique opportunity for companies, institutions, and individuals to take steps toward mitigating their carbon footprint. By actively participating in tree planting activities, participants have the chance to both symbolically and directly offset the carbon dioxide emissions they produce, contributing to environmental restoration and fostering a positive example of environmental awareness within the community.
OBJECTIVES OF THE PROJECT
Carbon Footprint Neutrality: The primary goal of the project is to empower companies, institutions, and interested individuals to neutralize their carbon footprint through tree planting. By contributing to reforestation efforts, participants directly counterbalance the carbon emissions they generate, thereby working towards a carbon-neutral future.


Environmental Restoration: Through the "CO2mpensating by Planting Project," forest areas in Croatia that have been adversely affected by climate change and deforestation will be targeted for reforestation. The project seeks to restore these areas, enhancing biodiversity, preventing soil erosion, and creating healthier ecosystems that can better withstand the impacts of climate change.


Community Engagement: Beyond its ecological impact, the project actively involves the community in its mission. Volunteers, ranging from corporate teams to individual citizens, come together to contribute to the reforestation efforts, fostering a sense of collective responsibility and promoting a culture of environmental care.


Educational Outreach: The project extends its impact beyond the immediate tree planting activities. It includes educational components, such as workshops and informational sessions in schools, to raise awareness about environmental protection, climate change, and the importance of sustainable practices.
ACTIVITIES OF THE PROJECT
The volunteers would participate in afforestation actions taking place in the vicinity of Zagreb (transportation to the location provided) and, as agreed, in educational activities in schools related to environmental protection.
During afforestation operations, volunteers are expected to participate in loading vans and unloading equipment on the planting site, preparing the location itself (raising tents as needed – depending on the weather, setting up tables and benches, preparing an info desk for other afforestation participants and distributing promotional materials, help to other participants in the reforestation itself).
Afforestation actions do not take place every day of the week, but there is a possibility of occasional afforestation on Saturdays (in rare situations).
Volunteers would also be in communication with the main coordinator and the rest of C02 team members.
Youngsters between 18 and 30 years old;
Motivated to participate in volunteer actions and activities that enable the development of skills key, experiences, and learning;
Aware of their role and to be able to participate in all phases of the volunteer activity in which they will be involved;
Interested in participating and contributing to volunteer activities oriented towards priorities and values of European countries promoted by Erasmus+ and the ESC.
ACCOMMODATION, FOOD & TRAVELLING
The volunteers would be accommodated in a rented apartment in the City of Zagreb. They would receive tickets for local transport as well as daily pocket money of and additional money for food. They would receive payment on a monthly or weekly basis, according to agreement with volunteers.
Bosnia and Herzegovina – Fully Covered
Complete the BRAVO- APPLICATION FORM with in English title as following "name of the project you are applying for" until 23:59 on deadline day.
Deadline for applying:

05.09.2023.

Selection results:

10.09.2023.

PARTICIPATION FEE: 

NO PARTICIPATION FEE

If you have any questions don't hesitate to contact us at: office@bravo-bih.com
Who is BRAVO? Watch a video below and enjoy <3
On the video below you can hear very useful information for this mobility.