New training held in Cyprus,
#SPORTolerance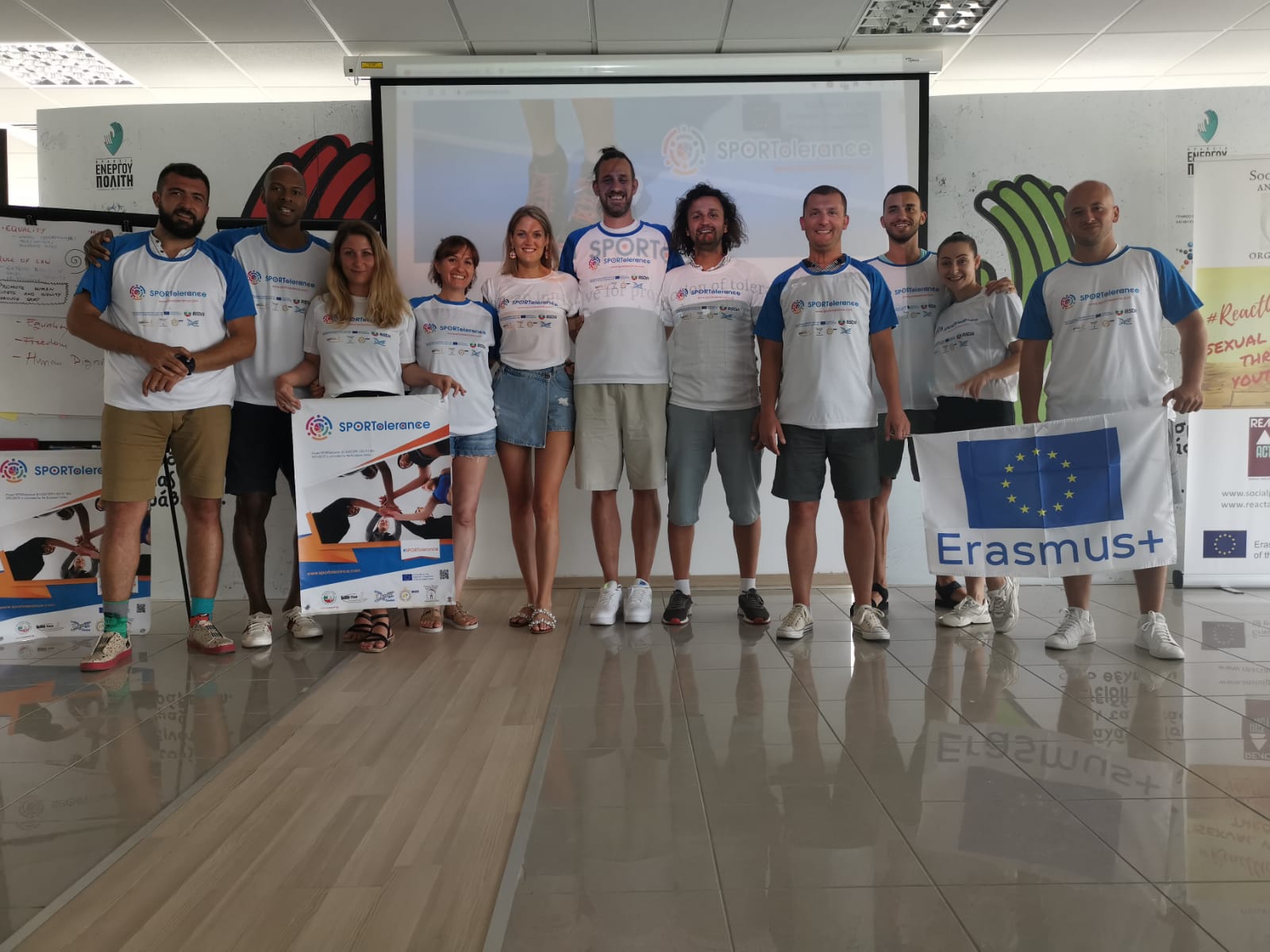 In the period 23-26 of July 2021 in Nicosia, Cyprus was held a #SPORTolerance training of sport experts and the educational mobility of sport coaches has contributed actively for the personal and professional development of involved sport experts through educational activities and format for exchange of ideas and good practices.
This meeting ensured both acquirement of practical skills and knowledge of the involved coaches and an unique experience to cooperate on international level in order to solve common challenge.
The event was attended by representatives of Bosnia and Herzegovina, Belgium, Bulgaria and Cyprus that will create a local sport practice in between the international mobilities that will allow participating sport coaches to test the learning activities and to adapt them to the their reality.
#SPORTolerance project "comes at a time when Europe is faced with economic hardship, migratory flows, terrorism, the dangerous rise of populism, xenophobic rhetoric, extremism, and other phenomena, which test our democracies and shake public trust in state and international institutions". Although radicalisation can happen at any age, young people in search of a sense of belonging, a purpose in life, or identity, may be particularly exposed. Young people are also one of the most mobile and dynamic population groups, offering them various opportunities for interaction with persons from diverse cultural backgrounds.
#SPORTolerance project aims to contribute to further human capacity development in sport through development of set of mobilities for sport coaches that will include both educational modules and modules for exchange of good practices in the field of using sport for prevention of radicalization and building tolerance and solidarity. Project will use and further develop in the field of tolerance and solidarity the non-formal educational methodology Education Through Sport /ETS/ that is an illustration of using sport as learning tool and thereby taking steps to stretch sport beyond the activity itself. ETS approach in the context of education, on the basis of non-formal education, experiential learning and active participation, is a conceptual model and a practical learning tool. The activities of this methodology assist and enrich the non-formal learning processes in the youth sector and will equip participating sport coaches with new skills and instruments to be used at daily basis. ETS methodology (official Salto resource) is a structured pedagogical non-formal educational approach that works with sport and physical activity and refers to the development of key competences of individuals and groups, in order to contribute to personal development and sustainable social transformation with a main goal – active citizenship.
The practical focus of the project is to develop skills and knowledge through educational mobility of sport coaches in order to empower them to work with young people from disadvantage background and at risk of radicalization. Through increased possibilities of social inclusion and empowering equal opportunities for youngsters with disadvantage background at risk of radicalization and providing innovative methods, #SPORTolerance project would make positive change in Belgium, Bosnia and Herzegovina, Bulgaria and Cyprus.
The current collaborative partnership will implement various activities on local, national and international level; will focus in transfer on knowledge through educational mobilities of sport coaches, promotion and sharing good practices in the field of preventing radicalization and promoting tolerance and solidarity through sport. #SPORTolerance will add to the existing knowledge, know-how and practices of participating directly and indirectly sport organizations and persons involved in project activities and outputs. All activities we will hold by this project will be available and can be used as OER (open educational resources) to the interested stakeholders.
The following Outputs will be developed to achieve the project aims mentioned above:
Edition Education Through Sport edition "Sport for promotion of Tolerance" with new non-formal educational activities, focussed on fight with radicalization through sport and promotion of tolerance and solidarity;
Empowered sport coaches in 3 EU and 1 Western Balkans countries to work focussely against radicalization and for promotion of tolerance and solidarity;
Young people from disadvantage background at risk of radicalization involved in different and innovative sport activities with educational impact;
#SPORTolerance project is co-funded by ErasmusPlus Programme of the European Union and will be implemented by a consortium of:
Coordinator: Bulgaria, Bulgarian sports development association – (www.bulsport.bg)
Partner 1: Bulgaria, Darko Athletics team – (https://darkoteam.com/)
Partner 2: Belgium, The Charity Game (TCG asbl) (www.thecharitygame.be)
Partner 3: Bosnia and Herzegovina, Bosnian Representative Association for Valuable Opportunities (BRAVO) (https://bravo-bih.com/)
Partner 4: Cyprus, Social Policy and Action Organization (www.socialpolicyaction.org)
If you have any questions feel free to contact
BRAVO TEAM