Kao i sva putovanja, i moje Erasmus + putovanje je počelo iz radoznalosti i želje za učenjem novih stvari, upoznavanjem novih ljudi, kultura i običaja. Sve je počelo zahvaljujući prijateljima koji su već imali iskustva sa Erasmus projektima, kao i kolegama koji redovno objavljuju sve projekte na koje možemo aplicirati. Tu je bio i moj početak.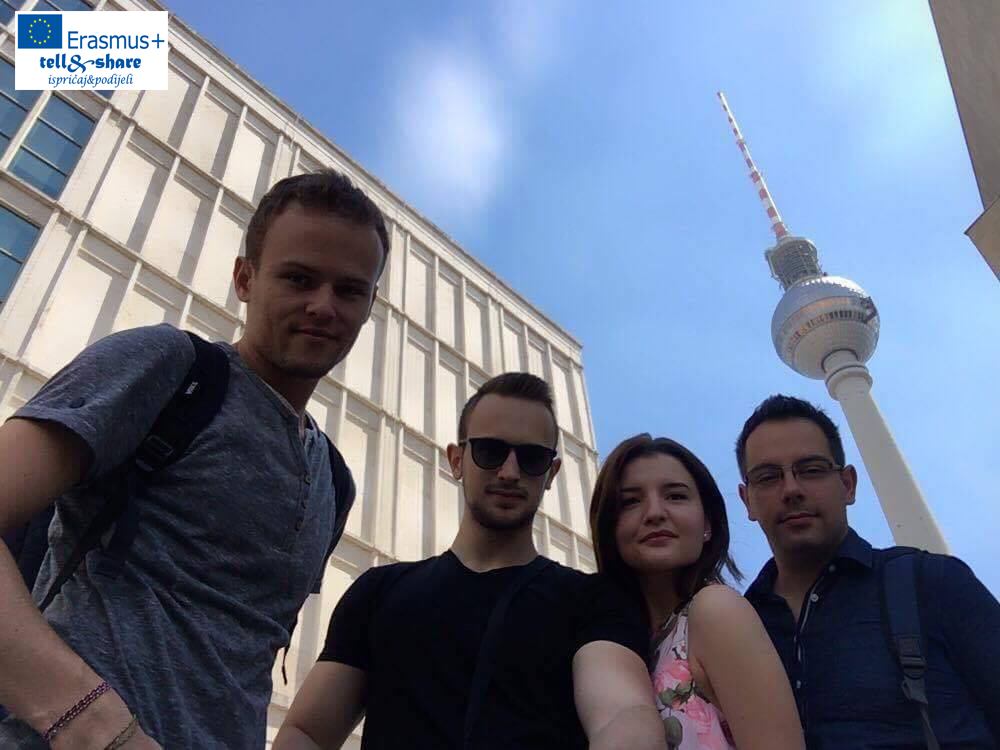 Iz iskustva, kada krenete, više ne možete stati. Toliko pozitivnih priča, predivnih iskustava vas tjera i motiviše da aplicirate i iskoristite mogućnosti koje vam se nude. Od svojih projekata, izdvojila bih zadnji na kojem sam bila u junu 2017. godine, u Berlinu. Projekat pod nazivom "What music is playing on your stereotype". je definitivno, do sada, moj najdraži projekat.
Neke od tema koje smo obrađivali su diskriminacija, stereotipi kao i predrasude. Učesnici su bili iz Egipta, Gruzije, Estonije, Maroka, Makedonije, Njemačke i Bosne i Hercegovine.
Navedene države, baš poput Bosne i Hercegovine, susreću se sa sličnim problemima. Pored toga što smo podijelili svoje znanje sa ostalim učesnicima, također smo mnogo toga naučili o njihovoj kulturi, običajima kao i stanju u njihovim zemljama. Ono što ovaj projekat čini posebnim, jeste lokacija njegovog održavanja. Berlin je grad u kojem možete biti šta želite bez da osjetite bilo koji od oblika diskriminacije. Zahvaljujući tome mogli smo da iskusimo obje strane priče – onu u kojoj živite i susrećete se svakodnevno sa navedenim problemima, kao i onu drugu stranu, Berlin, gdje imate potpuno slobodu izbora , bez straha da ne budete prihvaćeni zbog istog. Osim toga, imali smo priliku da se upoznamo sa ljudima koji su zbog rata bili prinuđeni da napuste svoju domovinu Siriju. Ispičali su nam kroz šta su prolazili i šta su sve preživjeli. To je bio trenutak gdje su sve medijske informacije postale jedna istina i stvarnost. Trenutak u kojem smo shvatili da se to ne događa "negdje i nekome" već da se to može desiti nama i vama. I više ništa nije bilo isto. Počinjemo da dijelimo tugu i bol sa ljudima koje smo upoznali. U isto vrijeme, umnožavamo sreću, jer su takvi susreti izvor nade, da nas ima dovoljno koji želimo da živimo mir, a ne rat. Nas, koji želimo promjenu,  jednakost i ljubav, prije mržnje i diskriminacije.
Zbog svega navedenog, Erasmus projekti su odlična prilika za učenje, za pomjeranje vlastitih granica i percepciju stvari iz sasvim novog ugla.
Iskoristite mogućnosti koje vam se pružaju, izađite iz svoje zone komfora, povežite se sa ljudima, ispričajte im svoje priče i saslušajte njihove. Naučit ćete mnogo, kako o sebi tako i o drugima.  Nakon ovog projekta bogatija sam za još jedno životno iskustvo, nova poznanstva u sedam država i mnogo novih priča koje su postale dio moje  životne priče. To je ono što ovom iskustvu daje neprocjenjivu vrijednost.
Erasmus projekti su najbolja prilika koju možete i trebate iskoristiti. Tačno je da će vam  promjeniti život u potpunosti, ali vjerujte, to je promjena koju želite vidjeti.