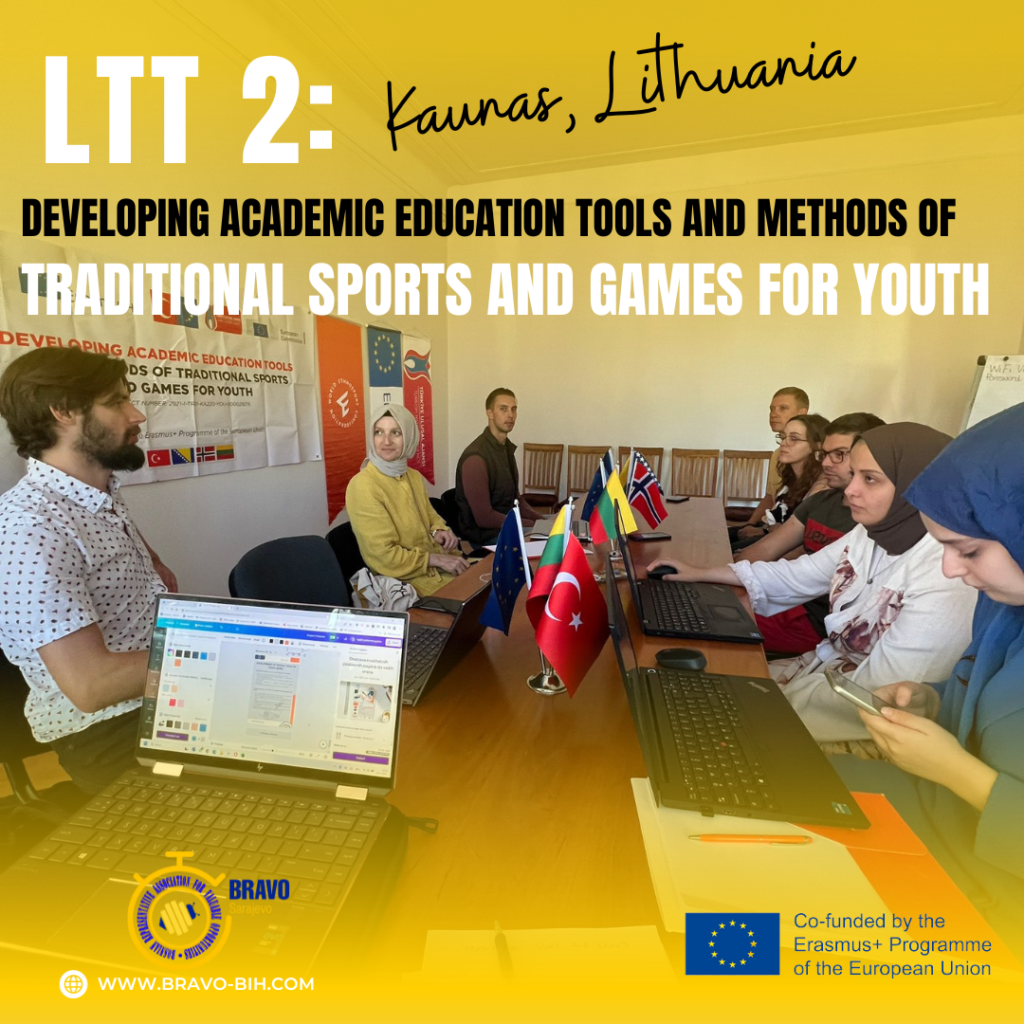 We continued our talks on young people in digital era with young people through our 2nd LTT under the name of Barrier-Free Traditional Sports and Games in the city that has a planet named after it – Kaunas (Lithuania) from 20th to 26th of September. One of the impacts digital age has is the increased accessibility to range of services to people, especially people with disabilities. Amateur sports and games that are traditionally connected to one area are usually left unknown to people from different geographical areas, but one of the traits of modern age is the technology that can make it accessible to everyone. On the other hand, people with disabilities face all sorts of discrimination daily, some intentional and some unintentional.
Through our project we aim to tackle unintentional discrimination that emerges from lack of knowledge and training. That is why the main aim of the LTT2 is to transfer the knowledge, accumulation, and experience of expert trainers to develop the project outputs and tools. As a result of the listed learning activities, educators will enhance their capacities and add value by using these enhanced capacities in their current educational units. Rather than outsourcing the desired project outputs, the project aims to address the issue with expert academic personnel from the affected institutions, creating a structure that offers sustainable and high-quality development opportunities. Trained educators will, in the long term, convey what they have acquired to tens of thousands of young people and will directly contribute to institutional capacity and value creation through the transnational cooperation processes they have developed. All the activities are central to the project and lead to all the project's objectives and outcomes. Conducting these activities is essential for the project's conceptual outcomes to be realized.
How do we choose people that will attend?
Our goal is to the staff (academics, trainers, coaches, technical directors, teachers, etc.) with and without the experience in teaching disabled or disadvantaged youth. This is to achieve better reach in term of multiplication of knowledge once the participants go back home. Selection of training and event locations everywhere will comply with EU health and safety directives, accessibility requirements for the disabled, easy public transport access, and other necessary regulations to keep the events' carbon footprint as low as possible.
Takeaway from this LTT
The primary focus of this LTT was the "Barrier-Free Traditional Sports and Games" topic. As the digital age progresses, we have become aware of the issue of accessibility to various services, especially for people with disabilities. Despite this, many traditional sports and games, deeply rooted in specific regions, remain unfamiliar to a broader audience. The modern age, however, offers technology that can bridge this gap, ensuring everyone can access these traditional games.
Yet, individuals with disabilities continue to face unintentional discrimination due to ignorance and lack of proper training. This project seeks to rectify this by empowering educators with knowledge, expertise, and tools so they can better address the challenges. By utilizing expert academic personnel, the project aims for sustainable, high-quality developmental solutions that can be passed on to tens of thousands of young people.