Kick-off Meeting, Tirana, Albania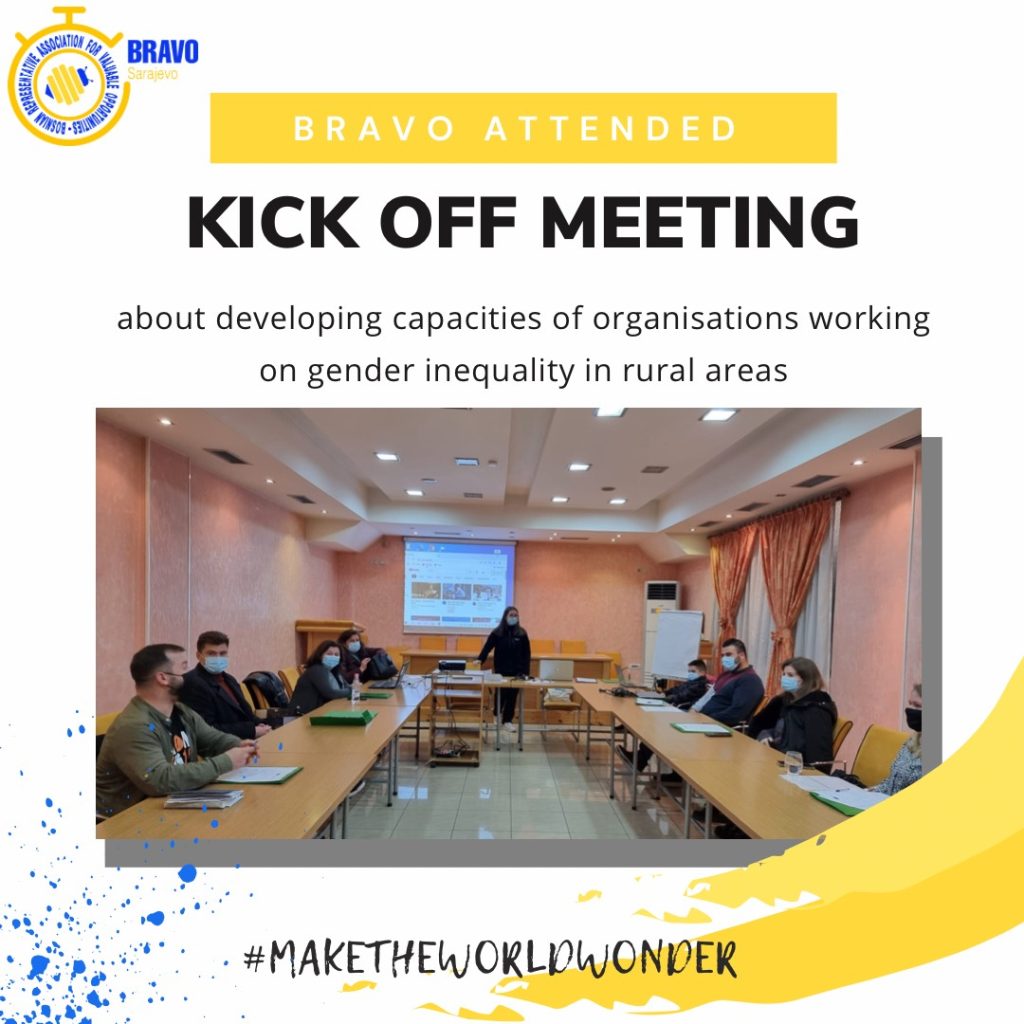 On the 21st of January 2022, our wonderful team member Imran Polovina went to Tirana, Albania and by doing that he opened up this year's #BRAVOONTHEROAD 3rd episode of season 5, as we like to call it. For 3 days, until the 24th of January, he had been a valuable part of youth workers and project managers who all came together for a Kick-Off Meeting and had been working on another super important project named "Developing capacities of organizations working on gender inequality in rural areas".
The project's main goal is to increase the capacities of the organizations from Albania, Bosnia and Herzegovina, Romania, Kosovo, Serbia, Germany, Poland and Greece to be able to deliver the activities fighting the roots of gender inequality and leading to gender empowerment. The Project objectives are:
To equip the organizations by knowledge, tools enabling them to identify and to understand the roots of gender inequality in rural areas;
To train staff of participating organizations to design and deliver activities addressing gender inequality and leading to empowerment;
To increase community awareness in rural areas on the importance of empowering girls and women;
To improve networking amongst involved CSOs and other stakeholders, support sharing best practices and developing new project ideas leading to creating more gender equal societies.
The project reflects the European policies and priorities set by Europe 2020 including promoting gender equality and women's rights across the world and integrating a gender equality perspective into all EU activities and policies including youth one. Kick-Off Meeting was the first activity that opened this project. During the meeting itself, several important tasks have been discussed amongst the representatives of organizations from the above-mentioned countries. The partner's representatives of the organizations worked on role and responsibilities of the partners, plan of the activities, set monitoring and evaluation mechanisms and create a visual identity of the project. Each organization had selected and was presented by one participant who will be involved from the organization to the project implementation in the future. So needless to say we are super proud of our Imran for being the representative not only from our organization but for Bosnia and Herzegovina as well! Get ready for a series of capacity-building and mobility activities of this project in the future. Key project results will be: 'Guidelines for Youth Workers and Educators: How to Empower Young Girls and Women Coming from Rural Areas', Booklet of Good Practices and new local, national and international projects addressing gender inequality.
#BRAVO #BRAVOBIH #MAKETHEWORLDWONDER #ERASMUSPLUS