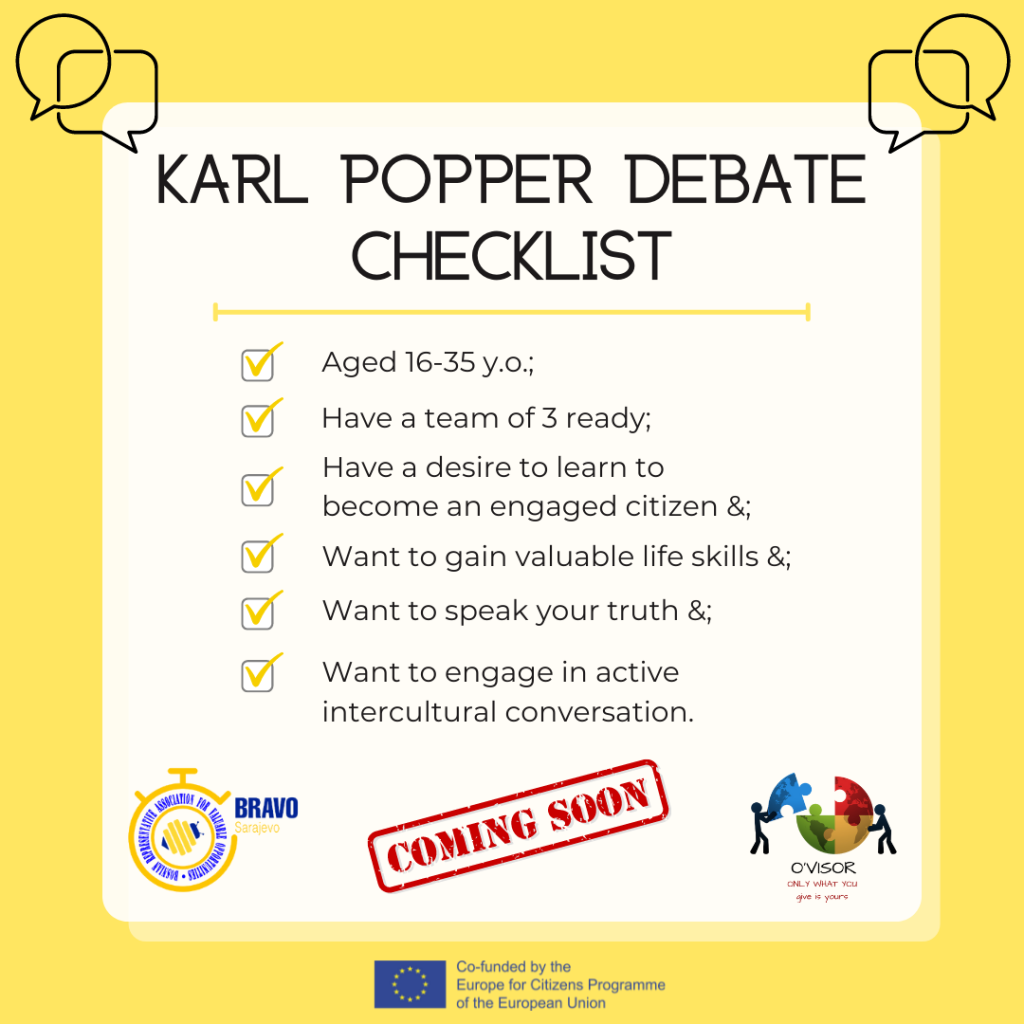 Attention all debaters! 
Through the O'VISOR (Only What You Give is Yours) project, we come to you with a new and exciting series of Karl Popper debates being held in a city near you starting this April! If you are between the ages 16-35 and wish to learn to become an engaged citizen, gain valuable life skills, speak your truth, and be in a room of your peers to engage in active intercultural conversation, then a Karl Popper Debate is the right platform for you!
The aim of the O'visor Debate Competition is to raise awareness about volunteering and charity, and also to facilitate in an attractive way the development of skills, abilities, and knowledge of the participants. This debating is intended to educate while teaching hard-work and social etiquette as well. 
Favoring one or more of these aspects at the expense of others is a misunderstanding of the fundamental principles of competitive debating. Nevertheless, the formative aspect is essential given the age of participants as their approach to life is being formed.
Bearing this in mind, participants agree:
a) to adhere to the principles of fair play, decent behavior and mutual respect to the best of their abilities,


b) not to knowingly use untrue information,


c) to debate given motions.
If you are interested in finding out more information regarding the debate rules, please visit the following link: O'VISOR DEBATE RULES.
We are sharing this information with you now so that you all have ample time to form teams of 3 as we solidify dates with our partner universities. You can sign up as individuals or teams and do not to be affiliated with our partner universities which will be hosting our debates.
We will be holding debates in various cities throughout Bosnia and Herzegovina and the winning teams from each of the debates will then move on to compete in the Final State Competition in June. The winning team of the Final State Competition in June will then move on to represent Bosnia and Herzegovina at an International competition involving the winning teams from the following 9 countries: Albania, Croatia, Greece, Hungary, Italy, Luxembourg, Montenegro, North Macedonia, and Serbia. In addition to the grand prize, the winners will have a chance to receive monetary and symbolic prizes.
We ask you all to kindly stay tuned and to follow our social media channels for updates on dates/times of our Karl Popper Debate being hosted in your city or near your city soon!


O'VISOR Website
O'VISOR Facebook
O'VISOR Instagram
We look forward to seeing you all soon and remember, only what you give is yours.
#BRAVO #BRAVOBIH #MAKETHEWORLDWONDER #BRAVOVISOR #ONLYWHATYOUGIVEISYOURS #EuropeForCitizens