BRAVO u suradnji sa organizacijom "Urbana mladež" i Hrvatske je otvorila poziv za EVS u Zagrebu, Hrvatska 01.10.2018 – 30.09.2019 za 2 osobe iz sljedećih zemalja: Srbija, BiH te Crna Gora . Tema projekta je Erasmus projektni menadžment te pisanje članaka na temu besplatnih putovanja. Glavni uvjet nam je da osoba razumije engleski te da je motivirana i entuzijastična za navedene teme.
Pokriveni svi troškovi po Erasmus pravilima: putni trošak, smještaj, režije, zdravstveno osiguranje, novac za hranu i mjesečni džeparac.
Call for EVS volunteers
Zagreb, Croatia 01.10.2018 – 30.09.2019.
Urbana mladež
Dear young man/woman,
we have been looking for you and time has finally come to meet you. Urbana mladež is NGO of young people who are passionate about traveling, non formal learning and turning ideas into actions. We work a lot with Erasmus projects, culture, dancing and music and multimedia.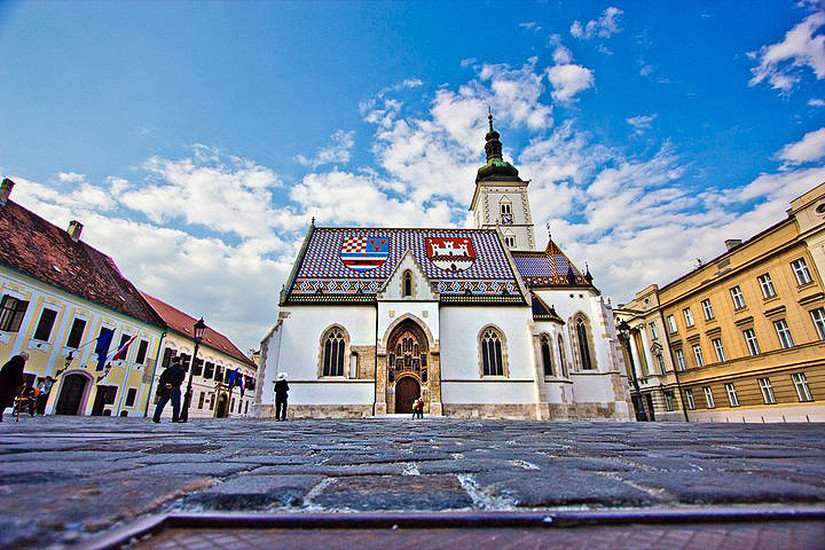 About EVS project;
Project management & Journalism
We would like to welcome you to our EVS project about traveling, volunteering and project management. You will work with us on exploring different opportunities for youth to travel, work away, study and volunteer and share it with our local community. You will also be part of our project management team, write and implement projects and events with us.
Project will take place in Zagreb, capital of Croatia from 01.10.2018 – 30.09.2019.
Deadline to apply; 23.03.2018.
About you;
We are looking for 2 persons from Serbia, Montenegro or Bosnia . You should be passionate about
education, study, volunteering, meeting other cultures, sharing experience and traveling in a way of
researching this topics and writing about it (journalism). Second what you should be passionate about is
project management because you are going to work a lot with us on writing various projects and
implementing them. To us motivation and enthusiasm to be part of this project and share passion toward
project objectives is the most important condition.
Don't be a stranger and send us application form https://drive.google.com/open?id=1SAaFh1FWvWX7De7bdBewbvo4eKTIBobQ and CV on [email protected] Please check out our website and social network profiles to see what do we do www.urbanamladez.hr / facebook.com/urbanamladez /facebook.com/pmpstudio / facebook.com/bachatainspire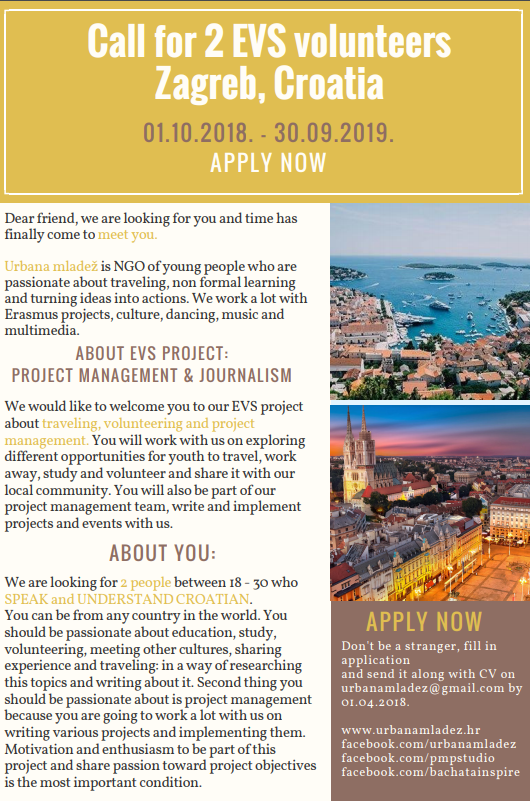 For all questions you can contact organizers direct or BRAVO team on mail: [email protected]
BRAVO team will help you to find SENDING ORGANIZATION.
This is great opportunity for all young people and your future.