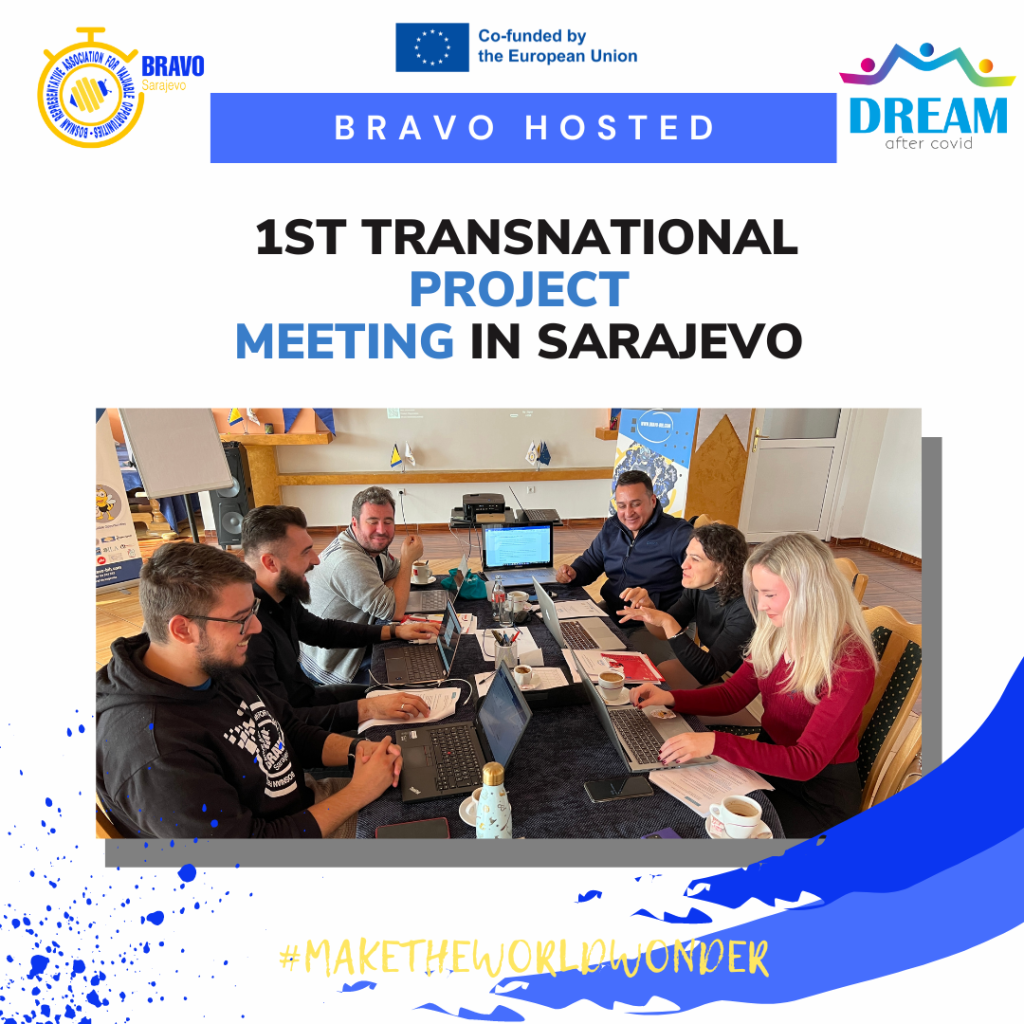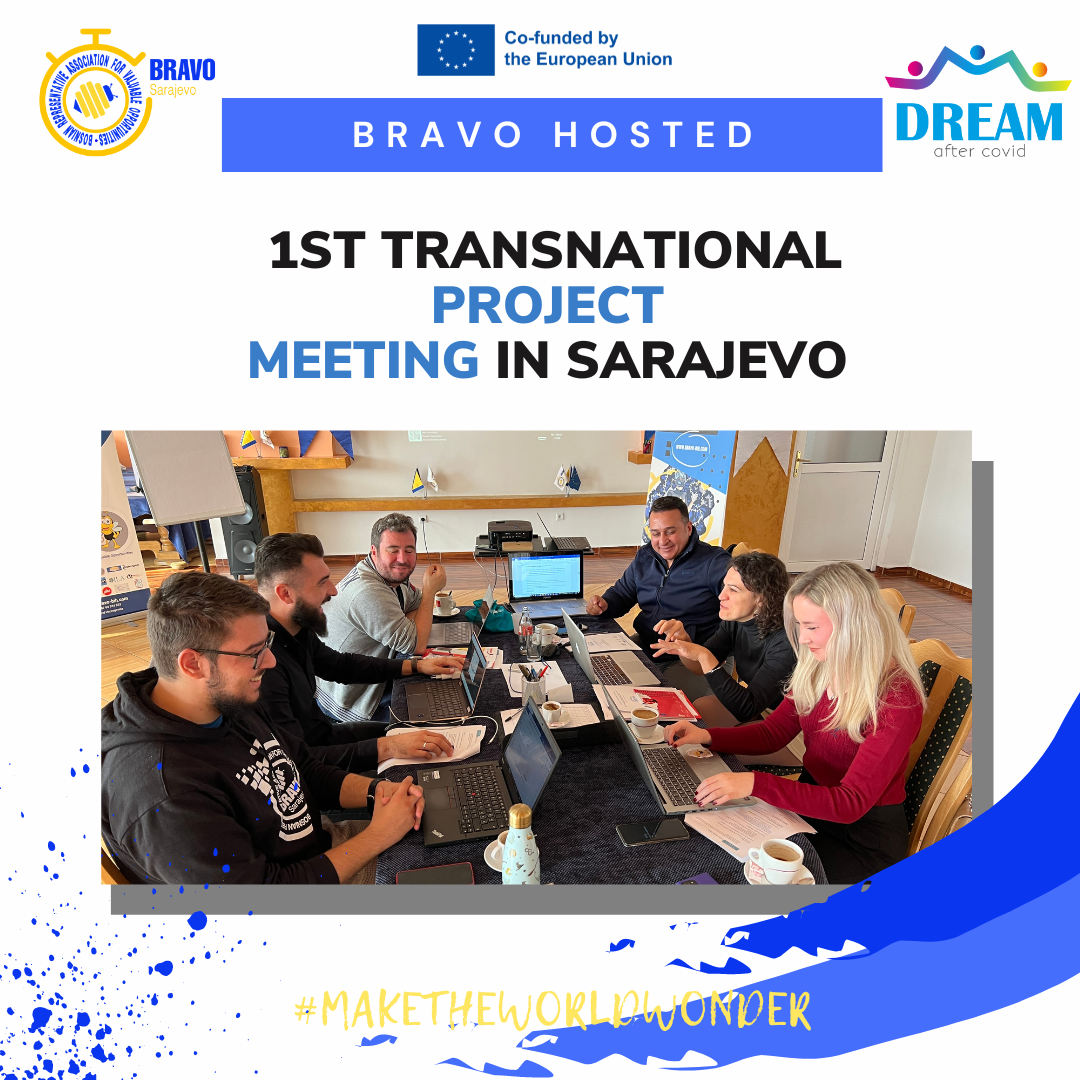 Few days ago, your beloved BRAVO has been a host for the first transnational project meeting of project DREAM AFTER COVID or, by full name: Designing Responsible Entrepreneurial Actions with social Mindset AFTER COVID. For two days, from 14th till 16th of November we have gathered with the most loving and hardworking team and partners from Better World Foundation- Egypt, PASOS – Spain and ORIEL APS- Italy to discuss the important dates and project outcomes.
On the first day of the meeting, we have welcomed our guests to Sarajevo and discussed together the project objectives and goals, as well as the state of the working packages and deliverables. From local workshops and future online mentoring sessions which also have been discussed to budget management and financial control and reporting, the day one was a success which we have continued the next day with the discussion about dissemination strategy, quality assurance and impact assessment and training course and youth exchange for the future to come.
High school professors didn't believe she was an IT genius. She has demented them with her career successes through the non-governmental sector. The United Nations in BiH presented her with the award for the best small IT company, her first intership was in Ministry of Programming, she won first place in the first women's hackathon in Bosnia and Herzegovina funded by the European Union, UNICEF, UN Women and UNDP.
The Coronavirus SARS-CoV-2 (COVID-19) pandemic caused a global problem, affecting local healthcare systems and productive sectors among many others. It was a "wake up call" for the economy (investors), policymakers (governments) and the entire society. Progressively, it became widely obvious there is no "going back to normal" and a new normal will gradually be in place. We want to actively take part in its creation, fostering entrepreneurship in youth in the post-COVID society.
The recovery will demand more entrepreneurs with organizational and innovative capacity to generate collaborative and open innovation within a framework of social innovation. New synergies are required between the entrepreneurial, corporate and academia ecosystems, promoting more spin-offs and spin-ins. COVID-19 has caused the closure of companies, forcing many to reinvent themselves. This encourages a better use of (intra) entrepreneurial skills and re-entrepreneurship. The crisis has made digitization a priority to meet the challenges and opportunities derived from the new economic reality. Infrastructure development and training in new technologies is an urgent need: people must enter the advanced and urgent phase of digitization.
The objectives of this project, and activities designed for achieving them, are:
TO ENGAGE youth workers and youngsters in the creation of social projects that contribute to the COVID-19 recovery process
TO CONNECT youth workers and youngsters with fewer opportunities across the participating countries Creation of the Interactive Brochure: The participants will create the Democracy Tools that will be documented in the Brochure. It will also contain entrepreneurship tools and details of the projects developed by the participants
TO EMPOWER youth communities with the DD Methodology for the creation of sustainable projects being respectful with our planet, with our society and with themselves
The project results go with the same strivings as the strategy:
Enable youngsters to be architects of their own lives, build their resilience and equip them with life skills to cope in a changing world.
Encourage youngsters to become active citizens, agents of solidarity and positive change for communities across Europe, Africa and Balkans, inspired by moral values and a European identity.
Help prevent social exclusion among youth.
What we are most impatient to tell you about are the future activities for the 2023 and 2024 and let us just give you a little hint about one of them- *drum rolls* – the Youth Exchange in Spain!
Yes, you heard that right!
So you know what you have to do.. Follow our social media channels and our web page to keep up with the new opportunities that will be heading you way and let them inspire you to work on your skills and build you CV with us!
#BRAVO #BRAVOBIH #MAKETHEWORLDWONDER #DREAMAFTERCOVID