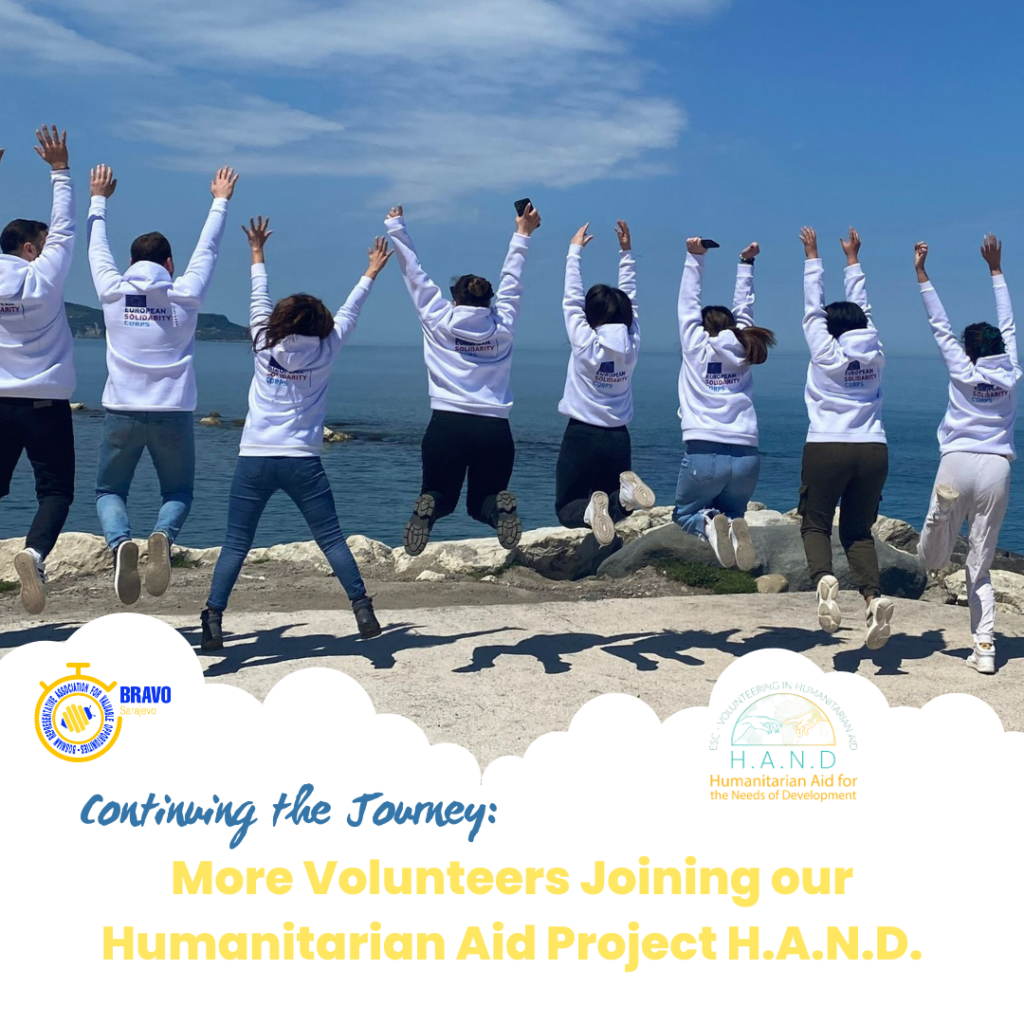 We already have shared the story of how our organization started its first Humanitarian Aid project, H.A.N.D., and introduced the arrival of our initial group of dedicated volunteers. We are proud to announce that the story continues to grow as we welcomed six new volunteers in the month of July. These young individuals from Europe joined us, ready to make their meaningful contributions and carry forward the work started by the first group.
From the beginning of H.A.N.D., our aim has been to extend a helping hand to vulnerable communities in our country. Witnessing the enthusiasm and dedication of our first group of volunteers was a true testament to the power of collective action. As their time with us is coming to an end, we happily welcomed our next group of volunteers, who will be countinuing this story.
The arrival of new volunteers signifies the expansion and growth of our humanitarian efforts. Each volunteer brought their unique skills, experiences, and perspectives, enriching our organization and enabling us to better serve the communities we work with. We are thrilled to have six new volunteers joining our team, eager to immerse themselves in the local culture, connect with the people, and contribute their time and energy.
One of the remarkable aspects of our Humanitarian Aid projects is the opportunity to foster a multicultural exchange. By bringing together young volunteers from various parts of Europe, we create an environment where diverse perspectives, ideas, and approaches can thrive. Together, we will build upon the achievements of the first group. We are happy to see this inspiring story continue, as we welcome young volunteers from Europe to Bosnia and Herzegovina.
Do not foget to make the stories that make the world wonder, and in case you did not, run to our BRAVO ESC profil to meet volunteers and read about them.
What is HUMANITARIAN AID program?
As from 2022, the European Solidarity Corps opens up to the world and offers new cross-border volunteering activities in support of humanitarian aid operations in third countries.
These projects are an excellent opportunity to engage as an active citizen, show solidarity to people in countries outside of the EU who have faced humanitarian disasters or need to increase their preparedness to possible disasters in the future, while learning new skills, cultures and ways of life – definitively a life-changing experience!
Beyond disaster preparedness and post-disaster relief, the projects in which you will participate cover a wide range of issues, here are just a few examples: promotion of gender equality, protection of women and children, protection of refugees and internally displaced persons, protection of undocumented migrants, mitigation of the effects of climate change, improvement of food security, etc.
You have the choice between individual volunteering and volunteering in teams, for a short or longer period.
Individual volunteering
can last from 2 months up to 12 months
is full-time (between 30 and 38 hours a week) 
allows you to contribute to the daily to carry out tasks needed to support the activities undertaken by the host organisation, which is an organisation active in the humanitarian aid field
is 'cross-border' – i.e. in a different country to where you live – and takes place in a third country where there are ongoing humanitarian aid activities and operations
Team volunteering 
If you can't commit for a long period, but still want to help, then check out team volunteering, which:
can last between 2 weeks and 2 months
is full-time (between 30 and 38 hours a week)
you volunteer with people from at least 2 different countries
the group will be between 5 and 40 volunteers who will be selected by the supporting and host organisations 
takes place in a third country where there are ongoing humanitarian aid activities and operations
Supporting and host organisations
If you're selected to go abroad for some humanitarian aid volunteering, at least 3 organisations will be involved:
At least 2 support organisations – from different EU Member States or third countries associated to the programme (Iceland, Liechtenstein, Turkey and Republic of North Macedonia). These organisations will help you to prepare for your experience abroad. 
At least 1 host organisation – based in a third country not associated to the programme where there are no ongoing international or non-international armed conflicts and where humanitarian aid activities take place. This organisation will accompany you during your volunteering activities abroad. 
First opportunities are expected to be published in the second quarter of 2023. More information will follow.   
Who can volunteer?
European Solidarity Corps volunteering activities are open to 18-30 (35 for Humanitarian aid volunteering) year old people who legally reside legally in a EU Member State or in a third country associated to the Programme (Iceland, Liechtenstein, Turkey and Republic of North Macedonia) and who have registered in the European Solidarity Corps Portal.
What is covered?
You are covered by a complementary insurance
You can access a range of support services such as linguistic support and training
Your basic costs will be covered (your travel to and from the project, accommodation and food)
You'll also receive a small allowance for personal expenses 
If you have specific needs (e.g. a disability), these costs may also be covered
How to register
You can register here and express your interest in Humanitarian aid volunteering. Volunteering activities in the field of humanitarian aid will be as of 2023. Prior to a volunteering activity volunteers need to have completed successfully a self-assessment, an online and face-to-face training.