Capacity Building Youth project "BDC" : Kick-off meeting in Milano, Italy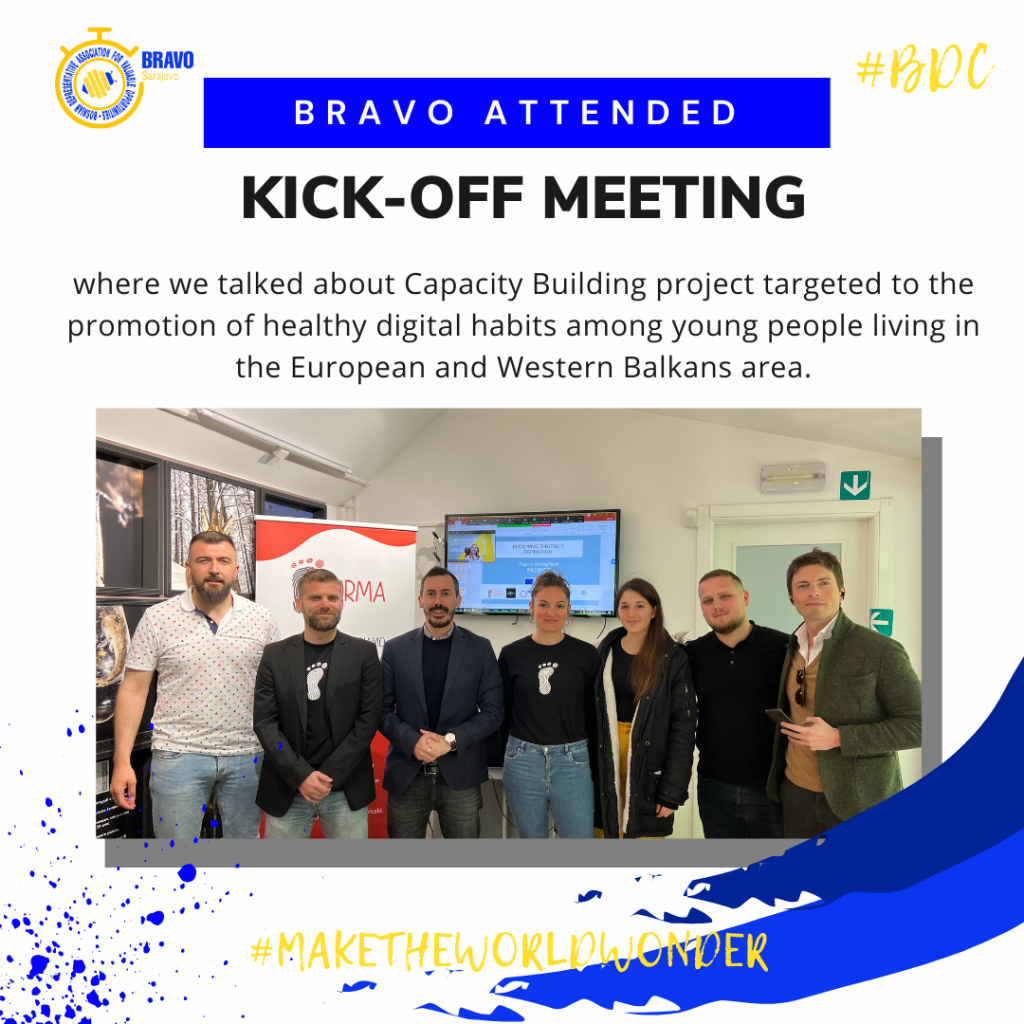 From 25th to 28th of April 2022, kick-off meeting was held for a new Capacity Building Youth project called Becoming Digitally Conscious – BDC in Milano, Italy.
In the period from April 25 to April 28, the director of the BRAVO organization, Ismail Šehić, was in Milan, Italy, where he and his partners signed an agreement on the start of a new Capacity Building Youth project. With this project, we are starting to write another wonderful story that will help the youth of Bosnia and Herzegovina. You can read about the project below.
"Becoming Digitally Conscious" is a Capacity Building project targeted to the promotion of healthy digital habits among young people (between 18 and 25 years old) living in the European and Western Balkans area. European society is progressively incorporating digital devices in all areas of life, which is leading to the spread of pathological internet use. Research on the topic has concluded that individuals that suffer from PIU deal with symptoms consistent with gambling or drug abuse, for example, lack of sleep, poor nutrition and neglection of offline relationships. The prevalence of digital addiction among European partner countries is 4,8% in Germany, 1,2% in Italy and 1,1% in Cyprus. When it comes to the Western Balkans area, the situation does not get better. 33% of adolescents in Albania and 30% in Bosnia are at risk of becoming internet abusers. In a study conducted in Montenegro, 36% of youngsters consulted stated checking Facebook almost every hour and 40% almost every other hour. Thus, data confirms what the European Parliament has stated that it is necessary to "Promote and educate on online and offline health behaviors in young populations" ("Harmful internet use" briefing). With the development of non-formal tools that support youth workers in the promotion of digital competencies, we hope to make young people aware of the potential dangers of making excessive use of digital devices, and how incorporating physically active and expressive activities in their routines can reduce their screen time and benefit their mental health and overall wellbeing.
This proposal is based on the "Theory of Change" methodology, because we wish to have a concrete impact on society, making changes happen based on the needs identified. The non-formal activities will be focused on the general aim of raising awareness about the dangers of excessive internet use and the necessity to become more conscious about the way in which we make use of digital devices. As a result, the community should reduce the number of hours passed in front of screens and, when doing so, they will do it in a more mindful way. Thus, the project started by identifying the desired long-term impacts that we want to reach and then we designed a set of steps/activities that would help us reach them. All stages of the project are related in a coherent and connected way that ensures the delivery of the outcomes and outputs. These are:
– Preparation (Design of the educational program and Training of youth workers); 
– Testing of the program;  
– Implementation and Dissemination. 
We hope that with this project we will have the opportunity to educate young people and #MAKETHEWORLDWONDER once again. If you want to follow the development and realization of the project, stay with us, the best is yet to come.