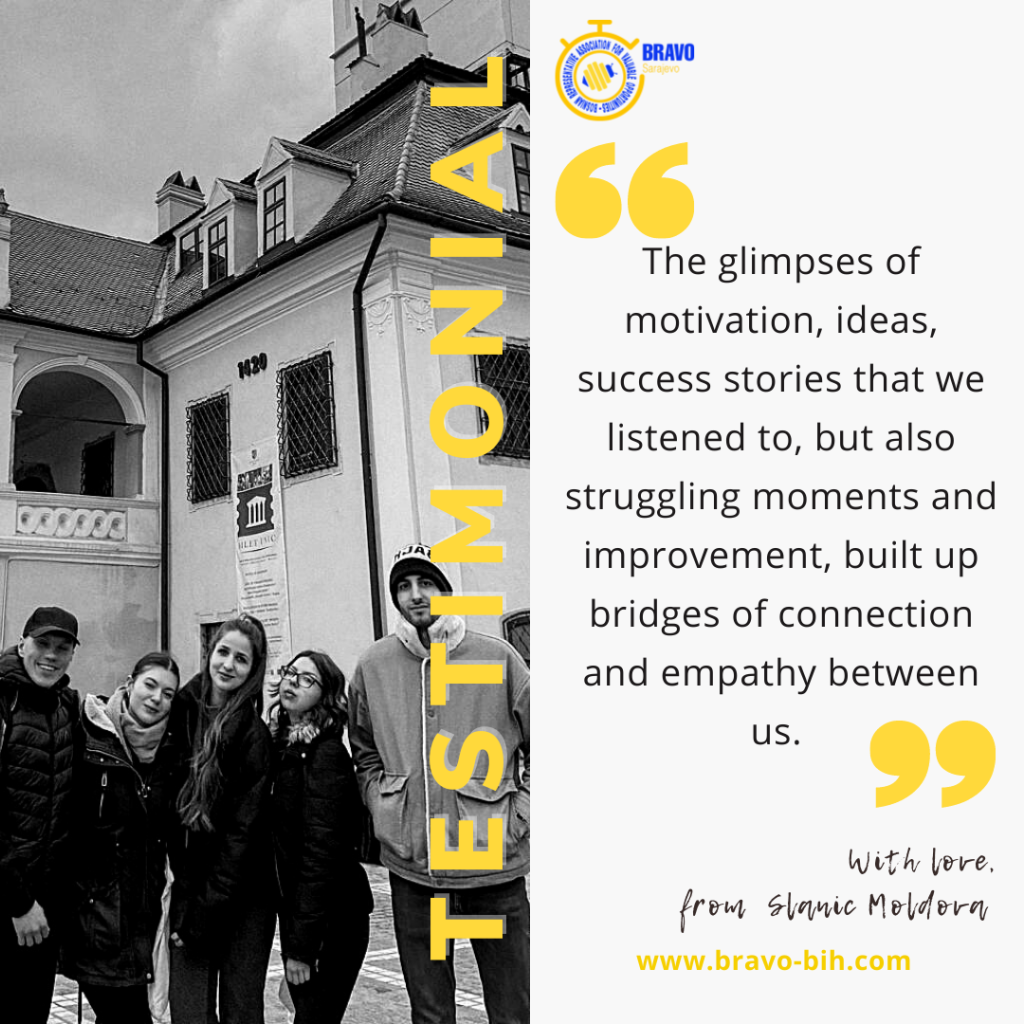 We had amazing youth attending project "Feeling European" and we are proud to say that they #MAKETHEWORLDWONDER. But what do they have to say about this amazing experience?
"When thinking about the Feeling European project in Slanic Moldova, the first thing that I can definitely say is that it has exceeded my expectations. The program was so well structured, a perfect balance of education and fun, I can safely say that after these 14 days I have widened my perspective about the European Union. This knowledge was crucial for me to gain a vision different from the one I receive in my non-EU country, which drastically differs. Next up, who would have thought that in a village in Romania, the days would fly by so quickly. At the beginning everyone thought 14 days would be too long, but on our general surprise the 14 days felt like 5.
The program was so well designed, interesting and engaging, the participants filling out any silent moment and every night flying by with intercultural nights or other activities. And finally, the people. I have met so many wonderful individuals from Armenia, Malta, Spain, Palestine, Ukraine, Turkey, Moldova, Romania, Lithuania and Bosnia and Herzegovina as well. The dynamic that we shared was energetic and most importantly no matter how diverse we were- we focused on how alike we are. And so, it didn't matter with who you'd sit at the lunch table, we always had something to talk and joke about. Here I'm expressing my huge gratitude to ADA for hosting and succefully implementing an amazing project, for caring about us and listening to us, to the whole group of participants for being so productive and open to all, to my fellow Bosnian participants for having a true team spirit and having each other's back at all times, and finally to BRAVO BiH for giving us this opportunity in the first place."  – Nadira Ćurulija
"Every experience I had was professionally and spiritually enriching. The glimpses of motivation, ideas, success stories that we listened to, but also struggling moments and improvement, built up bridges of connection and empathy between us. Working on the topic of European values and awarenesses meant to tackle and target a very important part of our countries. It was a privilege being part of the "Feeling European project"! It has exceeded all my expectations thanks to such an amazing group of people I met and so professional and skilled trainers we got the chance to work with! I left the program being convinced that no matter our cultural differences and political matters in our respective countries, we as people can coexist and work together for the betterment of our future! This was fully achieved with the help of our creative trainers Alexandra, Leo, and Victor but also with the abundant contribution of all the participants.
I can barely describe the amount of laughter, positive vibes, and good learning process we went through during the project. Though all participants came from various countries, I got the opportunity to meet and make friends with people from different fields of study. "Feeling European" highlighted meaning of the peaceful European future for us, young people who got a chance on participating in the project. BRAVO, thank you for such an amazing opportunity."  – Šejla Halilović
"The idea of being in Romania, in Slanic Moldova, a small town far away from Bucharest, for almost two weeks got me a bit worried at first. Now, when the project is over and I am back home I have realised that this experience was one of the best experiences of my life. Meeting around 50 new people, learning about their cultures and lifestyles, seeing how they think and act but also gaining new knowledge about the EU, digital world and gaining editing and filming skills are really something I enriched my life with. These two weeks have, sadly, passed by really quick but I am now left with lifelong friendships and many new possibilities for future traveling and networking." – Nina Kurt
"Well in the beggining an almost two week long exchange sounded like a lot of time, yet as the days passed it proved to not be enough. I will never forget people I met there, hopefully forming long lasting relationships with some of them. Days were full of activities through which we learned, trained, explored, has fun and most importantly bonded. That's what Erasmus+ is about, learning and meeting people. Being in the beautiful Romania and visiting some wonderful places all while learning about EU and how it works makes the exchange that much better. But overall I was most impressed by 45 people from 9 countries with whom my team and I have had the chance to live for those 12 days. Learning about their food, music, dances, languages and cultures is something I will remember forever, something I am enriched by and will proudly present if and when I encounter their culture and people again. I can't wait for another such opportunity and I recommend it to everyone who hasn't done it before! Thank you BRAVO! " – Kristijan Kumović
"Sometimes in life, we just get an opportunity that simply cannot be missed. One of those was this Youth Exchange. To spend almost two full weeks in Romania, surrounded by 50 young people coming from 10 different countries and different backgrounds. A dream come true.
Our journey started with a bang, with a two-day stay in Istanbul, followed by a trip to Slanic Moldova.
Our journey was full of adventures, new sights and incredible places. But it would not be as memorable as it was without the people that accompanied me (Nadira, Nina, Šejla and Kristijan truly made my days beautiful and did an incredible job representing our country).
Upon arrival, we were greeted by the most incredible and professional team I have experienced so far. Victor and Leo, well let us just say that there is hope in this world as long as there are people like them. They were professional and had workshops that were educational and entertaining. But above all, they showed true humanity in face of tremendous crisis. The way they offered their unconditional support and more. It was a true privilege being in their presence. If only there were more people like them.
And the participants, well there are so many memories connected to them. From the workshops, intercultural nights to the visits to nearby cities and early morning runs. Every single moment was full of wonder and excitement. But also, of tears and sadness for what is going on before our eyes.
This exchange truly had an impact on me and I shall remember it for years to come. To all those that are thinking of applying, I wholeheartedly recommend Slanic Moldova and ADA.
At the end of the day, we remember not material possessions, but laughs and people that touched our hearts.
At least once, we all should experience the unity Erasmus+ brings and the connections it makes. It teaches us the value of peace and prosperity, of progress and diversity.
For my Ukrainian and Palestinian friends and all the others that are facing the utter absurdity of war." – Dino Brakić