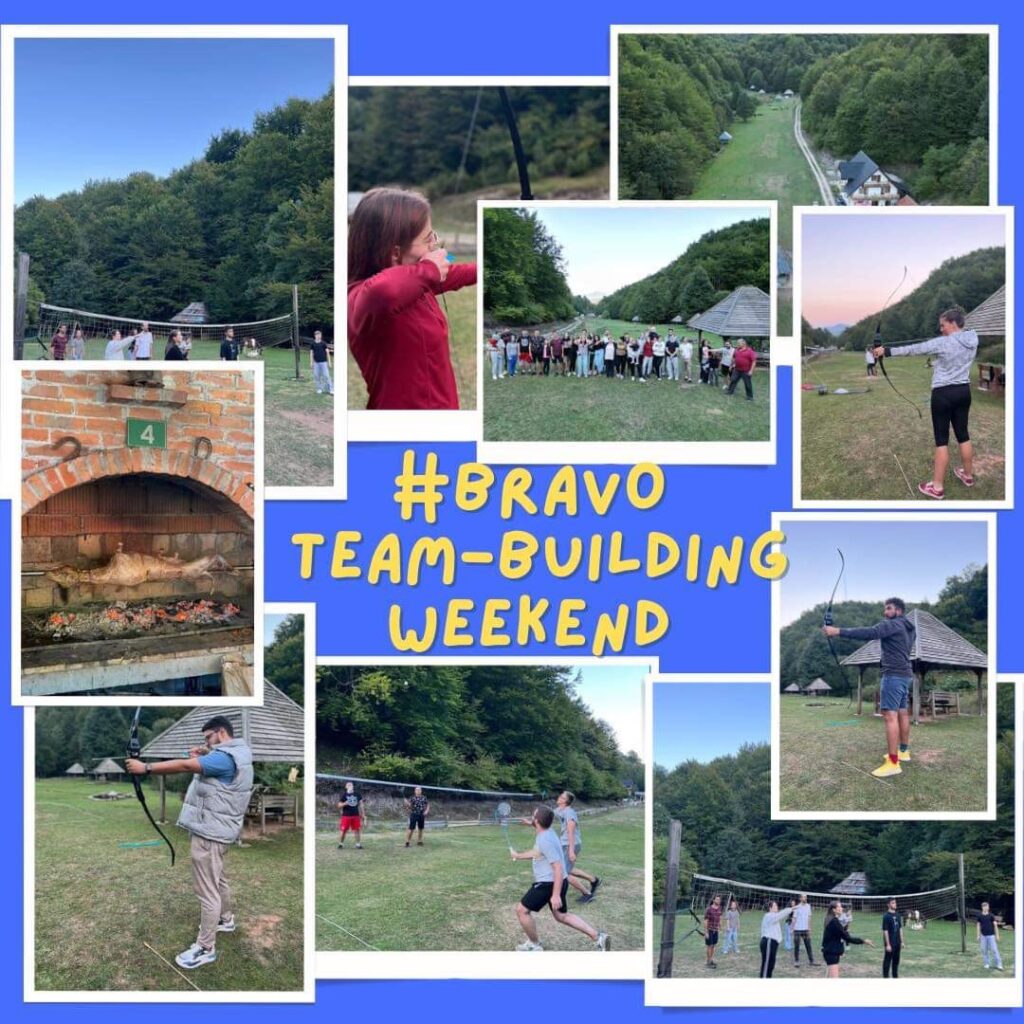 Hustling and working without having something to look forward to is no fun at all. It's even less fun if you have no bonds with people you work with.
Team building is an important factor in producing a positive and productive work environment. It's a process of creating a crew that cohesively works together towards a common goal. Even if the members did not know each other previously and have different attitudes, the fact that they are in the same group means they have shared interests and the potential to become amazing collaborators.
While there are numerous team-building activities to choose from, the BRAVO team decided to spice up the game and organize a full-day trip to the mountains, with a ton of good food and even better people.
BRAVO humans in one place
Excitement was in the air when people all around the country received an email: BRAVO is expecting you on a barbecue & games type of event in the greenest areas of mountain Bjelašnica. The team-building activities were held in nature near Sarajevo, gathering more than 40 people, both locals and internationals. Volunteers from Turkey and Portugal, who are currently spending time in BRAVO's office, had the chance to experience how authentic Balkan parties are.
Leave the desk!
The opportunity to escape the daily grind never ceases to lift the mood and make you refill the batteries for new challenges. Office routines and static lifestyles can lead to boredom and decreased motivation among the team, especially after a few dynamic months at work. The change of scenery and a few hours in nature were exactly what BRAVO members needed, because new ideas are flowing this Monday and we're here for it.
Building trust through adventure
Whether it's archery, hiking, or playing hide-and-seek in the woods, all adventure eventually leads to having a good time. When you are enjoying yourself, you are more able to open up and make connections with others, ultimately building trustful relationships. Of course, relying on each other for support and safety in these daring activities only strengthens the bonds and communication.
Work-life balance
A team-building trip to the mountains is not just a professional development move; it's also a way to promote a healthy balance between work life and actual life. Valuing the employees' well-being and prioritizing their mental health only creates an incline in motivation and effort. A day in nature is only one of the ways to achieve a well-balanced team – not to mention a more productive one.
Memories
The experiences matter the most. This one will be remembered and cherished for a long time – maybe as a starting point for some friendships, business collaborations, conversations, or simply deepening the bonds that already existed. The shared memories and inside jokes can only continue to bring the team closer together and enhance the enthusiasm in the office.
To single out one day dedicated to the team is the least that can be done, but it is a huge investment in its growth and happiness. From building trust and enhancing communication to promoting creative thinking and work-life balance, the mountains provide an ideal scene for forming strong bonds and creating a united front for the organization.