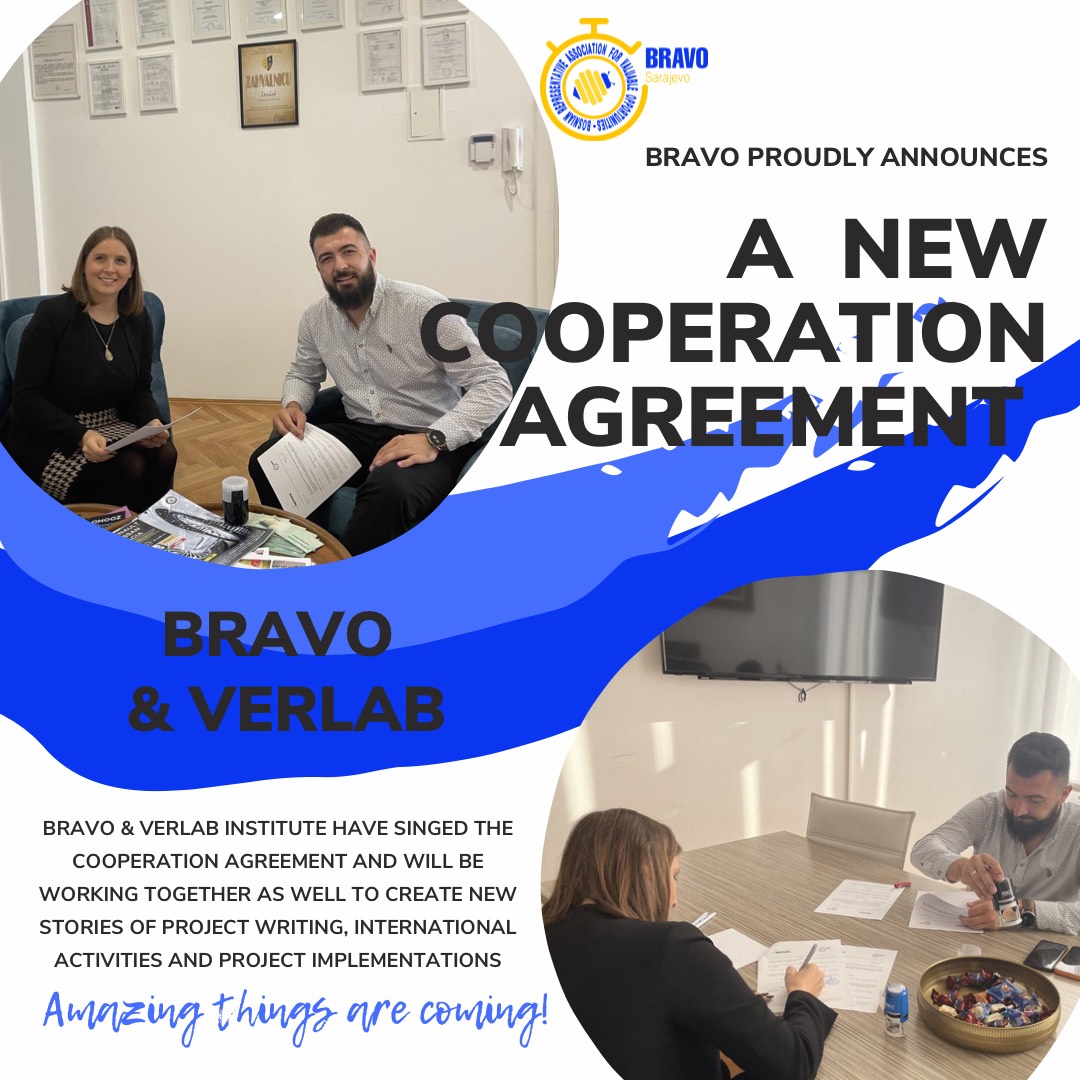 It doesn't really come as surprise anymore when we say that BRAVO's constant dedication to keep the wheel going when it comes to commitment, ongoing striving for success stories and finding most amazing partners to join us on our path to making this world wonder and providing the most amazing opportunities for our youth and all of the citizens of Bosnia and Hercegovina are resulting in most amazing partnerships!
Once again, we would like to welcome our new partners to join us on our mission, who have as well recognized the importance of providing European opportunities to our citizens, to bettering the world we live in and how joining our superpowers and knowledge will lead to amazing projects that are awaiting for us in the future yet to come.
We are most delighted to announce that BRAVO and  Verlab Institute have singed the Cooperation Agreement and will be working together as well to create new stories of project writing, international activities and project implementations!
To properly present you our new partners, what better way to do so then to tell their story in their own words!
"Verlab Research Institute for biomedical engineering, medical devices and artificial intelligence is a structured institution in the capacity of a legal entity. The Institute is founded around Verlab Ltd.. company. Its main goal is to generate, apply, and disseminate research findings through a global ecosystem of forward-looking stakeholders and build capacity by empowering the next generation of technology-enabled professionals. Verlab Institute is a unique platform for the cooperation of stakeholders to create conditions enabling the rapid transformation of ideas into products, processes and services responding to key challenges of the country and region. Management is committed to implementing and running Institute, executing the strategy, coordinating the network and ensuring the smooth running of daily business. We are built around our core themes of research & innovation, support & coordination and digital transformation consulting. Representing the three research fields, our Institute host research groups and consultant teams. They are at the heart of our activities and our most valuable asset!"
And by knowing us and the core values which we are led by and our mission, you must admit that we are quite a match, don't you agree?
Stay tuned and follow our social media accounts for daily updates from our team directly live from all over Europe!
#BRAVO #BRAVOBIH #MAKETHEWORLDWONDER #VERLAB #VERLABINSTITUTE