Each new language opens the door to a new culture while learning them has constant benefits for many cognitive functions, improves memory, has a positive effect on delaying dementia, but we also develop a better sense of mother tongue. According to recent research conducted by Swedish scientists, learning foreign languages literally affects brain growth. Multilingual people have better control over their concentration and are often able to limit distractions.
In addition, knowledge of a foreign language provides better opportunities in the labor market in our country and abroad, and faster career advancement. Starting life abroad will be more enjoyable and you will overcome various obstacles faster, as well as cultural differences through socializing and communicating with native speakers from day one.
Due to all the above, BRAVO introduces another language in its offer and expertise – Russian.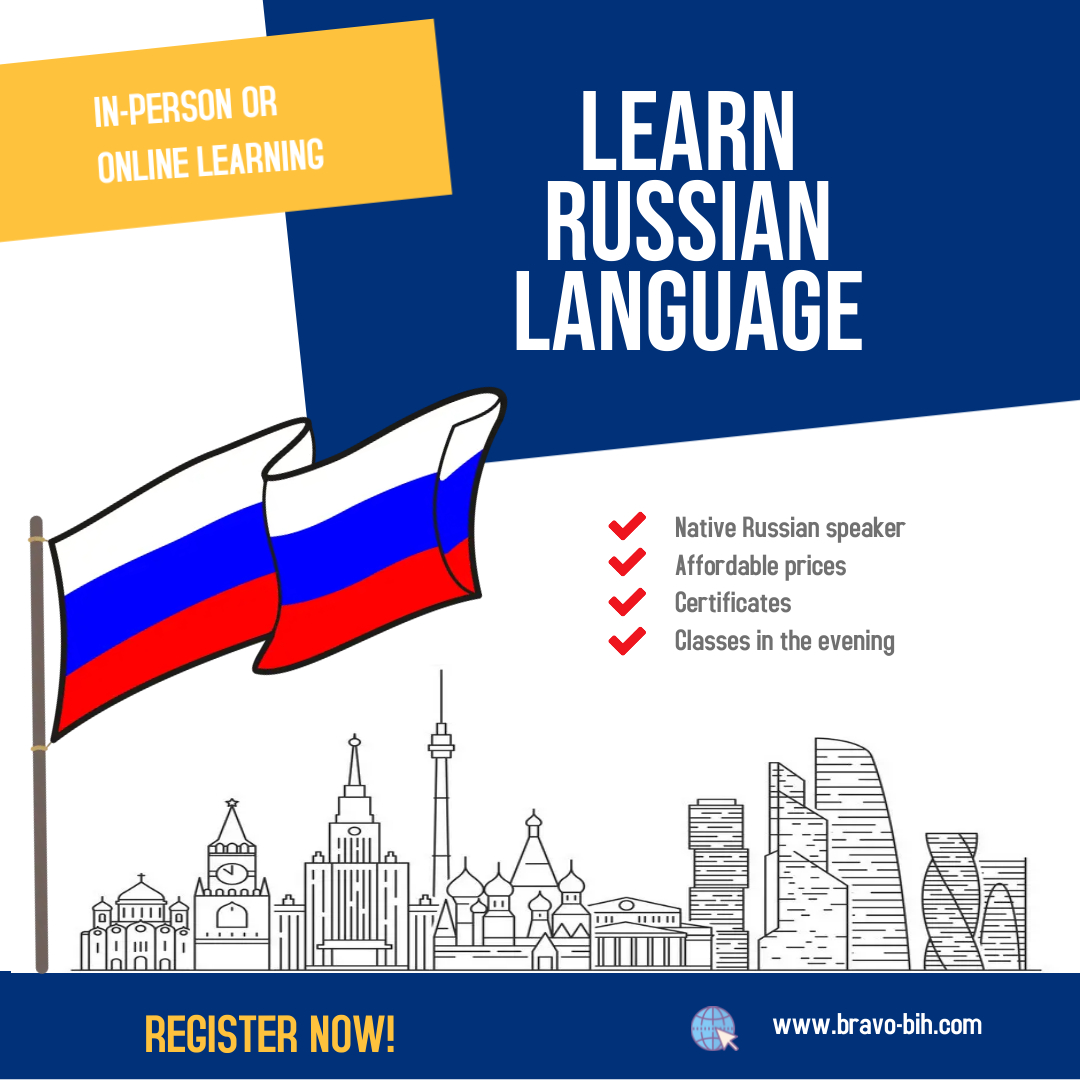 EXPECTED COURSE DURATION:
A1: 3 months
A2: 3 months
B1: 3 months
Months are not count as in the calendar. One month of the course covers 4 weeks from the beginning of the course. They are held two times every week, and one class lasts for an hour and a half. That is a total of 16 school classes (45 minutes) per month.
APPLICATIONS REMAIN OPEN UNTIL: 15th May
COURSE BEGINS: 20th May
Basic information about the course:
The course takes place in-person, at BRAVO office, address: Valtera Perića 9, Sarajevo OR online in case of special circumstances discussed within the student groups;
The course is conducted in English (not Bosnian) by a native Russian speaker;
Payments are always made at the beginning of the month and it is possible to pay each month separately, and pay at once for all months of the course. Those who decide to pay separately each month, payments for each subsequent month will need to be made in the fourth week of the previous month. The instructor will let you know when you can pay for next month;
After closing the applications, all registered students will receive a joint e-mail with further information on schedule, program structure, and payments. The payments should be made on 9 May when the classes start.
We offer a maximum of 3 free courses in each cycle. All you need to do is send us a motivational letter explaining your situation and why we should give you this free course. After closing the call, all applicants for the free course will receive an email informing them to whom we have decided to donate the course. We also emphasize the importance of the fact that people who receive a free course should justify our trust and participate in classes. In addition, the free course is awarded for one cycle only. For each subsequent cycle, the person needs to re-apply after which they will be informed of the selection results.

The price of the course includes a textbook, as well as all other accompanying materials.
Group classes appointments are held twice a week in the evening time.
For the exact dates of individual classes, the instructor makes a deal with the students. It is possible to set fixed dates for individual classes, and it is also possible to agree on the next date at the end of each class. If you are interested in individual classes, before applying, we advise you to contact the instructor Alisa by email alisa_berezina@inbox.ru to check if there are free appointments.
IMPORTANT NOTES:
All certificates will be issued in digital format, and sent to your e-mail address upon completion of the course.
If you decide to leave the course after a certain period of attendance, you can do so, but in that case we cannot give you any certificate.
In addition to Russian language course, BRAVO also offers English, German, Turkish and Japanese language courses. For more information, please contact us at one of the e-mail addresses below:
APPLICATIONS REMAIN OPEN UNTIL: 15 MAY