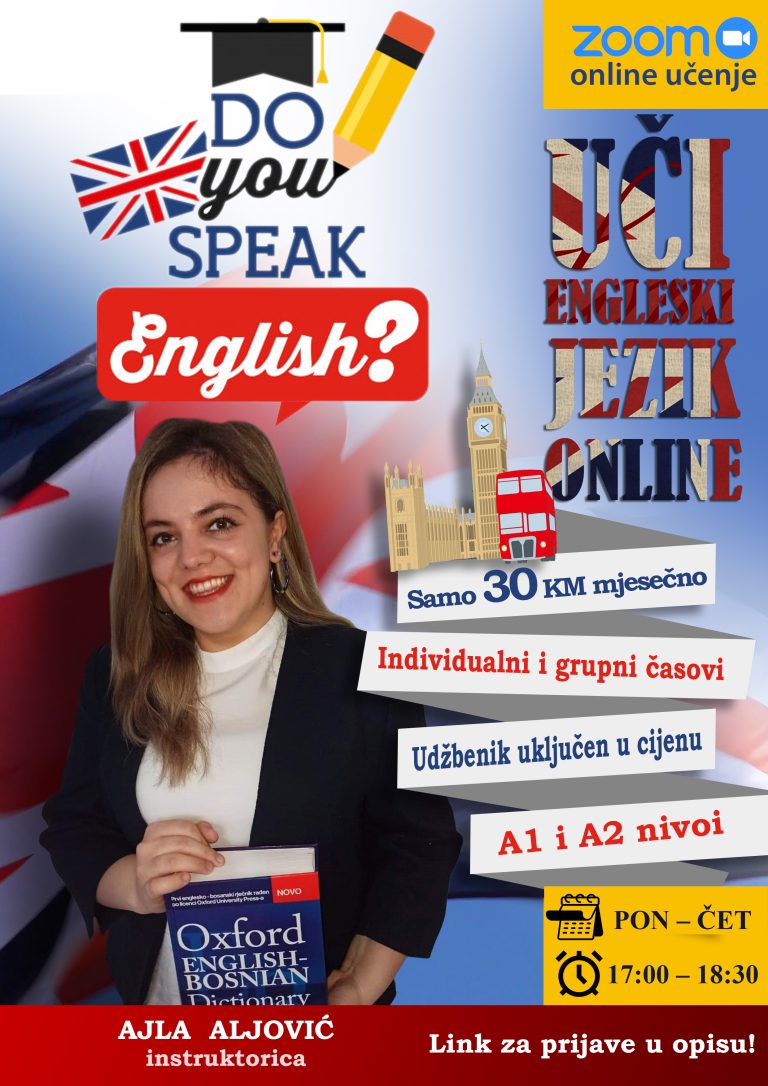 Dragi prijatelji i pratioci,
Nakon mnoštva Vaših upita, te svjesni zahtjeva modernog doba, BRAVO je odlučio podržati još jednu sjajnu osobu, našu BRAVO članicu i zajedno sa njom pokrenuti zajednički novi projekt- kurs engleskog jezika!
Kao organizacija kojoj je zajedništvo jedan od primarnih vodilja, iznimno smo ponosni što možemo omogućiti našoj vrijednoj, mladoj članici prostor da zablista! 🙂
Naša je Ajla svoje obrazovanje na Odsjeku za engleski jezik i književnost povjerila Internacionalnom Burch Univerzitetu, te radeći kao volonter stekla već mnogo radnog iskustva.
O KURSU…
Trenutno su otvorene prijave za A1 i A2 nivo, kao i za individualne časove.*
   * Na individualne časove mogu se prijaviti osobe bilo kojeg nivoa poznavanja jezika, a o terminima održavanja časova učenik/ca će se dogovoriti sa instruktoricom.

U skladu s Vašim željama, instruktorica može predložiti učeniku broj mjesečnih individualnih časova, ali je konačna odluka o broju tih časova na Vama.
Ukoliko vršite uplatu iz inostranstva, istu je moguće izvršiti putem Western Union-a, te Vas molimo u tom slučaju, radi detaljnijih uputa, da nas kontaktirate putem  e-mail:
Prije početka kursa, svi će učenici dobiti potrebne udžbenike, kao i link Facebook grupe u kojoj će se objavljivati dodatni materijali, kao i najave za nesmetano praćenje nastave.
Polaznici se ohrabruju da daju svoje sugestije, mišljenje i impresije o časovima, a mi smo tu da damo sve od sebe kako bismo učenje i zajedničko druženje učinili što prijatnijim i zabavnijim za sve. 🙂
BITNE NAPOMENE…
Da biste prisustvovali kursu, morate imati Zoom nalog.
Na časove će biti primljeni samo oni koji su na listama za taj čas. Zbog toga Vam toplo preporučujemo da se registrujete ili da budete sigurni da ste prijavljeni na Zoom sa svojim punim imenom i prezimenom. Registracija je potpuno besplatna i veoma jednostavna.
Nakon svakog modula, imate  mogućnost testiranja kako biste dobili Certifikat o poznavanju engleskog jezika za Vaš nivo.
Za one koji ne žele raditi test, dobit će Potvrdu o pohađanju kursa.
Svi certifikati bit će izdani u digitalnom formatu, te poslani poslani na Vašu e-mail adresu po završetku kursa.
NAPOMENA:  Ako odlučite da napustite kurs nakon određenog perioda pohađanja, to možete učiniti, ali u tom slučaju ne možemo Vam dati bilo kakvu potvrdu ili certifikat.
Ukoliko niste u mogućnosti priuštititi kurs, a željeli biste naučiti engleski jezik, BRAVO nudi i besplatne časove. Sve što trebate uraditi jeste da nam napišete kratko motivacijsko pismo- zašto baš Vama trebamo pokloniti časove, te da nam objasnite svoju situaciju, a naš odgovor dobit ćete nakon zatvaranja poziva.
Pet jednostavnih koraka za prijavu su:
Popuniti Google Form do 20.02.2021. godine.


Svi će prijavljeni biti obaviješteni o načinu uplate u periodu od 20.02. do 22.02.2021, te će im biti dostavljen Google formular na koji će biti potrebno izvršiti upload uplatnice.


Oni koji nisu u mogućnosti da plate kurs, mogu poslati svoje motivacijsko pismo na e-mail: 

[email protected]

do 20.02.2021. godine.
 (NAPOMENA: Maksimalno 3 osobe mogu dobiti besplatan kurs.)


Nakon što Vas obavijestimo o načinu uplate, potrebno je istu izvršiti do 26.02.2021. godine, te dokaz o uplati poslati putem ranije dostavljenog Google formulara.


Kada primimo Vašu uplatu i uplatnicu putem Google formulara, dobit ćete sljedeće:
potvrdu o upisu i dodatne informacije o kursu,
udžbenike,
link za Zoom sastanak preko kojeg ćete prisustvovati časovima i
link naše Facebook grupe u kojoj objavljujemo dodatne informacije, obavijesti, kao i materijale sa časova.
Rok za prijavu: 20.02.2021. godine
Početak kursa: 01.03.2021. godine
If you have any additional questions for our BRAVO team, feel free to contact us via our email address: [email protected] or the contact form down below.
We can`t wait to hear from you!