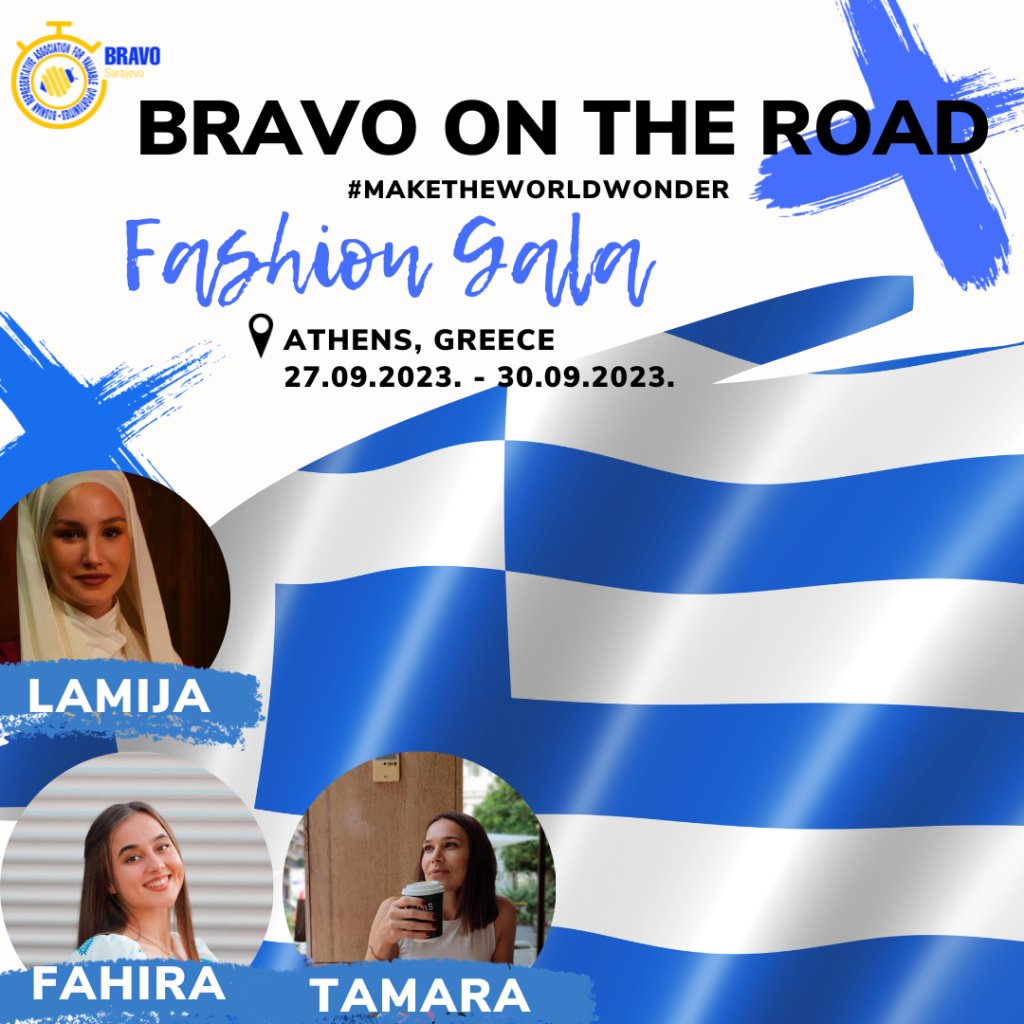 Who doesn't love a good fashion story?!
This amazing story with a fashion aspect has taken place in Athens, Greece from the 27th to the 30th of September. A fashion gala presented the final chapter of the project FASHIORATION which has been brought to an end. Two young genius designers, Fahira Osmić and Tamara Teodorović teamed up with BRAVO to represent Bosnia and Herzegovina with their outstanding designs. Their mastery has caught the eye of many participants in past Fashioration events and we believe that they were the perfect choice for this role.
This is what they had to say about themselves and the work they have done over the past few years:
"My name is Fahira Osmic. I am from Tesanj, Bosnia and Herzegovina and I'm 24 years old. I am a recent college graduate with a Bachelor's Degree in Economics. Also, I am a photographer and that's my biggest passion. As a young girl, I have always been interested in fashion but for me, the biggest problem was finding clothes in the right size. I was too small and tiny for my age and I couldn't find anything that suited me. I was forced to wear something that I didn't like at all, so one day I decided to start making my own pieces of clothes. I bought some fabrics and started with simple dresses and skirts. That's how it all begins. Day by day, I have gotten better and better at that job, but it was a really long process to make something without a sewing machine, so I bought it and started learning how to use it.
In February this year, I saw an open call for the project ''Fashioration''. I researched about it, and I decided to apply. I was so excited to be selected for this project, mostly because it was about fashion and tradition at once. I love my country and we have a rich culture and
tradition. Making modern pieces of clothing with traditional details was a great topic. This project gave me a great opportunity to learn more about my tradition and also, and I learned a lot about our traditional jewelry and embroidery. This project is like made for me and I'm honored to have taken part in the final Fashion Gala in Greece." – Fahira Osmić
"For me, tradition is focusing and it's important to approach to Bosnian tradition with respect and cultural sensitivity. Researching and understanding the nuances of Bosnian traditional clothing is essential. It's also important to consider the needs and preferences of modern women, ensuring that not to be only culturally inspired but also functional and comfortable for contemporary wear.
Ultimately, using Bosnian tradition in fashion design allows for a celebration of cultural heritage and a way to bring the beauty of this rich tradition to a wider audience. It's a fusion of history, art, and creativity that can result in truly unique and captivating designs.
I find inspiration in the nature of Bosnia and Herzegovina and its parks, rivers, and mountains, which is often underestimated. By mixing traditional embroidery and motifs that are characteristic of Bosnia and Herzegovina and its people, I try to present multiculturalism and tradition. Working with next-gen materials and NFC tags in combination with traditional Bosnian and Herzegovinian elements shows a great blend of modern technology and cultural heritage. I am happy that I was part of the fashioration project and that I got the opportunity to learn even more about our culture, tradition, and national heritage. Thanks to the workshops I participated in, I had the opportunity to meet other wonderful and creative participants to exchange ideas and work in groups. All this contributed to expanding my knowledge, ideas and helped me to prepare in the best way to present my country, Bosnia and Herzegovina, at the final event in Athens." –Tamara Teodorović
The fashioration gala in Athens, Greece was successfully implemented and presented a final chapter in the story of the project "Fashioration". The participants have brought their all and with their skills, knowledge, and artistry have gradually contributed to the execution of this event that broke down all standards and was revolutionary in many ways.
FASHIORATION is focused on the special cultural expression of the participating countries, which is related to fashion and special ways of making clothes based on local traditions (both in terms of design and materials used, etc.). This traditional knowledge is part of the intangible cultural heritage because it is one of the most authentic ways of cultural expression of local communities. At the same time, the clothing used inspired by national cultural heritage is a tangible commodity that can be sold (inside and outside the country) and generate income for local communities.  The project aims to improve the employability and entrepreneurship of young people. Its main goal is to develop skills in young people, so that they can value elements of their country's cultural tradition in relation to fashion and be able to work in this industry. FASHIORATION aims to bring together different cultures in terms of fashion and costuming habits and to train young designers and young people who are interested in working in the fashion sector so that they can rely on their national tradition, work creatively on it and provide new contemporary creations to society as a whole , which will bear the characteristics of their tradition. It also aims to cultivate the ground for creating synergy at the transnational level not only between participants from partner countries, but also beyond. FASHIORATION  unleashed creative forces. This project has trained and opened new creative horizons for young creators in the entire costume and fashion production chain. Inspiring techniques, design, construction, weaving and dyeing that have their roots in the tradition and history of the people have been presented. In this way, young creators have focused their attention precisely on their roots.