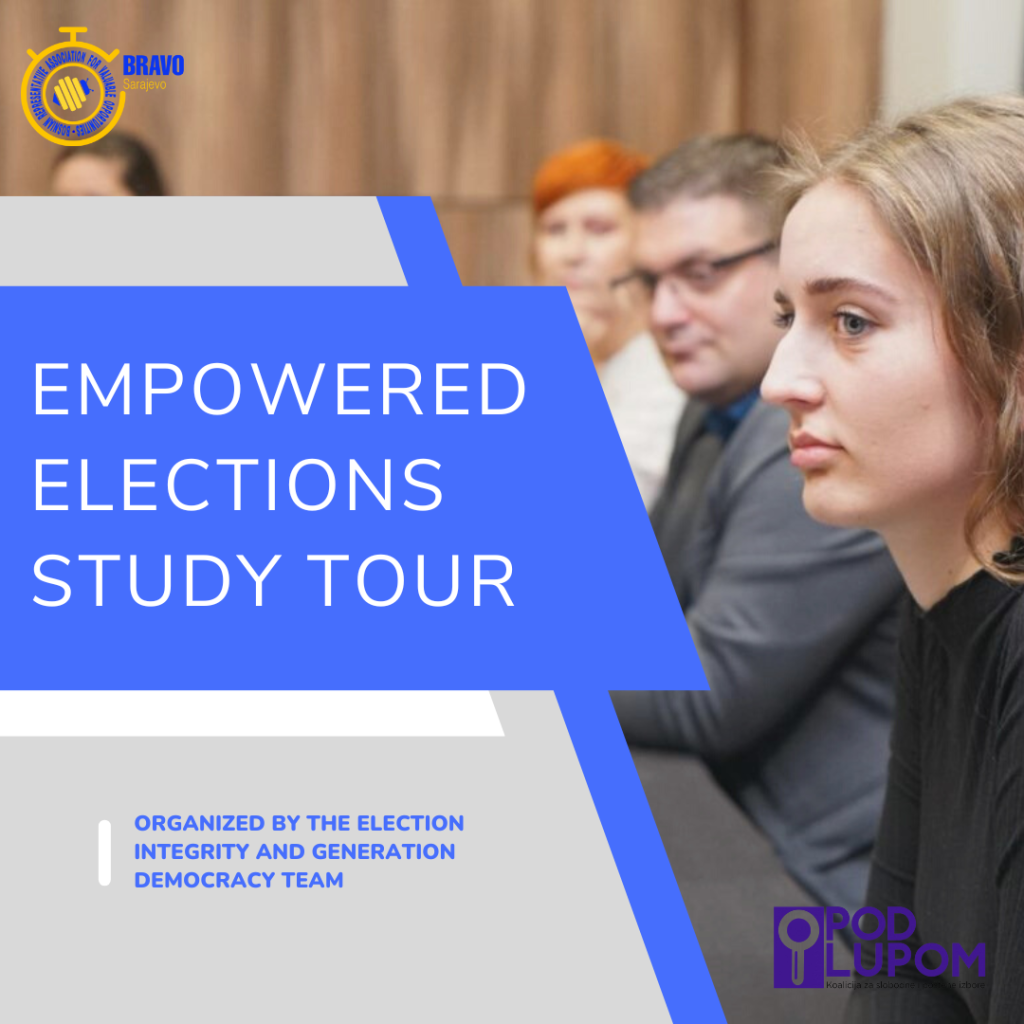 On 1st October BRAVO members attended Empowered Elections Study Tour organized by The Election Integrity and Generation Democracy team at the International Republican Institute at Hotel Hills, Sarajevo. 
The Empowered Elections Program is a series of master classes and peer exchanges designed to advance the role of youth (ages 18 to 35) within democratic election observations by equipping young people with the skills, networks, and opportunities to effectively analyze elections through an inclusive lens. The cohort participated in a 10-month-long curriculum that entails comprehensive training on how to observe and analyze elections against international standards coupled with three experiential learning exchanges. IRI has previously hosted two study tours – one to observe the Political Party Primaries in Nairobi, Kenya, and the second to observe the first round of the Colombian Presidential Elections in Bogota, Colombia.  
With the program's focus on the inclusion of youth and ethnic minorities in elections, the participants had an opportunity to learn about Bosnian youth's involvement in political and electoral processes as well as how Bosnia's electoral law accounts for ethnic diversity within the country and ensures equality among the three major ethnic groups. 
Our BRAVO members attended a meeting with youth representatives from Mexico, Panama, Greece, Jordan, Iraq, Netherlands, Georgia, Lebanon, Nepal, Argentina, Marocco, Tunisia, and Serbia. Many of them are included in activism regarding political awareness, human rights, health, etc. 
They had a chance to discuss elections, youth activism, and their impact in Bosnia and Herzegovina. The main purpose of this meeting was to introduce the activism of Bosnian youth. As youth representatives were interested in the work of BRAVO, our members explained to them our mission, structure of the organization, background of members, role in society, and so on. Meeting enabled exchanging of opinions, ideas, and knowledge which contributed to all sides of the meeting. This was another great story that created new practices and networks for youth in Bosnia and Heryegovina.
More about BRAVO check on the video below: