BRAVO zvanično otvara prijave za novi ciklus kursa italjanskog jezika!
PREDVIĐENO TRAJANJE KURSA:
A1.1: 3 mjeseca


A1.2: 3 mjeseca


A2.1: 3 mjeseca


A2.2: 3 mjeseca


B1.1: 3 mjeseca


B1.2: 3 mjeseca

Svaki nivo je podijeljen na po dva modula. Svaki modul traje po 3 mjeseca. Da bi se kompletiro jedan nivo, potrebno je da pređete oba modula.
PRIJAVE OSTAJU OTVORENE DO: 08.10.2021.
KURS POČINJE: 18.10.2021.
Mjeseci se ne računaju kalendarski. Jedan mjesec kursa obuhvata 4 sedmice od početka kursa. Svake sedmice se održavaju po dva časa, a jedan čas traje sat i po vremena. To je ukupno 16 školskih časova (45 min.) mjesečno.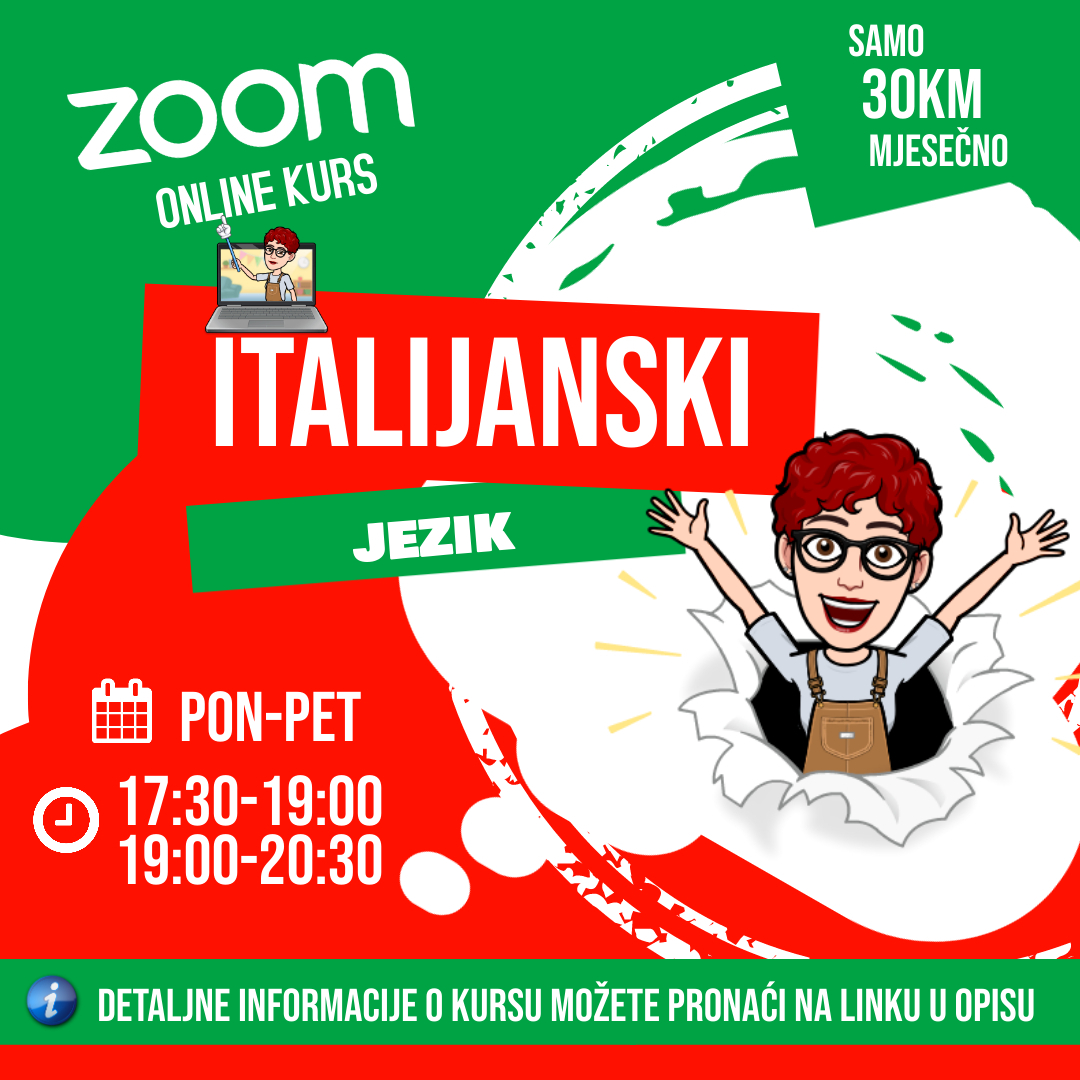 * Prijave su otvorene za sve nivoe, a oformit će se grupa za onaj nivo za koji bude bilo više prijavljenih. Dakle, održavat će se kurs ili za A1.1 ili za B1.1. Isto važi za nivoe A2.1 i A2.2. Ukoliko se u ovom ciklusu ne oformi grupa za neki nivo, učenici mogu zatražiti da budu obavješteni kada budemo imali u ponudi nivo za koji su zainteresovani.
Termini su fiksni i nije moguće praviti izmjene. Za termine individualnih časova, nastavnica se dogovara s učenicima. Moguće je odrediti fiksne termine i za individualne časove, a moguće je i dogovarati se za naredni termin na kraju svakog časa.
Tempo prelaska gradiva određuje grupa. Ukoliko se desi da grupa sporije usvaja gradivo, moguće je da se jedan nivo ne završi u predviđenom vremenu. U tom slučaju, učenici imaju priliku da biraju da se zaustave ili da nastave u novom ciklusu. Cilj kursa nije samo preći gradivo već je cilj da učenici što bolje shvate i usvoje gradivo. Zbog toga je tempo prelaska gradiva prilagođen učenicima i dinamici grupe.
Nije moguće zakazivanje individualnih časova nedjeljom.
Uplate se vrše uvijek na početku kursa i moguće je plaćati svaki mjesec posebno, a i odjednom platiti za sve mjesece trajanja kursa. Oni koji se odluče uplaćivati posebno svaki mjesec, uplate za svaki naredni mjesec će trebati izvršiti u četvrtoj sedmici prethodnog mjeseca. Nastavnica će vas svakako obavjestiti o tome kada možete uplatiti za naredni mjesec.
Nakon što se pijavite na kurs, popunjavanjem Google Forme 09.10. će svi prijavljeni učenici dobiti zajednički mail u kojem će dobiti podatke za uplate i rok od pet dana za uplatu. Nakon što se izvrši uplata i pošalje dokaz o istoj, nastavnica Amila će svima koji su uplatitli kurs poslati udžbenike, link za Zoom meeting i link facebook grupe u kojoj postavljamo sve obavjesti i preko koje se dogovaramo za sve što je potrebno.
Prijaviti se možete iz bilo kojeg dijela svijeta, a svi načini za izvršavanje uplate će vam biti predstavljeni u prvom mailu koji ćete dobiti nakon prijave za kurs. Pored učenika iz Bosne i Hercegovine, Hrvatske, Srbije i Crne Gore, imamo učenike koji naše kurseve prate i iz Austrije, Italije, Australije, Belgije, neki su pratili kurs iz Španije, a i iz Norveške.
U svakom ciklusu nudimo i po maksimalno 3 besplatna kursa. Sve što je potrebno dau radite, jeste da nam pošaljete motivaciono pismo u kojem ćete nam ojasniti vašu situaciju i zašto baš vama dap oklonimo taj besplatan kurs. Nakon zatvaranja poziva, svi prijavljeni za besplatan kurs će dobiti mail u kojem ćemo ih obavjestiti kome smo odlučili pokloniti kurs. Ističemo također da je važno da osobe koje dobiju besplatan kurs trebaju da opravdaju naše povjerenje i da učestvuju u nastavi. Pored toga, besplatan kurs je dodijeljen samo za jedan ciklus. Za svaki naredni ciklus, potrebno je da se osoba ponovo prijavi nakon čega će biti obavještena o rezultatima odabira.
NAPOMINJEMO DA UKOLIKO BROJ PRIJAVLJENIH ZA JEDAN NIVO BUDE MANJI OD 6 UČENIKA, GRUPA SE NEĆE OFORMITI I KURS ZA TAJ NIVO SE NEĆE ODRŽAVATI.
Nakon zatvranja poziva, svi prijavljeni će biti obavješteni o tome da li se formirala grupa za njihov nivo ili ne. Ako nismo naveli u ponudi nivo za koji ste zainteresovani, popunjavanjem Google obrasca možete navesti za koji ste nivo zainteresovani, a mi ćemo Vas obavjestiti ako uspijemo oformiti grupu za taj nivo.
Kao što to stoji i u našem pozivu, kurs se odvija online peko platforme Zoom. Stoga je potrebno da svi prijavljeni učenici otvore Zoom nalog i da se prijave preko svog imena i prezimena. Ukoliko ne stvate svoje ime i prezime, instruktorica vas neće pustiti na čas, jer neće znati o kome se radi.

Osnovni udžbenici po kojima radimo su Progetto italiano, a pored tog udžbenika, koristimo i mnoge druge materijale i udžbenike.

Pored osnovnog kursa italijanskog jezika i kulture, nudimo specijalizovane kurseve italiajnskog jezika za:

studente muzičkih akademija i konzervatorija;
poslovni italijanski
konverzacijski italijanski,

Specijalizovani kursevi su isključivo individualni časovi. Svi prijavljeni učenici će dobiti udžbenike po kojima bismo radili. Ukoliko postoje neki posebni udžbenici po kojima bi učenici željeli raditi, moguće je poslati ih nastavnici, a ona će spremati časove vodeći se njima i spremajući dodatne materijale.

Ukoliko imate dodatnih pitanja, možete pisati profesorici Amili na mail: [email protected]
Početak kursa: 18.10.2021. godine
Pored kursa francuskog jezika, BRAVO Vam nudi i kurseve engleskog, kineskog i japanskog jezika. Za više informacija, ljubazno Vas molimo da nam se javite na dolje navedeni e-mail.
If you have any additional questions for our BRAVO team, feel free to contact us via our email address: [email protected] or the contact form down below.
      We can`t wait to hear from you!