PREDVIĐENO TRAJANJE KURSA:
A1: 3 mjeseca
A2: 3 mjeseca
B1: 3 mjeseca
B2: 3 mjeseca
C: 3 mjeseca
Mjeseci se ne računaju kalendarski. Jedan mjesec kursa obuhvata 4 sedmice od početka kursa. Svake sedmice se održavaju po dva časa, a jedan čas traje sat i po vremena. To je ukupno 16 školskih časova (45 min.) mjesečno.
Ukoliko vršite uplatu iz inostranstva, istu je moguće izvršiti putem Western Union-a, te Vas molimo u tom slučaju, radi detaljnijih uputa, da nas kontaktirate putem  e-maila na:
                                                        [email protected] i/ili [email protected]
Prije početka kursa, svi će učenici dobiti potrebne udžbenike, kao i link Facebook grupe u kojoj će se objavljivati dodatni materijali, kao i najave za nesmetano praćenje nastave.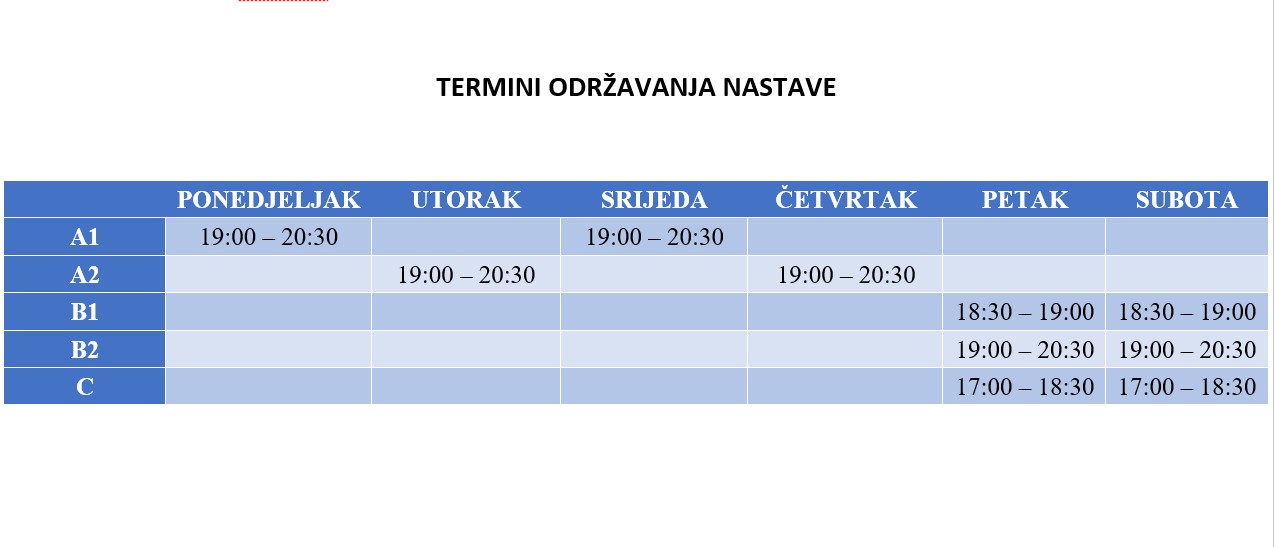 Uplate se vrše uvijek na početku kursa i moguće je plaćati svaki mjesec posebno, a i odjednom platiti za sve mjesece trajanja kursa. Oni koji se odluče uplaćivati posebno svaki mjesec, uplate za svaki naredni mjesec će trebati izvršiti u četvrtoj sedmici prethodnog mjeseca. Nastavnica će vas svakako obavjestiti o tome kada možete uplatiti za naredni mjesec.
Nakon što se pijavite na kurs, popunjavanjem Google Forme potrebno je izvršiti upltu i poslati dokaz o istoj. Svi prijavljeni učenici će dobiti zajednički mail u kojem će nastavnica Ajla svima koji su uplatitli kurs poslati udžbenike, link za Zoom meeting i link facebook grupe u kojoj postavljamo mterijale s kursa.
U svakom ciklusu nudimo i po maksimalno 3 besplatna kursa. Sve što je potrebno dau radite, jeste da nam pošaljete motivaciono pismo u kojem ćete nam ojasniti vašu situaciju i zašto baš vama dap oklonimo taj besplatan kurs. Nakon zatvaranja poziva, svi prijavljeni za besplatan kurs će dobiti mail u kojem ćemo ih obavjestiti kome smo odlučili pokloniti kurs. Ističemo također da je važno da osobe koje dobiju besplatan kurs trebaju da opravdaju naše povjerenje i da učestvuju u nastavi. Pored toga, besplatan kurs je dodijeljen samo za jedan ciklus. Za svaki naredni ciklus, potrebno je da se osoba ponovo prijavi nakon čega će biti obavještena o rezultatima odabira.
NAPOMINJEMO DA UKOLIKO BROJ PRIJAVLJENIH ZA JEDAN NIVO BUDE MANJI OD 5 UČENIKA, GRUPA SE NEĆE OFORMITI I KURS ZA TAJ NIVO SE NEĆE ODRŽAVATI. NAKON TRI (3) IZOSTANKA, PODRAZUMIJEVA SE DA JE POLAZNIK ODUSTAO.
Nakon zatvranja poziva, svi prijavljeni će biti obavješteni o tome da li se formirala grupa za njihov nivo ili ne. Ako nismo naveli u ponudi nivo za koji ste zainteresovani, popunjavanjem Google obrasca možete navesti za koji ste nivo zainteresovani, a mi ćemo Vas obavjestiti ako uspijemo oformiti grupu za taj nivo.
Da biste prisustvovali kursu, morate imati Zoom nalog.
Na časove će biti primljeni samo oni koji su na listama za taj čas. Zbog toga Vam toplo preporučujemo da se registrujete ili da budete sigurni da ste prijavljeni na Zoom sa svojim punim imenom i prezimenom. Registracija je potpuno besplatna i veoma jednostavna.
Nakon svakog modula, imate  mogućnost testiranja kako biste dobili Certifikat o poznavanju engleskog jezika.
Za one koji ne žele raditi test, dobit će Potvrdu o pohađanju kursa.
Svi certifikati bit će izdani u digitalnom formatu, te poslani poslani na Vašu e-mail adresu po završetku kursa.
NAPOMENA:  Ako odlučite da napustite kurs nakon određenog perioda pohađanja, to možete učiniti, ali u tom slučaju ne možemo Vam dati bilo kakvu potvrdu ili certifikat
ŠTA SU O NAMA REKLI PRETHODNI POLAZNICI KURSA:
Za mene je kurs engleskog jezika izvrsna stvar, jer ga pratim iz udobnosti svog doma. Kada ne mogu prisustvovati online nastavi, naša divna profesorica Ajla nam snimi tako da smo uvijek u toku s nastavom.
Za ovaj kurs imam samo riječi hvale, jer je sve super i nema nikakvih napetosti na nastavi. Naša profesorica ima dosta strpljenja s nama i uvijek nam ukazuje na naše greške. Svima bih preporučila ovaj kurs jer ćete naučiti, zabaviti se i imati divno iskustvo.
A usput upoznat ćete nove prijatelje. 
–Samra Bečić, 21godina, Ozimica
Rok za prijavu: 29.10.2021. godine
Početak kursa: 01.11.2021. godine
Pored kursa engleskog jezika, BRAVO Vam nudi i kurseve kineskog, francuskog i japanskog jezika. Za više informacija, ljubazno Vas molimo da nam se javite na dolje navedeni e-mail.
If you have any additional questions for our BRAVO team, feel free to contact us via our email address: [email protected] or the contact form down below.
      We can`t wait to hear from you!