Poziv je napisan na dva jezika (bosanski i engleski). Molimo vas da u nastavku pročitate poziv na jeziku koji vam odgovara.
The call is written in two languages (Bosnian and English). Please check the language call below in a language that you prefer.
Dragi budući učenici i učenice,
Prije svega, jako mi je drago sto vam se obraćam kao jos jedan član BRAVO Language courses tima!

Misleci na vas, a i svjesni zahtjeva modernog doba, BRAVO je odlučio da počne i sa kursom engleskog jezika!
Svi već jako dobro znamo da engleski jezik nije samo jedan od zvanicnih jezika Evropske Unije, niti je samo jedan važan jezik vezan za jedno geografsko područje. U savremenom dobu engleski jezik je neophodan kako u svakodnevnom životu, tako i na poslovnom planu. Radi se, dakle, o svjetskom jeziku kroz koji se povezuje cijeli svijet. Stoga, poznavanje engleskog jezika vise nije akademski luksuz već stalna potreba u svim životnim segmentima.
Budući da je naša misao vodilja to da znanje ne treba da bude luksuz već da treba biti dostupno svima, BRAVO vam od sada nudi i kurseve engleskog jezika. I sam sam uvijek nalazio korisnu upotrebu za engleski jezik. Kao i mnogi, učio sam ga od malih nogu, pored toga nastojeći da se usavršavam, završio sam dodatne kurseve i edukacije, a poslije sam imao priliku i da podučavam druge. Također, do sada su mi se otvarale poslovne mogućnosti kao sto su rad sa turistima te prevođenje za razne institucije i organizacije. Svi vi, koji se odlučite na ovaj korak, bez obzira na vaš trenutni nivo poznavanja engleskog jezika, uz moju pomoć te uz vas trud i rad ćete bez problema usavršiti vaše znanje.
BRAVO vam nudi da unaprijedite svoje poznavanje engleskog jezika iz one oblasti koju smatrate najkorisnijom za vas. Prema tome, na ovaj kurs se možete prijaviti bilo da vam engleski jezik neophodan na vašem radnom mjestu, u školi ili na fakulteti koji pohađajte ili čak ukoliko učite engleski iz hobija ili zabave.
Kurs je otvoren svima koji ga vide kao šansu za učenje ili uzbudljiv izazov. Naši kursevi će biti orijentirani u skladu sa vasim vremenom i obavezama. Ja kao instruktor ću se truditi da se prilagodim vašoj dinamici, idejama i sugestijama.
Pridružite nam se na našim kursevima i otkrijte što smo sve još pripremili za vas. I ne zaboravite: "sve ovisi o vama i vašoj odlučnosti"! Ovdje smo da vam budemo podrška i pomoć.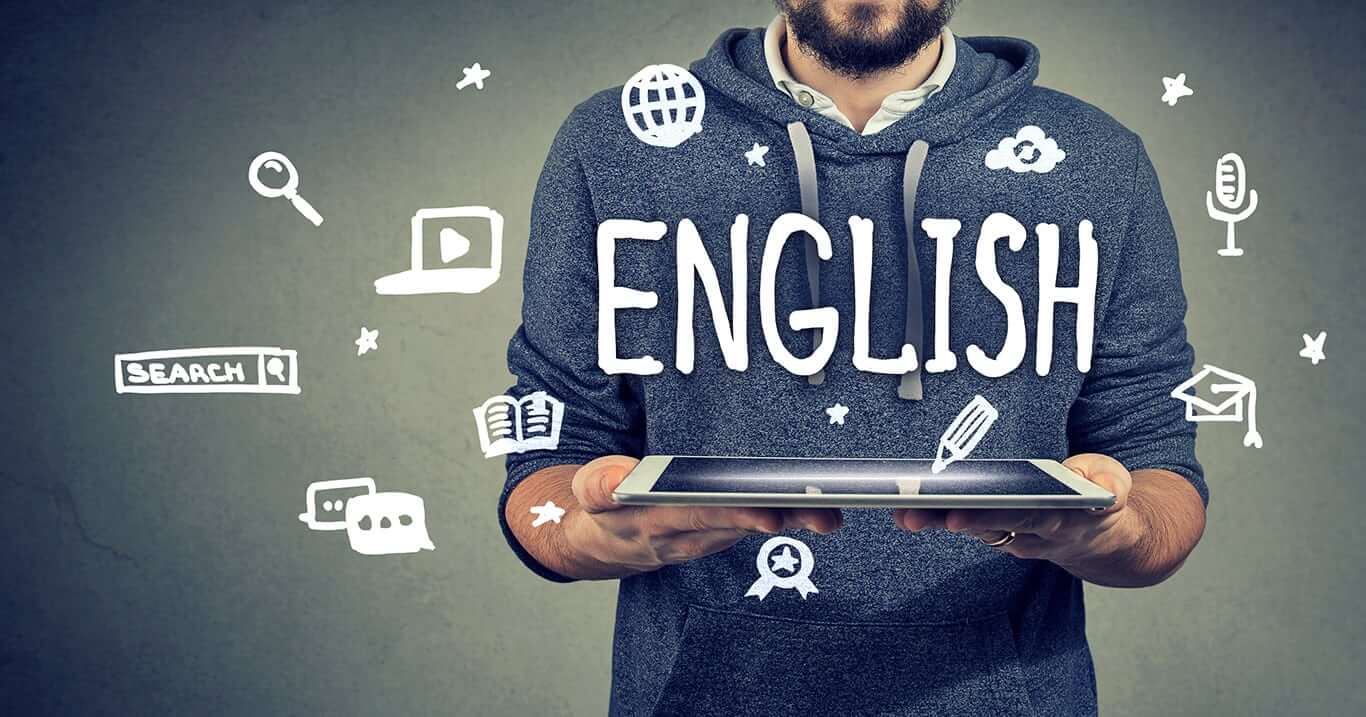 Ako ste zainteresirani za učenje engleskog jezika popunite ovu Google formu, prijavite se i naučite nešto novo.
Da biste učestvovali na kursu, morate imati Zoom račun. Na časove će biti primljeni samo one koji su na listama za taj čas. Zbog toga vam toplo preporučujem da se registrujete ili da budete sigurni da ste prijavljeni na Zoom sa svojim punim imenom i prezimenom. Registracija je potpuno besplatna.
Imaćemo i Facebook grupu na kojoj će instruktor i BRAVO tim objavljivati dodatne materijale i sve najave. Dobit ćete link grupe na svoju e-mail adresu nakon selekcije.
Kursevi će se održavati za nivoe:
A1 i A2 – trajat će 2 mjeseca;
B1 i B2 – trajat će 3 mjeseca.
Konverzacijski kurs engleskog jezika – za sve one koji već imaju predznanje engleskog jezika, te bi voljeli da uspješnije komuniciraju;
Poslovni engleski jezik – za sve one kojima je potreban engleski jezik u poslvne svrhe, za poslove gdje su potrebne stručne riječi i slično.
Nakon svakog modula, dobićete mogućnost da se testirate kako biste dobili CERTIFIKAT O POZNAVANJU STRUČNOSTI. Za one koji ne planiraju raditi test, dobit će samo certifikat o pohađanju kursa.
Trenutno su svi certifikati će biti u digitalnom formatu i biće vam poslani na vašu e-mail adresu. Ako odlučite da napustite kurs nakon mjesec dana pohađanja, to možete učiniti, ali u tom slučaju ne možemo vam dati bilo kakvu potvrdu, kao ni certifikat.
Neke praktične informacije o našem kursu engleskog jezika:
Cijene kurseva:
| | |
| --- | --- |
| GRUPNI ČASOVI (A i B) | 30 KM (15€) po osobi – mjesečno |
| INDIVIDUALNI ČASOVI (A i B) | 20 KM (10€) po času |
| OBA (A i B) | 20 KM (10€) + minimalno 2 individualna časa 40 KM (20€) – Ukupno, minimalno 60 KM (30€) |
| KONVERZACIJSKI ENGLESKI JEZIK | 100 KM (50€) po osobi – mjesečno |
| POSLOVNI ENGLESKI JEZIK | 100 KM(50€) po osobi – mjesečno |
Ako niste u mogućnosti platiti nijednu od opcija, BRAVO vam nudi mogućnost besplatnog sudjelovanja na časovima. Za slušanje besplatnih časova morat ćete poslati motivacijsko pismo i objasniti nam svoju situaciju kao što je spomenuto u aplikaciji.
Za upis na kurs engleskog jezika morat ćete slijediti ove jednostavne korake:
Ispuniti Google obrazac do: 05.07.2020. ( produžen rok do 10.07.)

Selekcija polaznika: 06.07.2020. (od 06.07. do 10.07. svakodnevno)

Nakon selekcije, uplatiti kotizaciju za kurs engleskog jezika: 06.07 – 11.07.2020. (za one koji se prijave naknadno, nakon prijave odmah izvršiti uplatu)

Nakon uplate, poslati sliku ili scan uplatnice na jedan od sljedećih e-mailova: i.sehic@bravo-bih.com ili office@bravo-bih.com;

Početak kursa: 13.07.2020
Kad primimo vašu uplatu, poslat ćemo vam potvrdni mail s daljnjim informacijama o kursu.
ROK ZA PRIJAVE: 10.07.2020.
POČETAK KURSA: 13.07.2020.
ENGLISH VERSION
Dear future students,
First of all, I am very glad to address you as a member of the BRAVO Language courses team! Thinking of you, and aware of the demands of the modern age, BRAVO has decided to start with an English language course!
We already know very well that English is not just one of the official languages of the European Union, nor is it just one important language related to one geographical area, English is a necessity both in private and business communication. It is, therefore, a world language through which the whole world is connected. Consequently, knowledge of the English language is no longer an academic luxury but a constant need in all segments of life.

Since our motto is that knowledge should not be a luxury, but available to everyone, BRAVO now offers you English language courses. I have always found a use for my English language, learning it from an early age, finishing courses, and later teaching others myself. Also, English language helped me job-wise, especially working in tourism and translating for
various institutions and organizations. All of you who decide to take this step, regardless of your current level of English, with my help and with your effort, will easily improve your knowledge.

BRAVO is giving you the opportunity to improve your knowledge of English in the area that you consider most useful for you. Therefore, you can apply for this course whether you need the English language at your workplace, at the school or college you attend, or even if you are learning English for the fun of it.

Language courses are open to everyone, anyone who's curious about discovering new languages, new cultures, or simply to those who want to add a new and exciting challenge to their everyday life. Our courses will be student-oriented. I, as a teacher, will follow your dynamics of learning and students are always welcome to give us their suggestions, express their ideas and expectations.
Join us on our courses and discover what else we have prepared for you. And don't forget: Everything depends on you and your determination. We are here to guide your way.

If you are interested in learning English, fill out this Google form, sign up, and learn something new.
In order to participate in courses, you need to have a Zoom account. I will admit to the classes only those who are on my list for that class. Therefore, I strongly recommend you to register yourself or to make sure that you are registered on Zoom with your full name and surname. Registration is totally free.
We will also have a Facebook group where I will be posting additional materials and all the announcements. You will get the link of the group on your e-mail address after selection.

Courses will commence for levels:

– A1 and A2 – will last for 2 months;
– B1 and B2 – will last for 3 months.
– Conversational English course – for all those who already have prior knowledge of English, and would like to communicate fluently.
– Business English – for all those who need English for business purposes, for jobs where professional terminology is required.
After every module, you will be given the possibility to do a test in order to receive a certificate of proficiency. For those who do not plan on getting a test, you will receive the certificate of attendance. All certificates are, for the moment, in digital format and will be sent to you on your e-mail address. If you decide to leave courses after one month of attendance,
you can do that, but in that case, we cannot grant you any kind of certificate.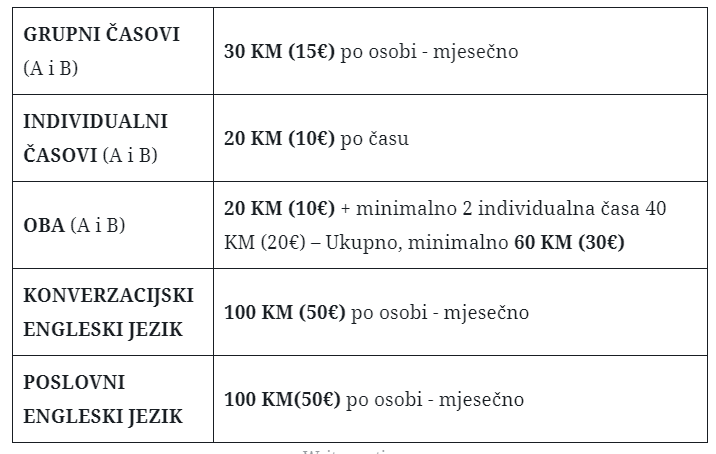 If you are not able to pay for any of the options, BRAVO offers you the possibility to participate in courses for free. To win free courses you will have to upload a motivational letter and to explain to us your situation as it's mentioned in the application form.
In order to enroll in our course you will have to follow these two simple steps:
Fill out the Google form by: 05.07.2020. (new deadline 10.07.)
Selection of participants: 06.07.2020.
After the selection, pay the registration fee for the English language course: 06.07 – 11.07.2020.
After payment, send a picture or scan of the payment to one of the following e-mails:
i.sehic@bravo-bih.com or office@bravo-bih.com;
Course start: 13.07.2020

When we receive your payment, we will send you a confirmation email with further course information.
APPLICATION DEADLINE: 10.07.2020.
COURSE START: 13.07.2020.