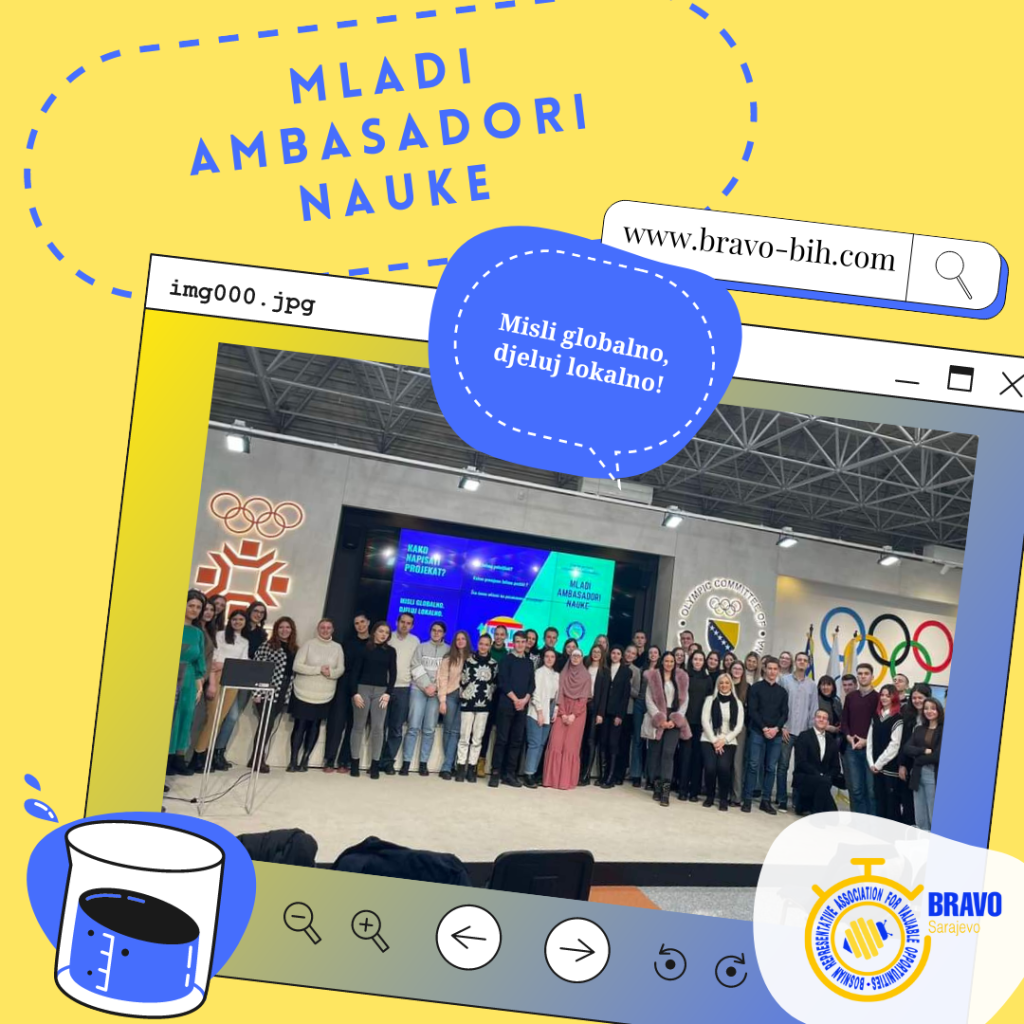 BRAVO s ponosom piše priče o svojim članovima koji su aktivni dio društva, te koji na najbolji mogući način predstavljaju važnost mladih u zajednici. Ovoga puta vam donosimo priču o našoj članici Lejli Smječanin. O čemu je to zapravo riječ?
U utorak, 7. februara, održana je finalna prezentacija projekta "Mladi ambasadori nauke" u prostorijama Olimpijskog komiteta Bosne i Hercegovine. Unutar navedenog događaja jedanaest projektnih prijedloga bili su prezentovali od strane srednjoškolca, odnosno mladih ambasadora nauke, ispred Društva za medicinski i biološki inžinjering u Bosni i Hercegovini, uz finansijsku podršku Ministarstva za nauku, visoko obrazovanje i mlade Kantona Sarajevo. 
Jako važnu ali I tešku odluku je ispred sebe imao žiri, kojeg je dio bila I naša članica Lejla. Svaki od prijedloga nosio je svoju čar i dašak inovativnosti. Dodijeljene su prve tri nagrade, ali i posebno specijalno priznanje za prezentaciju koja je potakla duboko razmišljanje kod svih prisutnih. 
Čast nam je imati članicu kao što je Lejla, koja nas je predstavljala i podsjetila sve prisutne svojim prisustvom na ovom događaju da je #BRAVO organizacija koja se istinski zalaže za prava mladih, prilike za mlade, kao i poduzetništvo, znanje i samim time neformalno obrazovanje.  
Kroz ovaj događaj smo uvidjeli da je u Bosni i Hercegovini zapravo ostalo mladih ljudi koji se trude i bore da poboljšaju zajednicu, te vide nadu za bolje sutra u svojoj domovini.
Who is BRAVO? Watch a video below and enjoy <3
On the video below you can hear very useful information for this mobility.