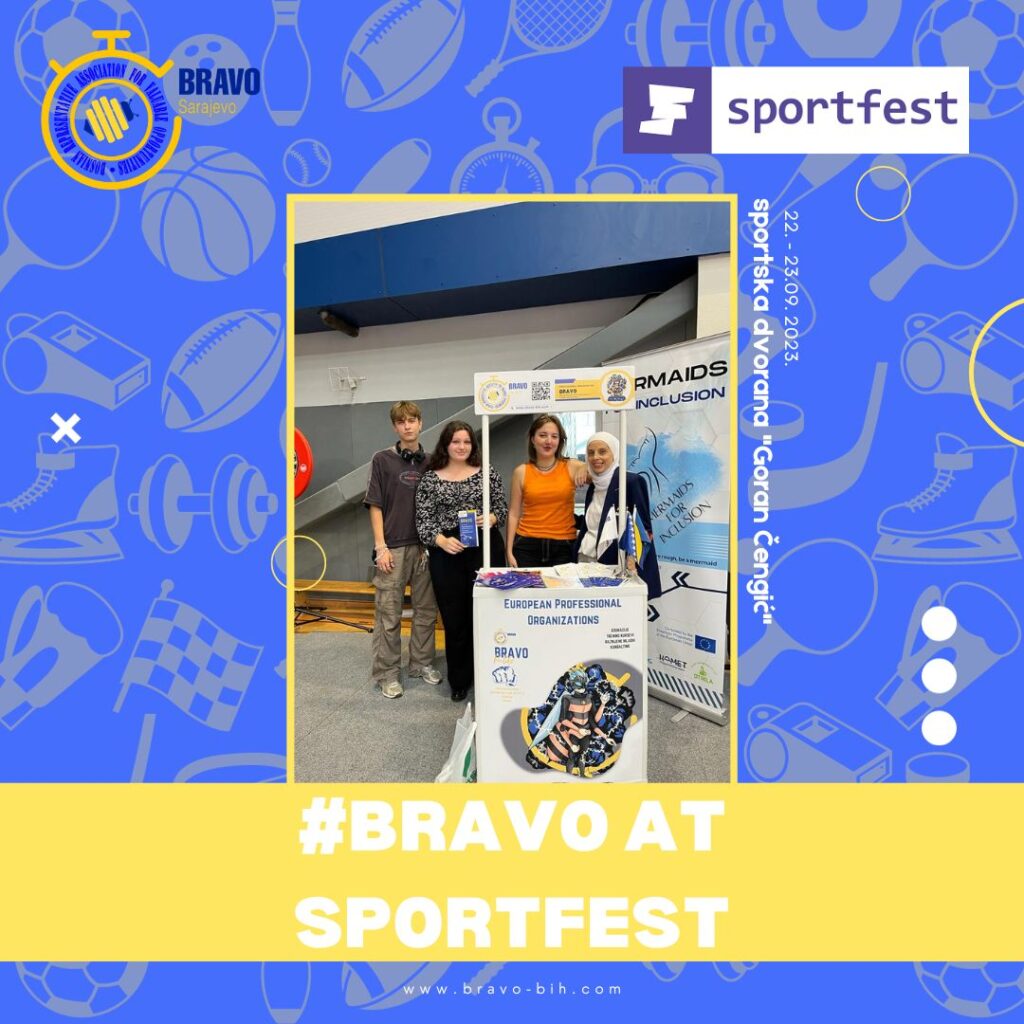 The BRAVO team stepped out of the office and into the field to participate in the fourth annual Sarajevo Sport Fest. From September 22nd to 23rd, "Goran Čengić" sports center was the hotspot of sports, fitness and community spirit. Our organization played a significant role in making this festival a grand success.
~More about the Sarajevo Sport Fest~
Sport Fest 2023 was a multifaceted event, consisting of three parts: the festival, the fair and the Forum of Sports. Each segment contributed to a vibrant and engaging atmosphere that attracted numerous visitors.
The event gave its visitors an amazing insight in getting to know the sports market, sports equipment, fitness equipment, getting to know sports experts, networking and education.
~Exploring a world of sports~
During the Festival part, visitors had the unique opportunity to explore a wide range of sports activities completely free of charge. This inclusive approach allowed people of all ages and backgrounds to discover new activities and develop a passion for sports. BRAVO contributed to this fantastic experience by offering everyone a shot at archery, darts, badminton and mini basketball.
~Showcasing Sports Goods and Services~
In the Fair section, various sports entities presented their offerings of sports goods and services. This aspect of Sport Fest allowed attendees to explore the latest equipment, training programs and services related to their favorite sports.
~Insights and Inspiration~
The intellectual hub of the event was of course the Forum of Sports, which featured inspiring speakers and panelists from the world of sports. Attendees had the opportunity to gain insights into the latest challenges, opportunities and trends in the sports industry.
~BRAVO at the Sarajevo Sport Fest~
Our team decorated the event by distributing pamphlets that provided valuable information about the organization. BRAVO's active engagement in promoting sports projects for mind, health and inclusivity was highlighted during the event. "Development of Digital Platforms and Applications for the Revival of Traditional Sports and Games" and "Mermaids for inclusion", numerous team-building outdoor activities and many more, accented the organizations dedication to making sports accessible to all. BRAVO's station at the festival attracted vast numbers of youngsters  varying from those eager to learn more about the organization's mission and how they could get involved in future activities, to those wanting to try out all the fun games.
Promoting the benefits of sports
One of BRAVO's primary objectives is to promote the numerous benefits of sports and they did so brilliantly at Sport Fest 2023. By providing a space for playing games and connecting with others, they underscored the power of sports in fostering socialization and community spirit.
This year's Sarajevo Sport Fest was a resounding success. Through engaging activities and informative outreach, the event left a lasting impression on the attendees, reinforcing the idea that sports have the power to unite, inspire and transform lives.
More about BRAVO you can see on our video below: