Add Your Heading Text Here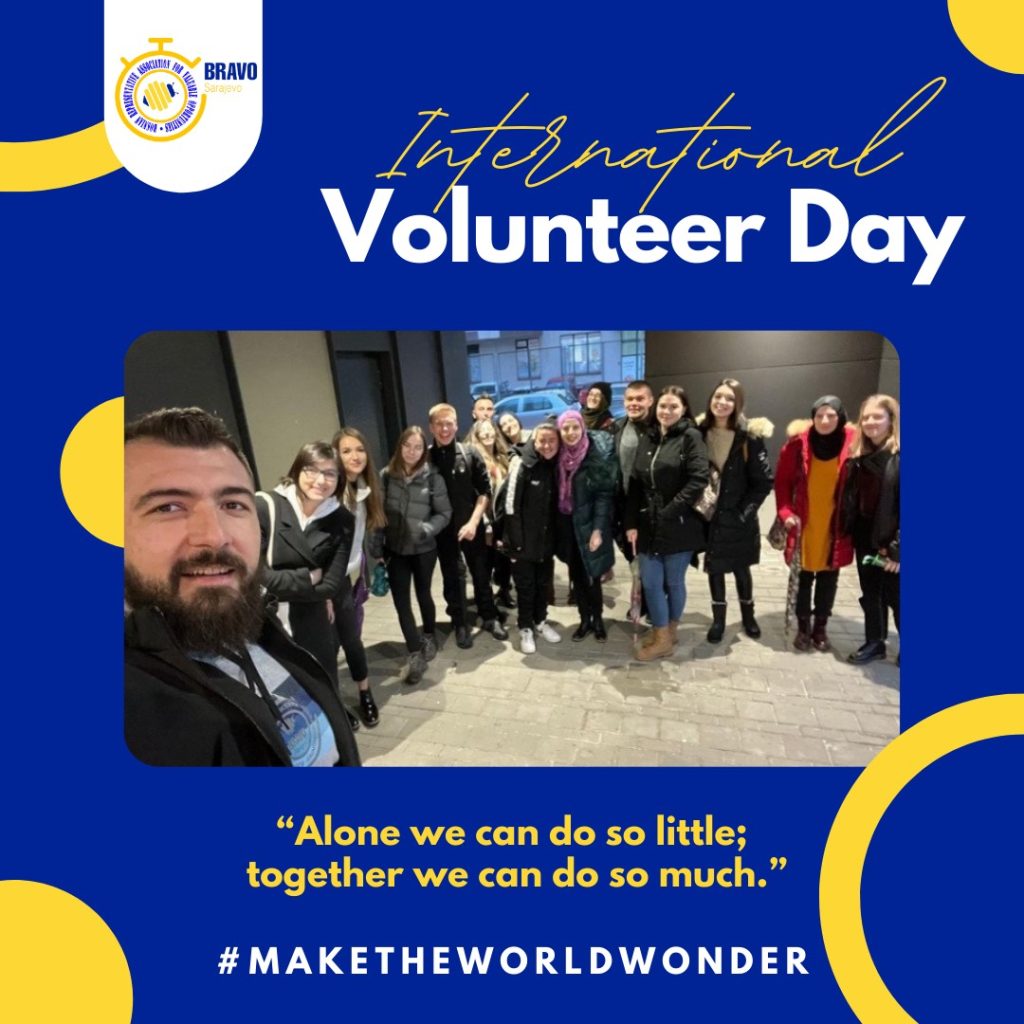 Since 1987, when mandated by the UN General Assembly, millions of people around the world celebrate the 5th of December – International Volunteer Day.


A holiday devoted to everyone who use their time and energy to push their communities toward a better tomorrow, International Volunteer Day (IVD) recognizes all kinds of volunteer-based efforts made for positive social change on either local, national or international level.
However, we cannot pass without mentioning how much volunteering contributes to a positive change of one's inner state as well. Finding way to oneself, constant skill upgrading, the feeling of fulfillment and surrounding oneself with quality people are only some of the benefits celebrated on this day.
BRAVO did not let Bosnia and Herzegovina miss this beautiful trend and we joined the celebration. After one more year of hard work, active implementation of European and local projects, providing valuable opportunities to our precious youth and representing our country in the best possible way on international collaborations, BRAVO team took a deserved break in Sarajevo Cinestar.
We don't even have to mention that this celebration took place in the BRAVO way, too! The movie of our choice was a recently released work of domestic film industry directed by the Bosnian Nobel Prize Winner Danis Tanović with Izudin Bajrović, Branko Đurić, Helena Vuković and Kerim Čutuna in the main roles.
"Deset u pola", a hilarious comedy about local ćevapi producers in the capital of Bosnia and Herzegovina, assured us once again of huge potential carried by the national movie industry and reminded us how precious and useful it is to support #387 products. The plot, however, could not suit the International Volunteers Day better. Surrounded with our supportive and friendly teammates, watching the story about friendship, ethics and mutual respect inspired us to keep going at hammer and tones for the better and more supportive democratic society of Bosnia and Herzegovina while helping and motivating each other.
Our gathering finished with good Bosnian coffee, some ćevapi, a few photos to keep as a memory of the beautiful day and lots of laughs and hugs. Lastly, we agreed on our message to the youngsters. We all hope to see you celebrating the 5th of December next year and have at least as much fun as we did. Therefore, BRAVO invites you to join millions of volunteers around the world and see how your energy, work, and words make the change you want to see.


If still doubting becoming a volunteer, we suggest you keep up with our ongoing #EuropeforCitizens project under the name Only What you Give is Yours (o'VISOR) and educate yourself more on the topic.
P.S. Don't forget to watch "Deset u pola" and support #387.
#BRAVO #BRAVOBIH #MAKETHEWORLDWONDER #BRAVOFAMILY