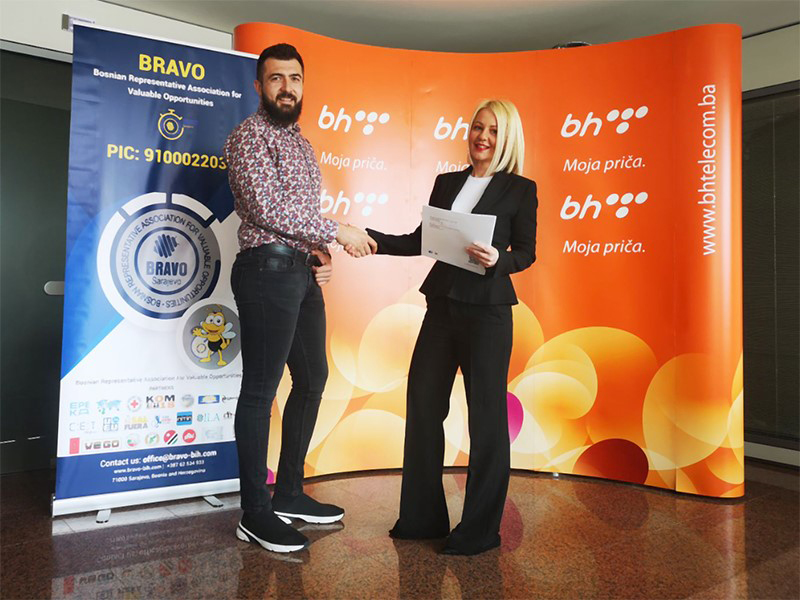 BH TechLab, Platforma BH Telecoma za razvoj start-up projekata iz oblasti ICT postpisala je Memorandum o razumijevanju i saradnji sa nevladinom organizacijom BRAVO, s ciljem uspostavljana saradnje u područjima koja su od zajedničkog interesa na razvoju start-up zajednice u BIH.
"Zadovoljstvo je danas biti u BH Telecomu, u domaćoj kompaniji koja svakim danom dokazuje svoju stvarnu opredijeljenost ka razvoju bh. društva. Ideja oko razvoja jedne ovakve platforme, koja kontinuirano podržava start-up biznise, je borba za ostanak mladih u Bosni i Hercegovini, borba za nova radna mjesta, za bolju budućnost. Zato samo mi iz BRAVO stavili BH Telecomu na raspolaganje naše resurse i ponosani samo što možemo reći da ovo radimo volonterski, jer dijelimo istu viziju i vrijednosti koju ima BH TechLab Platforma." kazao nam je Ismail Šehić, direktor nevladine organizacije BRAVO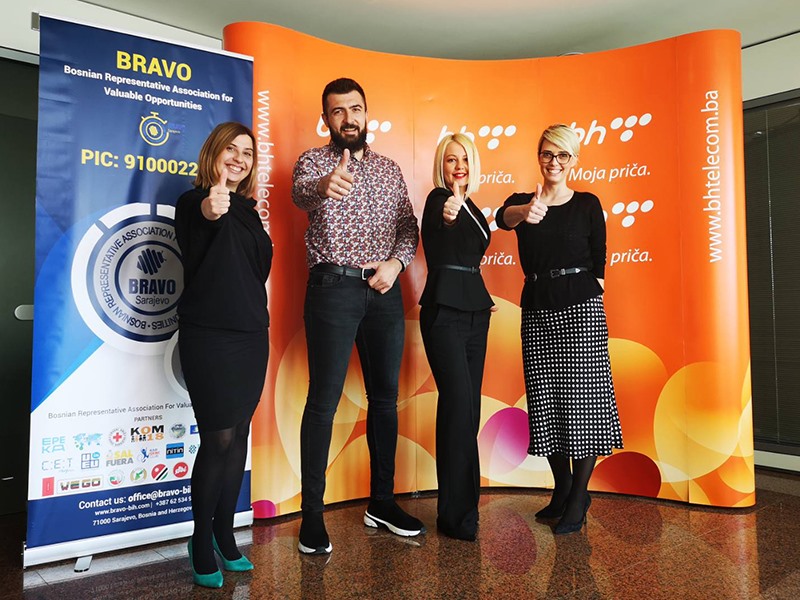 Belma Mujadinović, ambasadorica platforme BH TechLab iz BH Telecoma izjavila je kako pored trenutno otvorenog Javnog poziva "Start IT Up" putem kojeg se traže najbolja rješenja o temi "Pametno okruženje" platforma planira i niz drugih aktivnosti za start-upe koje uključuju edukacije, stvaranje prilika za privlačenje investitora i akceleratora iz Europe, organizaciju konferencija…
"Tako da nam je cilj oko Platforme okupiti što veći broj relevantnih aktera u nevladinom sektoru, državnim institucijama, međunarodnim institucijama, ali i drugim korporacijama koje se žele pridružiti našem nastojanju da osnažimo poduzetnički duh mladih i da budemo oslonac razvoja start up biznisa u BiH." dodala je Mujadinović.
Dragi prijatelji, partneri i pratitelji,
📢🔸 Nakon što su sve pripreme završene, s ponosom objavljujemo da je #BRAVO organizacija danas potpisala Memorandum o razumijevanju sa jednom od najproaktivnijih kompanija u Bosni i Hercegovini, BH Telecom 🔷📢
👉BRAVO direktor Ismail Sehic je danas imao priliku da se sastane i potpiše Memorandum o razumijevanju sa Belmom Mujadinovic, predstavnicom BH Telecoma i ambasadoricom platforme BH TechLab
👏🤝Ovom prilikom bi se, još jednom, željeli zahvaliti BH Telecomu na pokretanju ovakve ideje, ali i otvaranju prostora za suradnju sa #BRAVO organizacijom. Vjerujemo da je ovo početak jedne odlične priče koja će imati dalekosežne rezultate za mlade i start-up kompanije u Bosni i Hercegovini.
⁉️ Šta je to BH TechLab Platforma i šta će biti uloga BRAVO-a u njenom radu?
✅#BRAVO je u potpunosti stavio na raspolaganje svoje vještine, znanje, bazu kontakata ali i partnere iz brojnih evropskih zemalja na raspolaganje Platformi kao dio podrške mladih bosanskohercegovačkim kompanija i start-up kompanijama kako bi uspješno ušli i napredovali na tržištu kako domaćem tako i stranom.
✅#BRAVO će ponuditi profesionalnu podršku i mentoring mladim bh kompanijama i start-up kompanijama potpuno besplatno
✅#BRAVO će doprinijeti cjelokupnoj ideji BH TechLab platforme na svaki mogući način koji bi vodio do uspjeha ove odlične ideje
#BRAVO #BHTelecom #BHTechLab #INOVACIJE #BIZNIS #PRILIKE #IDEJE #BRAVOPARTNERI #MAKETHEWORLDWONDER
///
📢🔸 After a long time of preparation, we are proud to announce that #BRAVO, has signed Memorandum of understanding with one of the most pro-active domestic companies, BH Telecom 🔷📢
👉BRAVO director Ismail Sehic has signed a Memorandum of agreement as a part of BH Telecom newest project, BH TechLab Platform!
👏🤝We would like to express our gratitude to BH Telecom for providing us with this amazing opportunity and giving us a chance to be a part of one great story in Bosnia and Herzegovina.
⁉️ What it is BH TechLab Platform and what will be BRAVO's role and contribution within?
✅BRAVO has made its skills, knowledge and contact base fully available to BH Telecom platform BH TechLab in order to help B&H companies and start-up's to scale up successfully
✅BRAVO will offer professional support and mentorship to young B&H companies and start-up's solely on volunteer base without any financial gain
✅BRAVO will contribute to the whole idea of BH TechLab platform in any possible way that would lead to its success
#BRAVO #BHTelecom #BHTechLab #INOVACIJE #BIZNIS #PRILIKE #IDEJE #BRAVOPARTNERI #MAKETHEWORLDWONDER