"BECOMING DIGITALLY CONSCIOUS"- A NEW SUPERCOOL PROJECT THAT WILL GO STRAIGHT TO YOUR HEART- TIRANA ROUND TABLE CONFERENCE, JULY 2022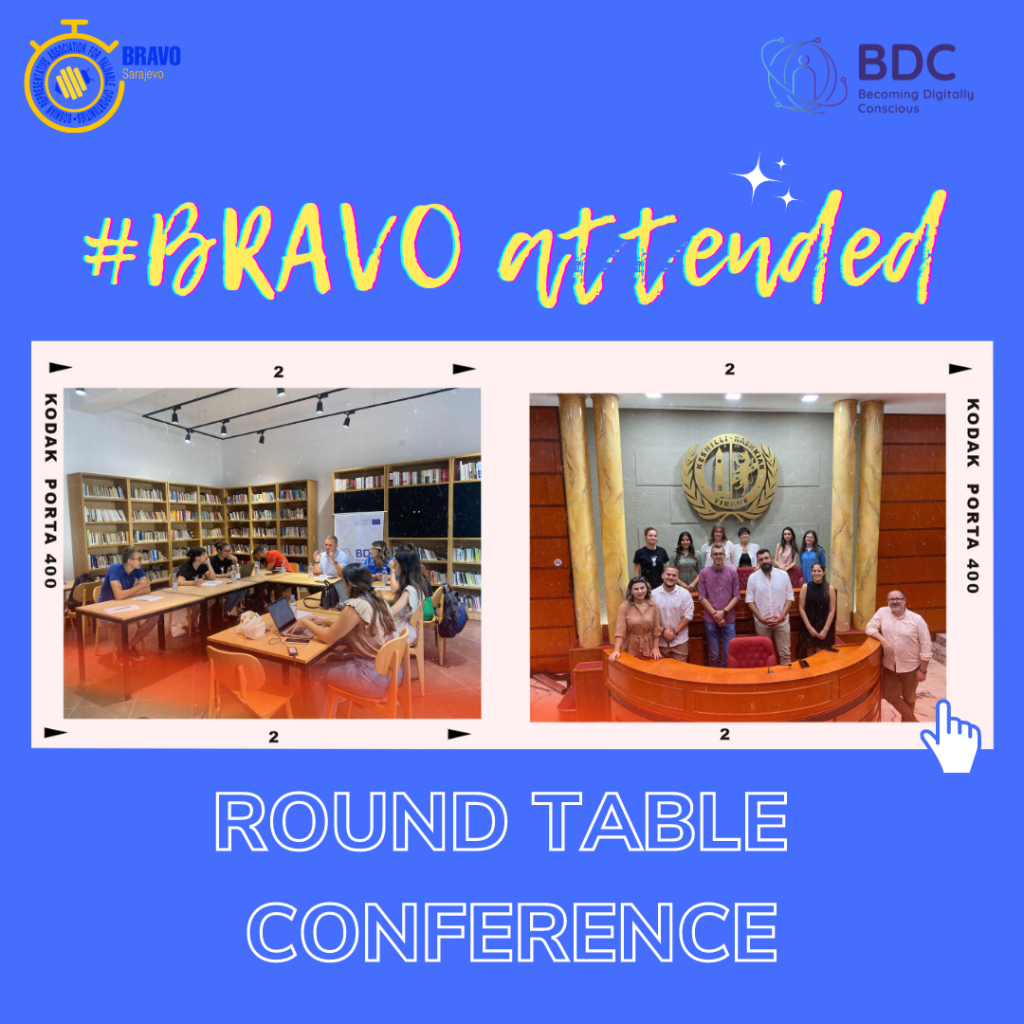 Your favorite BRAVO Team working on the "Becoming Digitally Conscious" project made research and will continue to work on improvement of the digitalization process on a daily basis.
With the new wind of digitalization and a digital generation who is fully living and breathing it day by day, it comes as no surprise that your BRAVO will put something new and supercool on the table for you to prosper from. As you might remember, and you certainly do if you are a passionate BRAVO follower, recently we have asked you through an online survey about your view on technology, the digitalization process in schools and universities in Bosnia and Herzegovina, and your outlook on the situation and digital education in the country. Your favorite BRAVO Team working on the "Becoming Digitally Conscious" project made research and will continue to work on improvement of the digitalization process on a daily basis. The next step for us was to kick-start this cool project with the rest of the international team and partners, where everyone got together in Tirana, Albania for a Round Table Conference. Partners from Italy, Albania, Bosnia and Herzegovina, Montenegro, Germany, and Cyprus spent two days going through a detailed and rich agenda to make sure everything goes smoothly in the future. Our director, Mr. Ismail Šehić, alongside our President of Assembly, Mr. Ensad Kakcija attended the meeting and conference on the 19th of July 2022 representing BRAVO and Bosnia and Herzegovina.
One of the items on the agenda was the presentation of the results of the questionnaire regarding online learning and each representative country presented highlighting important issues and each organization's recommendations. Each organization had the chance to discuss digital tools that have been incorporated into their work with youth, as well the recommendations were about platforms and applications to help the youth to learn, exercise, and get entertained.
On the second day of the Round Table Conference in Albania there were two very special tasks on the list:
Visit the Prime Minister's Office with Minister of State of Youth and Children, Ms.Bora Muzhaqi, and visit Tirana Mayor's Office with Director General of Strategic Projects and Foreign Investments of Tirana Municipality, Mr.Genci Kojdheli!
The team of the BDC project had the opportunity to meet and discuss with an important actor in the field of education in Albania. The participants went over issues such as:
Teachers' involvement and training in ICT knowledge.
Active projects on the education system implemented by the Ministry.
The importance of youth activism and its integration into decision-making.
The representatives had a discussion with Mr. Kojdheli about Tirana Municipality projects as the European Capital of Youth and their experience in project implementation and collaboration. Everyone shared their experience in project management and youth projects.
If we got you curious about it, here you can also read a sneak peek of the project's main goals and the ambition it wants to reach:
"Becoming Digitally Conscious" is a Capacity Building project targeted at the promotion of healthy digital habits among young people (between 18 and 25 years old) living in the European and Western Balkans area. The goal is to make this group aware of the potential dangers of making excessive use of digital devices, such as psychological disorders (e.g., eating disorders and depression). Considering that virtual reality has become an essential part of young people's lives (especially during the covid-19 pandemic to study or socialize, which before they did mainly offline), we believe it is important to train them on how to integrate digital devices in a healthy and conscious way. Through the education of youth workers, the project will contribute to increasing the quality, innovation, and recognition of youth work, supporting the sharing of methods to address the opportunities and implications of digitalization. Of course, it is as well related to "Addressing digital transformation through the development of digital readiness, resilience and capacity" because all major social changes imply some areas of risk that need to be reflected upon to mitigate the issues created (in this case digital addiction.


We agree with the European Parliament that it is necessary to "Promote and educate on online and offline health behaviors in young populations" ("Harmful internet use" briefing). In fact, the European Union has been actively concerned about tackling the risks of excessive internet. For example, the European Network for Problematic Usage of the Internet brings together experts from 40 countries to investigate the problem. The World Health Organization has also recognized this issue by saying in relation to digital addiction: "The observed and documented negative health and psychosocial consequences include a range of health conditions that share signs and symptoms with disorders such as gambling disorder and substance use disorders" (Public Health Implication of Excessive Use of the Internet, Computers, Smartphones, and Similar Electronic Devices, Meeting Report, WHO, 2014).
With "Becoming Digitally Conscious" we wish to develop non-formal tools that support youth workers in the promotion of digital competencies, disseminating at the same time the idea of healthy internet use among the young population in a way that is truly engaging to them, hence through the involvement of their counterparts who see the problem from their same perspective.
Stay tuned while we make the change and impact in our country regarding this super-important matter because we need you to do this together with us! Your opinion, feedback, and input will be of significant importance to help us improve the situation in Bosnia and Herzegovina for you and for the youngsters for the better. Follow our social media platforms, Instagram stories, and website for regular updates, as there will be lots of interesting things researched, shared, and discussed online with you!