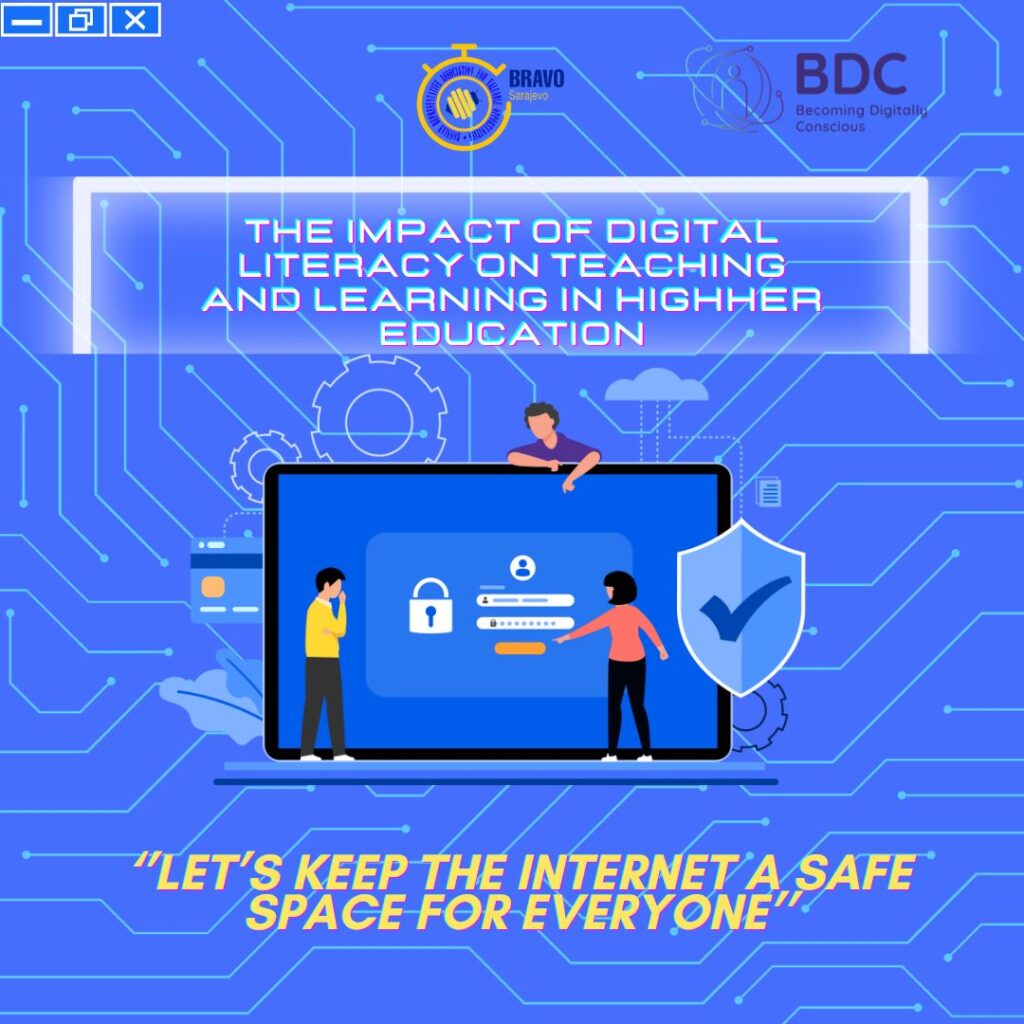 Digital literacy plays a significant role in the dynamic world of higher education and therefore represents one of the essential skills in today's modern environment. Developments in technology are opening possibilities and challenges for learning and teaching with a tendency to significantly change ways of teaching and learning of higher education with the focus of healthy digital use. While the digital world offers access to knowledge and many young people are using the technology in everyday life, The Erasmus+ project "Becoming Digitally Conscious" raises awareness through educational activities about the importance of being digitally conscious. Digital literacy is not only about knowing how to use the technology but also how to be responsible using the technology.
This article will showcase the role of digital literacy in teaching and learning processes in higher education.
Like many other countries, Bosnia and Herzegovina is faced with a challenge of adopting new learning and teaching methods that follow technological developments. During the COVID-19 pandemic, the education system was faced with many challenges. All the universities around the world needed to switch to an online mode of studying overnight. Faced with a challenge, instructors adopted strategies for educating students using the technology that are used even today after the pandemic. Many researchers argued that a hybrid way of working and educating students will be the future. Due to that, more and more youth will use the technology not only for entertainment but also for education.
One of the greatest impacts of digital literacy on learning and teaching is the greater accessibility of knowledge. Due to accessibility, it allows both instructors and students to develop expertise in areas of interest, but at the same time they are faced with many challenges. As a result, there is increasing consensus that educational institutions in Bosnia and Herzegovina need to develop critical thinking, creativity, and responsible online behavior to help students become responsible digital citizens.
Encouraging digital literacy among youth in Bosnia and Herzegovina through the Erasmus+ project "Becoming Digitally Conscious" will significantly contribute to producing a generation of responsible and knowledgeable citizens who can engage in digital content critically. Finally, it gives youth the opportunity to engage in the digital economy, which promotes innovation and increases economic growth.
MORE ABOUT "BDC PROJECT":
"Becoming Digitally Conscious" is a Capacity Building project targeted at the promotion of healthy digital habits among young people (between 18 and 25 years old) living in the European and Western Balkans area. The goal is to make this group aware of the potential dangers of making excessive use of digital devices, such as psychological disorders (e.g., eating disorders and depression). Considering that virtual reality has become an essential part of young people's lives (especially during the covid-19 pandemic to study or socialize, which before they did mainly offline), we believe it is important to train them on how to integrate digital devices in a healthy and conscious way. Through the education of youth workers, the project will contribute to increasing the quality, innovation, and recognition of youth work, supporting the sharing of methods to address the opportunities and implications of digitalization. Of course, it is as well related to "Addressing digital transformation through the development of digital readiness, resilience and capacity" because all major social changes imply some areas of risk that need to be reflected upon to mitigate the issues created (in this case digital addiction).
More about BRAVO you can see on our video below: