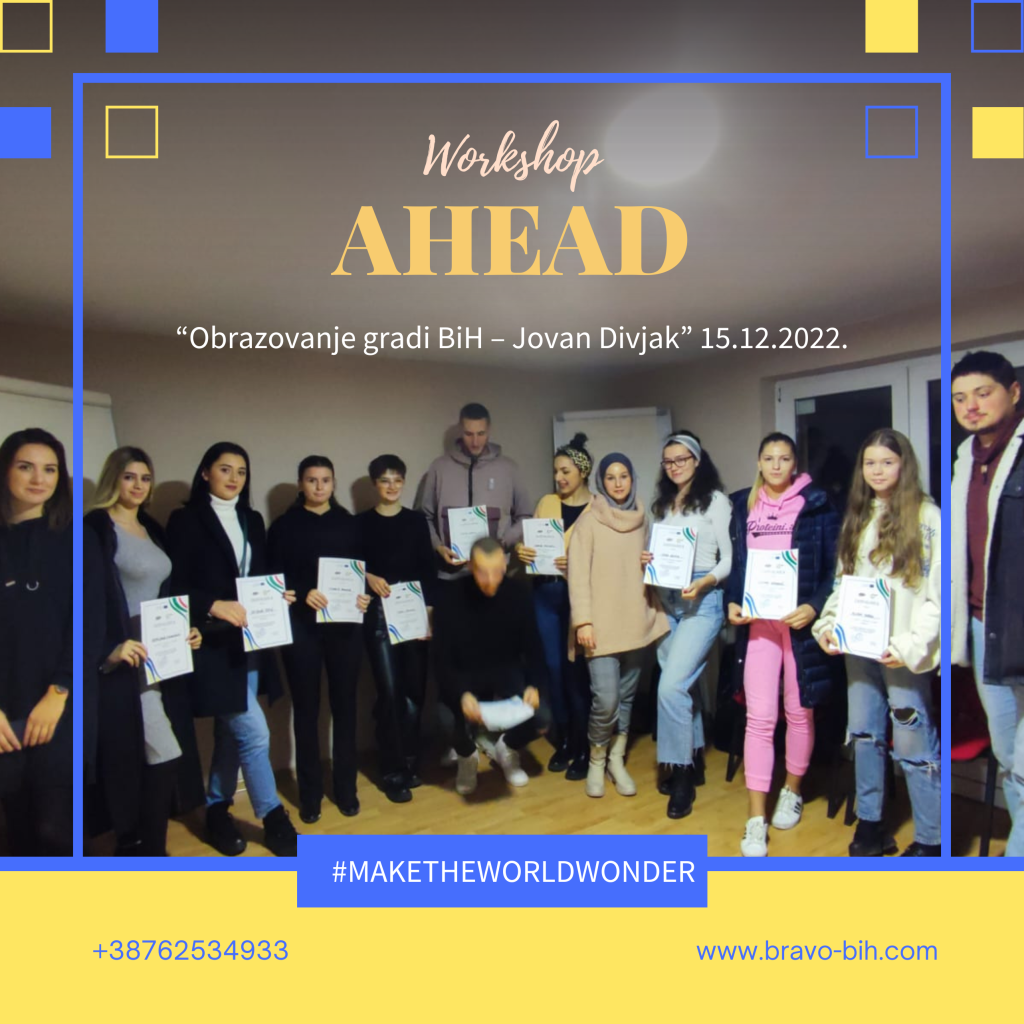 BRAVO brings you another workshop held in Sarajevo, Bosnia and Herzegovina.
The workshop was under the project "AHEAD" that talks about fighting and preventing  discrimination and hate speech against ethnic minorities, Roma population and migrants.
The workshop was held on the 15th of December 2022 in an organization that supports and gives scholarships for students with fewer opportunities.
The opening activities were icebreakers related to the topic of the project.
After that, a presentation about AHEAD project was an introduction to the workshop where in 4 groups participants had to find definition of one of four terms: discrimination, hate speech, human rights and ethnic minorities and write five words that describe those terms. After a short break the next workshop was similar to the first one – participants were divided in 4 groups as a political party, a sports club, a group of students and a group of teachers, after which they wrote a strategy in which way, as representatives of the mentioned groups, they would fight against the mentioned terms.
The workshop was attended by 14 students and they were all very interested in the topic and we had a discussion about the project, about discrimination and ethnic minorities.
The Organization for education in BiH actually supports ethnic minorities in BiH by insinuating better education to the Roma population and others by giving them scholarships and opportunities for youth work and active citizenship as well. In addition to the panel discussion, we also discussed the problems of discrimination that we personally encountered and heard very inspiring stories.
Another workshop is planned on the 22nd of December at Medicinski fakultet in Sarajevo at 18:00!
If you want to be a part of this amazing story don't forget to stay tuned and join us!
More about AHEAD project:
AHEAD project aims to promote between youngsters non–discrimination and to combat racism, xenophobia and other forms of intolerance against Roma and other Ethnic minorities (mostly migrants). Partners jointly work on innovative good practice approaches, human rights-based narratives, training, official regular meetings, and European awareness raising campaigns. The project promotes inclusion, tolerance, mutual and multicultural understanding, and fight Roma, ethnic minorities, and migrants in Europe through an innovative approach that combines research, training (national and international) on antidiscrimination and on hate speech, round tables, seminars, the exchange of good practices, meetings between different representatives, stakeholders, CSOs, and youth associations, and a massive dissemination campaign.


The project aims to contribute to strengthening the capacity building of young victims (part of minorities) and the protection of youngsters belonging to minorities by supporting them in capacity building and structuring new mechanisms in public consultations in partner's country (replicable all over Europe) on the issue of nondiscrimination and fighting every form of hate speech against ethnic minorities, Roma and migrants. 
AHEAD's aim is to tackle hate speech (also online) and to combat discriminations that target minorities in 5 areas of civil rights: education, labor, housing, health, goods and services, through specific training offered to 200 participants and through an new approach that combines quantitative research, public meetings with stakeholders, and awareness raising campaign. After providing expertise, building competences, advocating and raising awareness among youth people, partners will support the mobilization of young victims and will focus on Capacity building actions for youth, in order to involve Youngsters in decision making and into new structured automatic mechanisms to empower their active participation on hate speech and antidiscrimination.