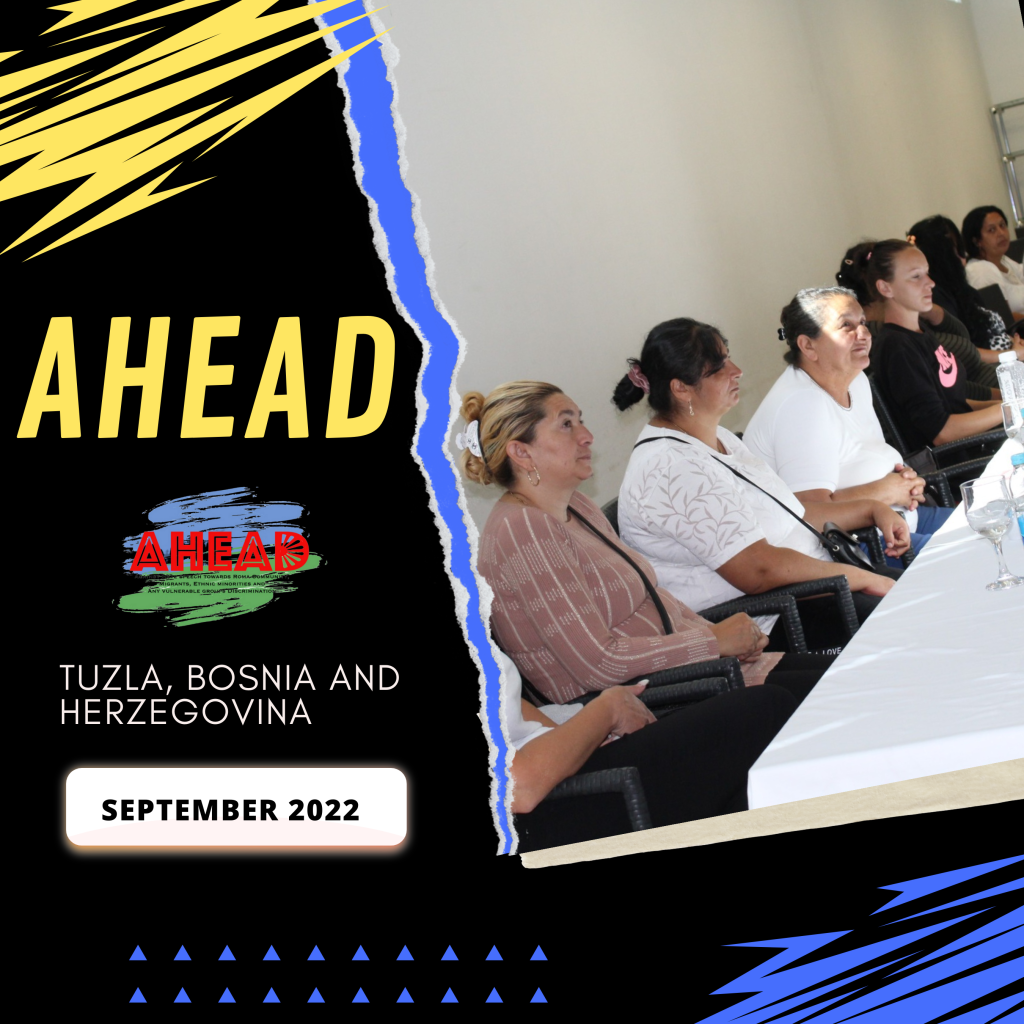 Activities 1 
Date: 12-16.09.2022
Location: Tuzla, Bosnia and Herzegovina
The activity was carried out in Bosnia and Herzegovina, Canton of Tuzla. The activity was divided into three meetings, the focus of which were three different groups. The first group were stakeholders who work directly on the problem of Roma in the communities, how and in what way they solve the biggest problems and what are our steps that would help to solve them more easily.
The second and third focus groups were participants from the Tuzla canton area who responded to the invitation. We shared with them their opinion and the problems they face regarding the positions of Roma in society. We conveyed to them the problems and ways in which stakeholders see them and how they could contribute to solving them. The list of participants will be added later today, as well as the contract.
MORE ABOUT "AHEAD" PROJECT
AHEAD project aims to promote between youngsters non–discrimination and to combat racism, xenophobia and other forms of intolerance against Roma and other Ethnic minorities (mostly migrants). Partners jointly work on innovative good practice approaches, human rights-based narratives, training, official regular meetings, and European awareness raising campaigns. The project promotes inclusion, tolerance, mutual and multicultural understanding, and fight Roma, ethnic minorities, and migrants in Europe through an innovative approach that combines research, training (national and international) on antidiscrimination and on hate speech, round tables, seminars, the exchange of good practices, meetings between different representatives, stakeholders, CSOs, and youth associations, and a massive dissemination campaign.


The project aims to contribute to strengthening the capacity building of young victims (part of minorities) and the protection of youngsters belonging to minorities by supporting them in capacity building and structuring new mechanisms in public consultations in partner's country (replicable all over Europe) on the issue of nondiscrimination and fighting every form of hate speech against ethnic minorities, Roma and migrants. 
AHEAD's aim is to tackle hate speech (also online) and to combat discriminations that target minorities in 5 areas of civil rights: education, labor, housing, health, goods and services, through specific training offered to 200 participants and through an new approach that combines quantitative research, public meetings with stakeholders, and awareness raising campaign. After providing expertise, building competences, advocating and raising awareness among youth people, partners will support the mobilization of young victims and will focus on Capacity building actions for youth, in order to involve Youngsters in decision making and into new structured automatic mechanisms to empower their active participation on hate speech and antidiscrimination.