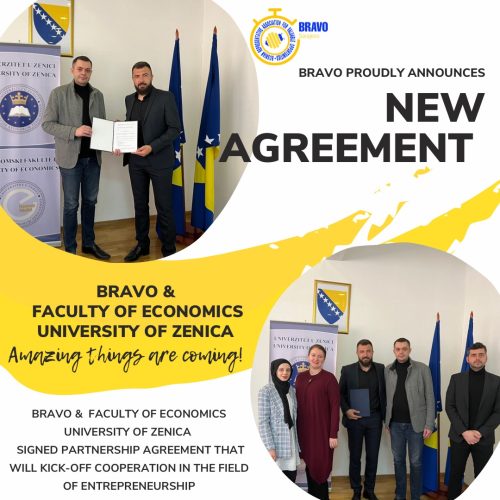 Today we became richer for another cooperation we made with the Faculty of Economics, University of Zenica. With this agreement, BRAVO – Bosnian Representative Association for Valuable Opportunities and the Faculty of Economics of the University of Zenica will start cooperation in the field of human rights, entrepreneurship, public management within Erasmus + projects. The mentioned cooperation will be of special benefit to young people for the purpose of acquiring new knowledge, skills and competencies, ie mobility for the purpose of learning.
Students will have the opportunity to acquire numerous knowledge and skills, develop tolerance and communication, travel, meet new cultures, gain experience, realize their potential, spend time meaningfully, and start their own startups and turn ideas into business.
As an organization, we are most proud of our network of friends and partners, both locally and internationally, and we are extremely honored and happy to have the opportunity to cooperate with the Faculty of Economics, University of Zenica, thus joining forces for all upcoming youth activities in Bosnia and Herzegovina. We hope that this partnership will strengthen the activities and interests of both parties.