A NEW COOPERATION AGREEMENT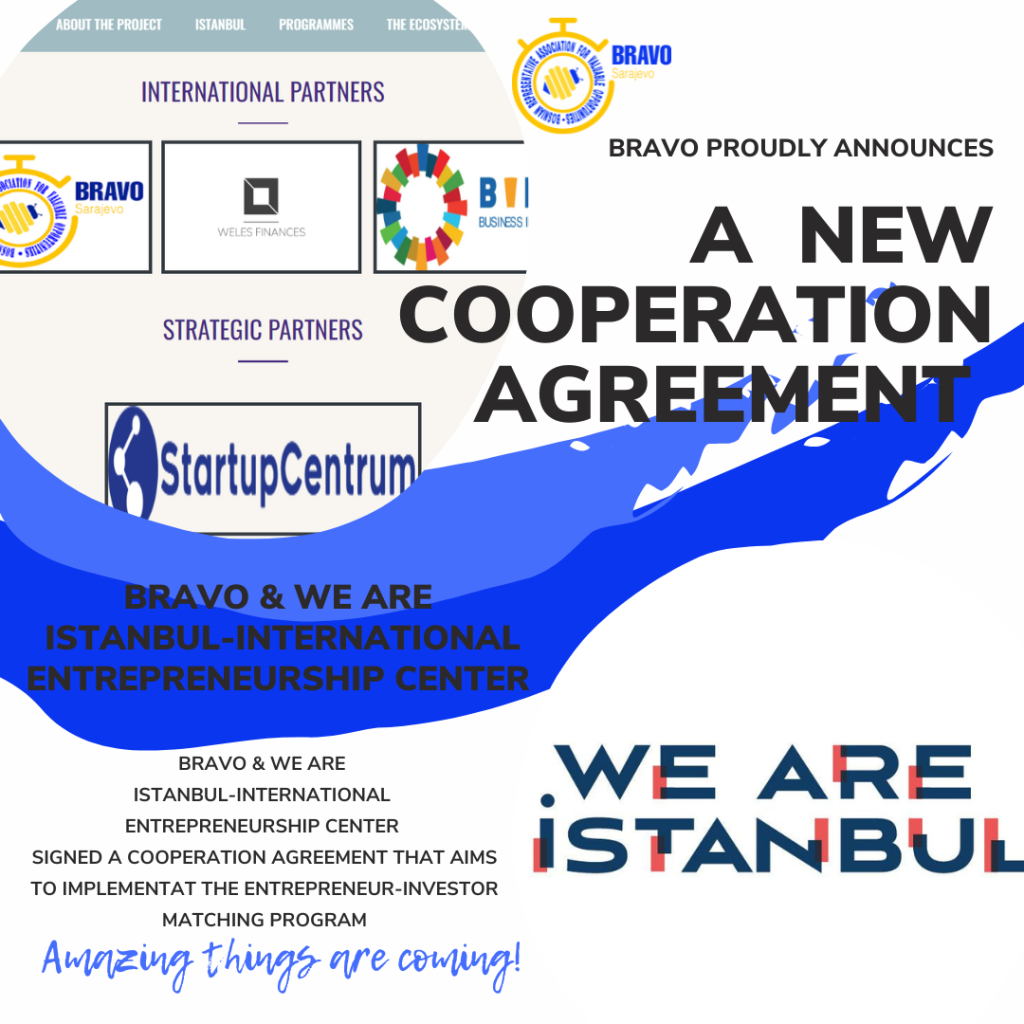 "Alone we can do so little; together we can do so much."
"Alone we can do so little; together we can do so much."


This is a statement we sincerely believe in, and after each successful collaboration, we are convinced all over again.


On the 11th of June BRAVO signed a cooperation agreement with We are Istanbul-International Entrepreneurship Center. The "WeAre.Istanbul" project, led by Istanbul Beykent University and launched by the Istanbul Development Agency, aims to assist in the transformation of Istanbul into a center of attraction for worldwide businesses. The implementation of activities began in February 2022, to create a worldwide corporate ecosystem based in Istanbul that is focused on technology, creativity, and innovation. WeAre.Istanbul also plans to host an international entrepreneurship summit, build an infrastructure for international entrepreneurs to enter the market at the right time and the right level, supply essential non-core business services, and remove all barriers to launching a firm in Istanbul.


The main activities are next:


Establishment of the International Entrepreneurship Center ISTANBUL Promotion Agency
Establishment of the International Istanbul Entrepreneurship Center. Thanks to this model, an international entrepreneur will be supported by the project stakeholders from the idea stage to the path we call a Pipeline until it scales and grows.
Providing at least 250 hours of defined mentoring support with at least 20 mentors
Implementation of an Istanbul-based Startup Acceleration Program, which is also open to online participation from abroad.
Implementation of the entrepreneur-investor matching program
Developing 10 different international collaborations
Establishment of 100 new international enterprises as a company officially in Turkey during the project
Organization of 10 interviews/panels throughout the project.
Realization of 15 thematic pieces of training
Organization of the International Istanbul Entrepreneurship Summit
The BRAVO team is thrilled and delighted to be a part of this life-changing story which will have societal significance. We are glad for the opportunity to not only be a part of but also to be the change that our society requires. It is a pleasure to nurture Bosnian-Turkish co-operation and thus contribute to building a European path in Bosnia and Herzegovina.