BRAVO team just submitted Erasmus+ KA2 Capacity Building Youth application form for 2019 deadline.
Fingers crossed and we will inform you about GREAT NEWS.
Thank you for support and one big thanks to our colleagues and friends for the help
#bravo#bravobih#bravoSarajevo#bravoteam#bravobihteam#bravoerasmusplus#bravobest#bravoyouth#bravobihvolunterees#bravovolunterees#erasmusplus#bravopartners#bravofriends#BiH#bravoapplication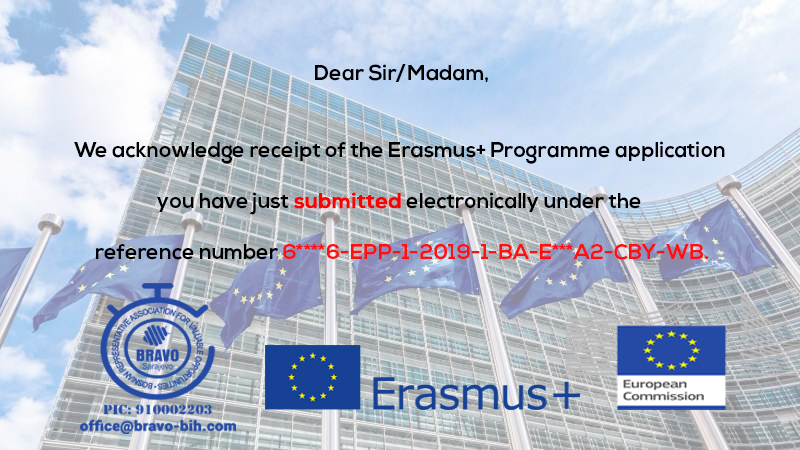 CAPACITY BUILDING IN THE FIELD OF YOUTH
WHAT ARE THE AIMS OF A CAPACITY-BUILDING PROJECT?
Youth Capacity-building projects aim to:
 foster cooperation and exchanges in the field of youth between Programme Countries and Partner Countries from
different regions225 of the world;
 improve the quality and recognition of youth work, non-formal learning and volunteering in Partner Countries and
enhance their synergies and complementarities with formal education systems, the labour market and society;
 foster the development, testing and launching of schemes and programmes of non-formal learning mobility at
regional level (i.e. within and across regions of the world);
 promote transnational non-formal learning mobility between Programme and Partner Countries, especially
targeting young people with fewer opportunities, with a view to improving participants' level of competences and
fostering their active participation in society.WHAT IS A CAPACITY-BUILDING PROJECT?
Capacity-building projects are transnational cooperation projects based on multilateral partnerships between organisations
active in the field of youth in Programme and Partner Countries. They can also involve organisations from the fields of
education and training, as well as from other socio-economic sectors.WHAT ARE THE ACTIVITIES SUPPORTED BY A CAPACITY-BUILDING PROJECT?
Capacity-building projects should carry out activities that:
 promote strategic cooperation between youth organisations on the one hand and public authorities in Partner
Countries on the other hand;
 promote the cooperation between youth organisations and organisations in the education and training fields as
well as with representatives of business and labour market;
 raise the capacities of youth councils, youth platforms and local, regional and national authorities dealing with
youth in Partner Countries;
 enhance the management, governance, innovation capacity and internationalisation of youth organisations in
Partner Countries;
 launch, test and implement youth work practices, such as:
– tools and methods for the socio-professional development of youth workers and trainers;
– non-formal learning methods, especially those promoting the acquisition/improvement of
competences, including media literacy skills;
– new forms of practical training schemes and simulation of real life cases in society; new forms of youth
work, notably strategic use of open and flexible learning, virtual mobility, open educational resources
(OER) and better exploitation of the ICT potential;
– cooperation, networking and peer-learning activities fostering efficient management,
internationalization and leadership of youth work organizations.The following activities can be implemented within a Capacity-building project:Capacity-building activities
 activities encouraging policy dialogue, cooperation, networking and exchanges of practices in the field of youth,
such as conferences, workshops and meetings;
 large-scale youth events;
 information and awareness campaigns;
 development of information, communication and media tools;
 development of youth work methods, tools and materials, as well as youth work curricula, training modules and
documentation instruments such as Youthpass;
 creation of new forms of delivering youth work and providing training and support, notably through open and
flexible learning materials, virtual cooperation and open educational resources (OER)Mobility activities
Mobility activities are a compulsory element of projects under Civil Society Fellowships for Youth. For all other types of
Capacity building projects, mobility activities are optional.There are three types of mobility activities:
 Youth Exchanges between Programme and eligible Partner Countries;
 Mobility of youth workers.
between Programme and eligible Partner Countries;
 Volunteering activities from/to eligible Partner Countries.
Youth Exchanges and Mobility of youth workers
For a detailed description of these activities, see section "Key Action 1: Mobility projects for young people and youth
workers" in part B of this Guide.Volunteering activities
Volunteering activities allow young people aged 17-30 to express their personal commitment through unpaid and fulltime voluntary service in another country. Young volunteers are given the opportunity to contribute to the daily work of organisations dealing with youth information and policies, young people's personal and socio-educational development, civic engagement, social care, inclusion of disadvantaged, environment, non-formal education programmes, ICTs and media literacy, culture and creativity, development cooperation, etc. Volunteers can do their voluntary service either individually or in group.The participation in a volunteering activity must be free of charge for volunteers, with the exception of a possible contribution for travel costs (if the Erasmus+ grant does not fully cover these costs) and additional expenses not linked to the implementation of the activity. The essential costs for volunteers' participation in the activity are covered by the Erasmus+ grant or through other means afforded by the participating organisations. Young people with fewer opportunities can receive additional support to enable their participation.
The following activities are not considered as volunteering activities within the framework of Erasmus+:occasional, unstructured, part-time volunteering; a work placement in an enterprise; a paid job; a recreation or tourist activity; a language course; exploitation of a cheap workforce; a period of study or vocational training abroad.All other details about KA2, CBY and Erasmus plus, please check this erasmus-plus-programme-guide-2019_en_1