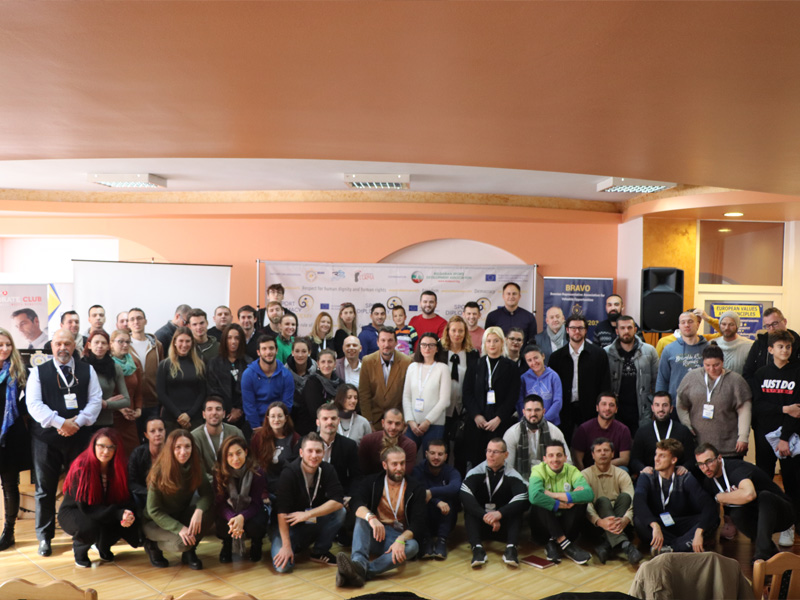 Sport Diplomacy Academy – Modul 2
With this photo, we want to show you the energy of the group of 80 people from 4 different countries who spent 7 days together at Module 2 of Sport Diplomacy Academy project.
In front of the BRAVO – Bosnian Representative Association for Valuable Opportunities team I want to thank each amazing speaker, participant, guest and all people involved in the organization of this big event.
This was one of the biggest events we have organized until now and we are proud of the results and feedback from the participants and all our guests.
*** Sport Diplomacy Academy – project is legacy of recent First Bulgarian Presidency of the Council of the EU 2018 and will focus on Western Balkans lot as a logical follow up of all activities implemented #EU2018BG
Second Sport Diplomacy Module will be held in Sarajevo, in the period 03-09/12/2019.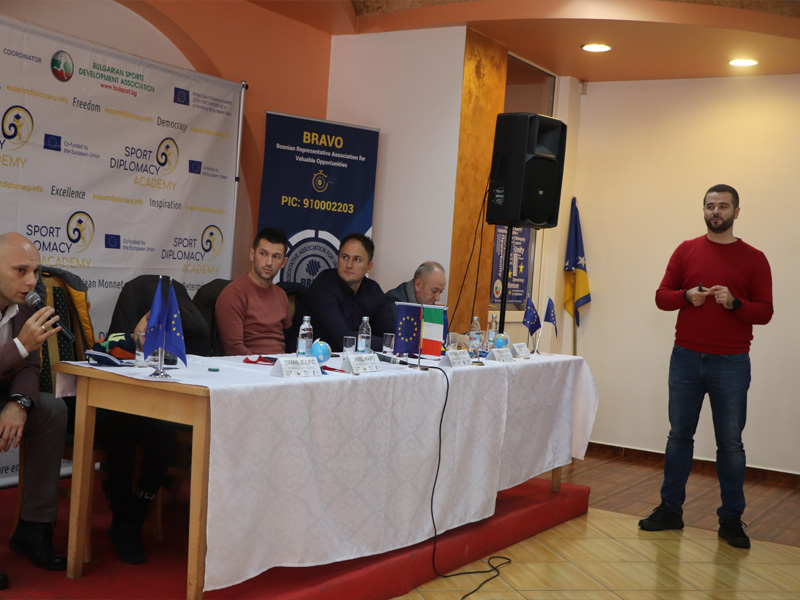 Main activities: prioritizing the EU perspective and connectivity of the WB, referring to the SofiaDeclaration and Sofia Priority Agenda. Both #EU and WB partners should continue to invest efforts in strengthening the cooperation and good practices exchange, focused on democracy, security and fundamental rights.
The project will ensure the educational mobility of coaches and other staff of sports organizations (incl. volunteers) linked to professional and grassroots sport. The 4 modules of mobility, held in each one of the partner's countries with the same group of participants from the project target group will improve their competences as well as their qualifications and acquire new skills through learning mobility and spending a period of time in a foreign country (in and outside of the EU). Learning mobility will be planned as an investment in human capital and a contribution to the capacity building of various sports organizations with a clear focus on building a network of well-trained sports diplomats. ***
@SportDiplomacyAcademy Module 2 outputs are:
🏋️‍♀️ Strong connections
⛷ Stable relationships between organizations and clubs
🥋 Successful partnerships
🤸‍♂️ Unique project ideas
🤼‍♂️ Respect
🏇 Different approach
⛹️‍♂️ Going forward as a team
🤺 Choosing the best possible objectives and aims of the project ideas
🤽‍♂️ Powerful solutions
🏊‍♂️ Good practices
🚴‍♀️ Moving the limits
🏆 Winning as a team!
General outputs of Sport Diplomacy Academy are:
🥇Unique sports platform
🎖80 participants,
💪4 countries,
🔝4 modules in order to empower diplomats in sport suits.
🌍23 guest speakers
I would love to express my sincere gratitude to all our keynote speakers: Nedzad Fazlija Slobo Klačar Elmir Ćera Ćerimagić @Aela Ajdinović @Said Fazlagic Ismail Zulfic Nermin Memic Amel Kapo Ermin Jusufović Nijaz Memic @Ismir Jusko @Nicola Minasi Samir Avdic @Husnija Kajmović Azra Numanovic Nudžejma Softić Tarik Trbić Tarik Ajanović Vedran Vukotic and I hope that we will have opportunity to cooperate in the future and that your knowledge and experience which you shared with participants will be useful for them and that will help them to overcome their problems and step out of their comfort zone.
Ismail Sehic,
Director of BRAVO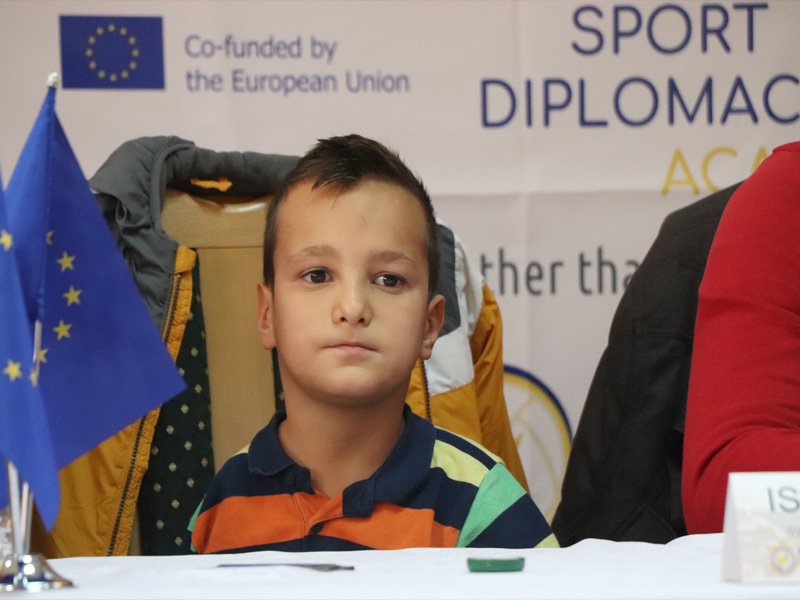 #EuropeanUnion #SPORTDIPLOMACYACADEMY #EUSPORTDIPLOMACYACADEMY
#BRAVO #BRAVOBIH #BulsportBG #BSDA #LORMA #RSS #MAKETHEWORLDWONDER #SARAJEVO #OLYPICSARAJEVO #TURKISHAIRLINES #TKCOORPORATECLUB #NEDZADFAZLIJA #PEDJADJURASOVIC #SLOBODANKLAČAR #ELMIRČERIMAGIĆ #AELAAJDINOVC #SAIDFAZLAGIC #ISMAILZULFIC #NERMINMEMIC #AMELKAPO #ERMINJUSUFOVIC #NIJAZMEMIC #ISMIRJUSKO #NICOLAMINASI #SAMIRAVDIC #HUSNIJAKAJMOVIC #AZRANUMANOVC #NUDZEJMASOFTIC #TARIKTRBIC #TARIKAJANOVC #VEDRANVUKOTIC