BRAVO in cooperation with Dinara Forum Dinara L'Ateneu announces a call for 4 participants for a Youth Exchange in BREMEN, GERMANY from 09.11. until 17.11.2019. for citizens of B&H and those living in this country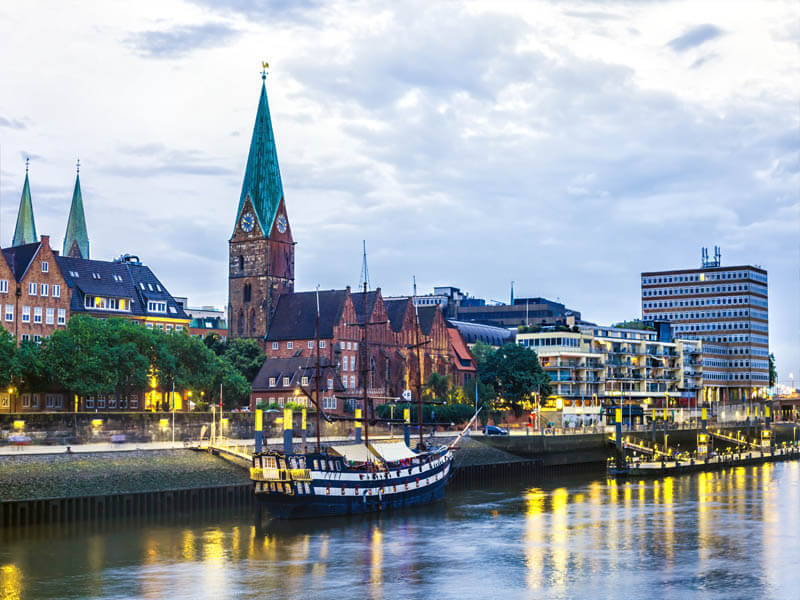 Name of the project: "INFLUENCE THE FOODPRINT! II"
Date of Project: 09.11.2019 – 17.11.2019.
Applicant organization: Mostar Friedensprojekt e.V.
Hosting organization: Mostar Friedensprojekt e.V.
Sending organization: Dinara Forum Dinara L'Ateneu in cooperation with "BRAVO"
Place: Bremen, Gahrlstedt, Osterholz – Germany
Participants age: 16 – 30
The number of participants: 4
Working language: English
Deadline for applying: 28.10.2019
About the Project
Influence the Food Print! – A Youth Exchange to Raise Awareness about Food, Consumption and the Future of Agriculture is the second youth exchange, which Mostar Friedensprojekt e.V. is implementing in this field of ecology and sustainability. During a training course, we develop very many new forms and non-formal methods for the implementation of further youth exchanges. This exchange will apply many of them with a new intention. We want to make participating youth not only to understand the phenomena and their causes but to awaken their action. We will also provide for incentives to take own action in the quest for improvement of the "ecological footprint" and a healthier lifestyle in our countries. We will show them in two youth exchanges different examples of how to become active in projects of environmental protection, how to identify the target groups and partners for change, how to implement such projects and how to create sufficient outreach to make them sustainable. During the first exchange in Bosnia, we will introduce them to the aspects of underdevelopment on the one hand and of traditional ways of healthier lifestyles, that deserve to be protected. This exchange will be practical and hands-on. During the second exchange in Bremen, Germany, we will create sufficient knowledge and ideas to start projects or intensify efforts in our own organizations. These two youth exchanges intend to strengthen the cooperation of four NGOs from Bosnia, Germany, Lithuania and the Czech Republic with four other NGOs from Bulgaria, Italy and Ukraine in this field of youth work. These exchanges therefor integrate entrepreneurial initiatives, healthy lifestyles and environmental protection. This second exchange will take place in Germany in November 2019 with 36 participants. Participants will come from Germany, Czechia, Bosnia and Herzegovina, Lithuania, Italy and Ukraine. The exchange is preceded by an Advance Planning Visit 26-28 October in Bremen and Garlstedt. Participants are youth aged between 16 and 30, who are passionate about ecological change with a high inclination to change their own lifestyle and a deep conviction to implement in the follow-up to the exchange own projects that deal with ecology, food habits and climate change.
The Organizers
Mostar Friedensprojekt e.V. is a non-governmental, not-for-profit organization, established in 1994 in Potsdam, Germany. The association organizes socio-cultural activities, artistic and cultural events and publications at the local, regional and national levels. For many years it has offered information, general advice as well as humanitarian support to Bosnian refugees and asylum seekers in the region of Brandenburg and Berlin. In Bosnia and Herzegovina Mostar, Friedensprojekt e.V. Mostar Friedensprojekt e.V. maintains until today an orthopedic workshop and a center of cultural encounter in Bosnia. The most important aim of Mostar Friedensprojekt e.V. today is to encourage and promote youth workers and young people in their active involvement against racism and xenophobia with democratic means and to oppose prejudices and social exclusion in Germany and throughout Europe. The association continuously develops new forms and methods of intercultural learning about political, social, and cultural issues. It promotes tolerance and understanding for the diversity of cultures and social behaviors and provides political education at the local and regional levels in the states of Brandenburg and Berlin and through its branch office in Kljuc in Bosnia and Herzegovina.
Participants' tasks for the Youth Exchange
1. Bring an open mind for new adventures, physical challenges, and new suggestions for games and energizers.
2. Each group will present their sending organizations in a short presentation of 5 minutes. We provide material on the spot.
3. Every group will present the ecological movement in your country and projects that are implemented there. You are presenting along at least five examples!
4. You shall be informed, in which way your country has been recently moving forward to improve food consumption behavior in the interest of health and/or nature.
5. For an intercultural night be prepared not only to present some food and so on, but to deliver on arts and local culture, dance and games, please.
6. You have to actively report, disseminate and work on future projects in your local surroundings based on the results of our youth exchange.
About Bremen, Lower Saxony and the closer surrounding
Bremen is the largest city on the River Weser, the longest river flowing entirely in Germany. It has a very rich history since the middle ages as one of the leading cities of the Hanse and deservedly holds the status of a city-state of Germany with its own parliament. Bremen lies some 60 km upstream from the North Sea and is surrounded by the state of Lower Saxony. It is a commercial and industrial city with two harbors, the Bremen port and the port of Bremerhaven at the mouth of the Weser.
The city is home to dozens of historical galleries historical sculptures and major art museums. The old city center is under UN heritage protection. Additionally Bremen houses great museums, like Bremen Overseas Museum (Übersee-Museum Bremen), the Universum technical museum, the Emigration Museum and the Climate House in Bremerhaven. Bremen has a public and a private university. Bremen is well known through the Brothers Grimm's fairy tale "Town Musicians of Bremen", its famous Beck's beer, by its Jacobs coffee and through its football club Werder Bremen and. Bremen has a reputation as a left working-class city, at the same time it is home to many multinational manufacturing corporations such as Hachez chocolate, Kellogg's cereals, Vector Foiltec, Arcelor/Mittal steel, Mercedes car parts, Airbus aircrafts and OHB satellites. It has its airport "Hans Koschnick".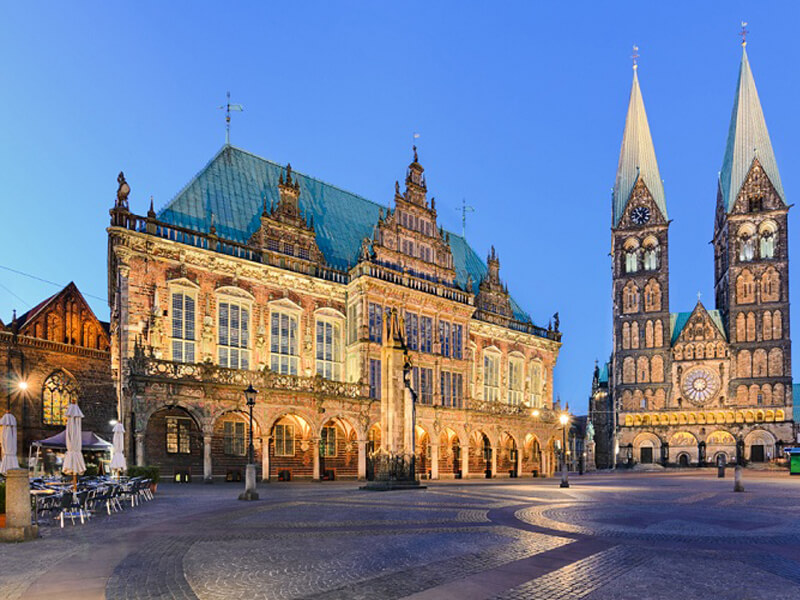 Lower Saxony is the second largest German state that surrounds and also intersects Bremen and Bremerhaven. Its capital is in faraway Hannover. Where we are going to be is the Osterholzer geest, which is characterized by its low hills, forests, moors and marshes fed by the river streams of Hamme and Wümme. This area is characteristic of old farming ground. Nearby to our venue is Osterholz and Scharmbeck with their picturesque city centers and the famous artists' village Worpswede in the Devil's moor.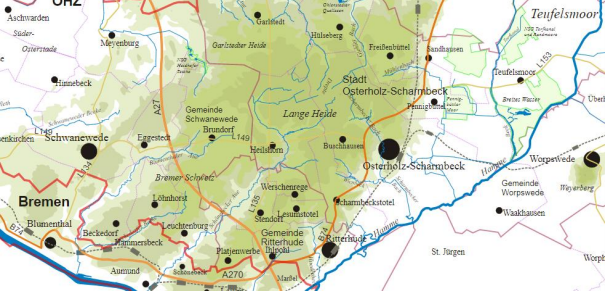 The Venue
The venue of our training course is in Garlstedt, the training course takes place, in its surroundings and in Bremen. We are going to stay in the KulturHaus, address:
Garlstedt, Hinterm Horn 5, in the municipality of Osterholz-Scharmbek.
That is in the Bundesland Niedersachsen [federal state unit Lower Saxony], Germany. It is a simple but beautiful accommodation, something like a youth hostel in the countryside.
– The venue where we are accommodated is in the middle of a small commuter village right along the former military road some 30 kilometers outside of Bremen.
– The rooms are going to be 2-5 beds per room. We will mix the nationalities, not the genders.
– We will be the only group in the house. We will make the rules together and will respect the rules that we make.
– There are showers in 7 of the rooms. We will give the females preference for these seven rooms. The rest of the rooms share showers/bathes and also toilets outside of the rooms.
Dietary needs
We have our own cooking and logistics team so they would prepare meals for us and specific food will be done for the people with food preferences like vegans, vegetarians, pescetarians, halal, raw food, non-gluten and so on. We never use pork meat without declaring it. During this exchange we will followed principles of balanced diets basing on the Mediterranean diet. You will declare your special diet in a form (see below). You cannot switch during the exchange, because it jeopardizes our procurement scheme.
What do you need in concern to the venue?
– Shoes for inside. As it is really large house, which needs to be kept clean, everyone would need an extra pair of shoes inside the house (slippers or clean shoes, which you will not wear outside).
– Bring your own towels, hair driers, shampoo, and so on. There will be bed sheets provided, which you have to use. If you forgot things we can buy it for you on-demand in nearby stores or you purchase it during stays in Bremen against remuneration.
Travel costs
Travel costs will be reimbursed according to the distance bands allowances of Erasmus+, how it was applied for and approved. Please, be aware that individual kilometer distances might be further than allowed reimbursement. Travel generally costs will be reimbursed after receiving all documents from all participants. And this includes the following documents and activities:
– a documented presentation about this exchange that will be delivered by the participants upon their return in their home country;
– dissemination of the project which includes agreed activities, an article, blog or report, part of which will be written or composed already during the exchange;
– delivery of all missing boarding passes, flight bookings, train tickets, invoices, etc. as well as proof of travel with cars. Please, save your online and mobile app boarding passes immediately on issue.
– filling out of the questionnaire of the EACEA (in youth exchanges this is done by the team leaders
– filling out of the Youth Pass Learning Achievement page by the participants
As usual we are going to do a partial reimbursement in cash for participants from some countries. Please, contact us in case you consider this. Here are the reimbursement rates. Dinara Forum L'Ateneu, Kljuc, Bosnia and Herzegovina – Be International, Brno, Czech Republic – Mostar Friedensprojekt, Potsdam, Germany – Associazione Joint, Milano, Italy – Asociacija Tavo Europa, Vilnius, Lithuania – Youth Euroclub, Lviv, Ukraine.

Money
In Germany all major credit and debit cards are accepted. However, Osterholz-Scharmbeck is really a small place and in the village, were we stay there is no ATM. In the venue no cards are accepted. So make sure that you have some cash with you when you need something from the shop or some drinks to order with our logistics team. You can find ATMs in Bremen as well as many banks. German banks are not used to a lot of money exchange, so exchange rates in your country might be better. Look into it, please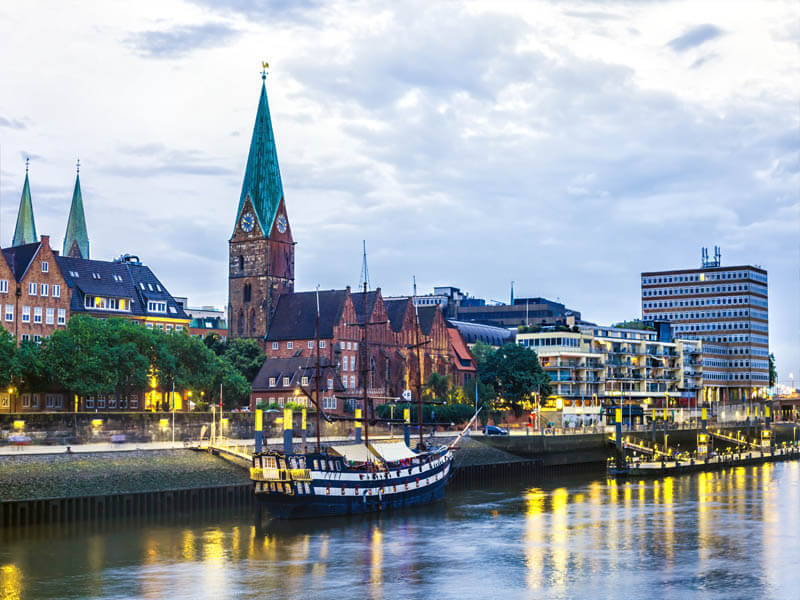 HOW TO APPLY?
Complete the BRAVO- APPLICATION FORM in English title as following "name of the project you are applying for" until 23:59 on deadline day.

Deadline for applying: 28.10.2019

Selection results: 01.11.2019.

PARTICIPATION FEE: NO PARTICIPATION FEE

If you have any questions don't hesitate to contact us at:

[email protected]